Weekend Weirdness: Black Devil Doll, Gone With The Pope, Altitude, And Hausu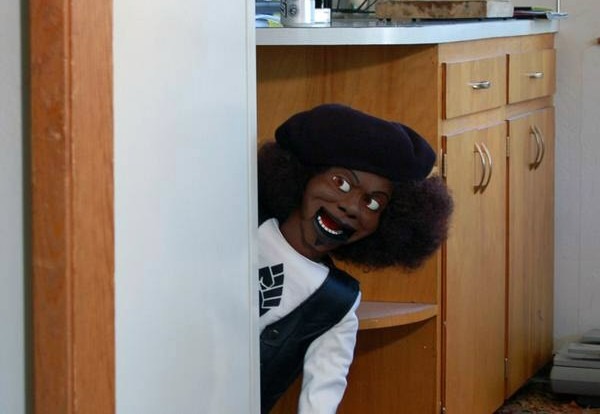 It's a crazy, mixed up world and we are all thankful for movies, new and old, that offer proof. After the jump, we'll examine trailers stuffed with images and ideas so nuts they could make a turkey turn crimson. For example, one for the new independent film, Black Devil Doll, about a murderous black power enthusiast who is deep-fried in prison, only to return by way of Quija Board in the shape of an anthropomorphic, horny dummy. I've seen the film. It exists and belongs behind bars. Also discussed are Gone With the Pope (horribly awesome trailer of oh nine?), the new in-flight, creature feature Altitude, and Hausu, the wacky Japanese cat-horror classic being blessed by Janus Film/Criterion.
Obviously, NSFW. If you're wondering if the trailer for Black Devil Doll gave away most of the money shots, there are at least three or four not hinted at here that are categorically debased and gross to the max. One involves Patrick Dempsey's face.  The unmistakable sensation of "it just went there" is occasionally achieved with couch-sink aplomb. A different, uncensored trailer is also available on the movie's consumer-savvy site.
For a film that aspires for grindhouse shock times Skinemax sleaze on a micro-budget, the main obstacle in terms of success (as entertaining trash) is having the viewer buy Black Devil Doll as a real character a la Chucky or, a more apt aesthetic comparison, Fats in Anthony Hopkins's Magic. The killer inside the doll is named Mubia—a play on Mumia Abu-Jamal—and the lifeless spin of the doll's eyes tends to make Mubia seem crazier and more unpredictable than his toy-corrupting predecessors. Bottom-line: I wouldn't mind seeing the doll continue on its homicidal path in a more substantial flick or in a rap video.
Director Jonathan Lewis has embedded the film with blaxploitation-evoking split screens, self-aware montages, and slick computer graphics (the doll's acts of rage climax in collages of MLK speeches and porn images). All of this clashes humorously against C-grade slasher kills. Sets are dotted with posters for recent movies (Spider-Man 2, High School Musical) and The Ramones, as if selected by random; this has the odd effect of adding DIY appeal. "Why aren't you out making a movie," will cross a lot of minds, especially the ones out there who watch a Troma movie and still feel discouraged. But it's the smoked-out, retro instrumental soundtrack by a band called Giallos Flame and the killer poster art/design by artist Stephen Romano–check his stuff out—that works on a much higher level of creativity. The ability to watch the DVD with a recording of a live audience from the film's premiere at The New Beverly in L.A. warrants a mention as well. The guy who continuously yells, "More dick!" less so.
If you don't find the NFSW trailer above for Gone With the Pope to be incredibly best, perhaps your gene pool needs polluting. Pope was made in 1978 and never saw release (or editing) before the 1981 death of its writer/director/star, a glorious-sounding man named Duke Mitchell, real name: Dominic Miceli.  Thankfully, the film is now in the more-than-capable mitts of Sage Stallone and Bob Murawski of Grindhouse Releasing, who plan to release it on DVD loaded with goodies. No date is listed, but I hope to hear more. As so eloquently stated in the trailer, Mitchell stars as a goon named Mimi Miceli who plots to abduct the Pope and hold him ransom to the tune of demanding $1.50 from every Catholic on Earth. Take that, Computer Manipulated Voice of Osama.
There is nothing hotter in my opinion than a silky brown bikini against a girl's flawless, soft brown skin. What's more amazing is that the film is a sequel to Mitchell's slightly more high profile original, Massacre Mafia Style, or The Executioner as listed on IMDB. Evidently Mafia was referenced in John Waters's Serial Mom, which I haven't seen in years and years. It's said that Mitchell funded both films using monies procured from jobs in nightlife—he was the self-proclaimed "Mr. Palm Springs"—and Mafia Style was Mitchell's contribution to getting right what The Godfather got wrong about the Italian-American underworld.
The first film's totally boss original title screen features a pinky-ringed hand throwing up the horns. View it here. As our pal, Skeet on Mischa, points out, these films are a virtual rabbit hole of mind detonation randomness. Mitchell starred as himself in 1952's Bela Lugosi Meets a Brooklyn Gorilla.
The newest film in this article is also the most mainstream and thus its trailer is not-NSFW. Entitled Altitude and due for theatrical release in 2010, the flick is drenched in the B-movie premise of a group of fearless 20somethings who hop into a small airplane and encounter a fucked-up, tentacled creature (and a Bermuda Triangle-like supernatural storm). The enthusiasm of FirstShowing's Alex Billington originally led me to check out the film's trailer and synopsis. But upon getting the gist, I rolled my eyes. However, Alex might be onto something as the trailer is more fun than I was pessimistically envisioning (i.e. a cheapo release from The Asylum or a wastoid SyFy movie). In particular, the creature semi-reveal at the ends is nicely done—albeit I am taking into consideration a budget of only a million dollars or so (I asked Alex, but he didn't have the figure). Poster rocks as well sans the tagline...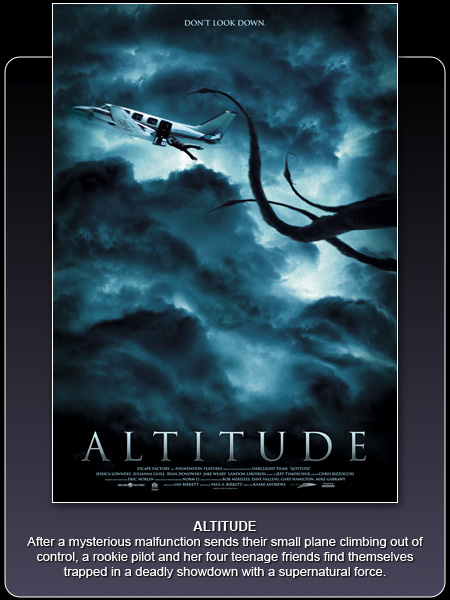 The film is currently without U.S. distribution. Its Canadian director, Kaare Andrews, has worked as an artist for Marvel Comics (Spider-Man, The Incredible Hulk). I'm not familiar at all with his filmography, but he directed a similarly overcast video for Teagan and Sara's "Living Room," which can be viewed here. This is an occasion in which a music video background shouldn't stereotypically dampen expectations.
If you haven't seen 1977's Hausu aka House (not to be confused with the U.S. house-horror House franchise from the '80s), I hope you have at least seen the YouTube clip above fifty times. If not, watch it, duh, and then take a cat from the pound and offer it as a sacrifice to our world for allowing this thang to exist. The trailer is below...
Janus Films, which is closely tied with The Criterion Collection, is dedicated to putting the film on the domestic radar with a planned DVD release. Release date TBA. They are currently touring the film around the country, with a run lasting from Nov. 27th to Dec. 3rd in Seattle. Click here for more dates. And of course, as is American tradition, you can rock the triple-sick shirt below without having seen the film or the YouTube clips for that matter. It's available for just $17 on the Criterion site, in men and women sizes. None for blood-spewing felines. If they don't send me one, I'll find a girl to buy me it.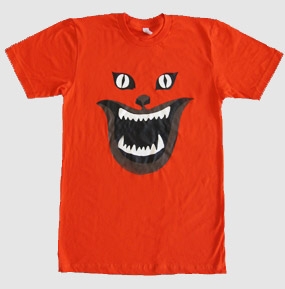 The poster is not yet available, but let's hope it will be shortly...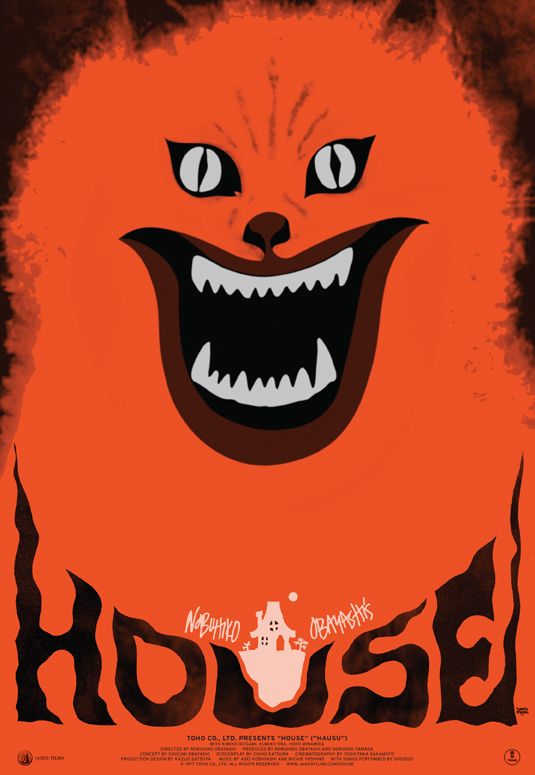 Janus does a good job at describing what Nobuhiko Obayashi's nonpareil horror entry is about. I need to soothe my hangover and crash, so that's a good thing...
How to describe Nobuhiko Obayahshi's 1977 movie House? As a psychedelic ghost tale? A stream-of-consciousness bedtime story? An episode of Scooby Doo as directed by Dario Argento? Any of the above will do for this hallucinatory head trip about a schoolgirl who travels with six classmates to her ailing aunt's creaky country home, only to come face to face with evil spirits, bloodthirsty pianos, and a demonic housecat.
Too absurd to be genuinely terrifying, yet too nightmarish to be merely comic, House seems like it was beamed to Earth from another planet. Or perhaps the mind of a child: the director fashioned the script after the eccentric musings of his eleven-year-old daughter, then employed all the tricks in his analog arsenal (mattes, animation, and collage) to make them a visually astonishing, raucous reality. Never before released in the United States, and a bona fide cult classic in the making, House is one of the most exciting genre discoveries in years.
Let us know what you think of all of this shit in the comments dear readers!
If you're a filmmaker and have a weird new film that Hunter might be interested in, you can contact him per a screener, screening, or info at h.attila/gmail or on Twitter.