Paranormal Activity Passes $100 Million, Becomes Highest Grossing R-Rated Thriller Of The Past Decade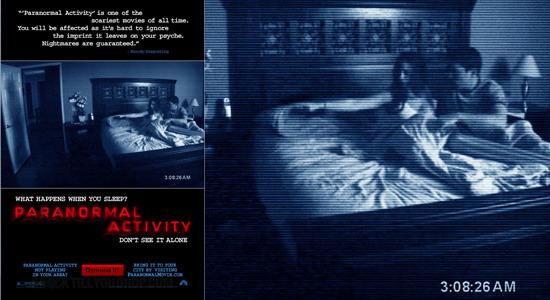 Paramount has issued a press release gloating that Paranormal Activity has just passed $100 million domestically. And they should gloat, with a film that was made for only $15,000, and purchased by Paramount for either $300,000 or $350,000, depending on what report you read. You can try to figure out the multiplier on that, but any way you add it up, it's probably  the most successful investment in the company's history.  Especially considering how little the company spent on marketing for the film. This week, the movie will have been in theaters nationwide for a month, and is still making over $8 million over a weekend, which is enough to beat out Warner Bros' $30 million sci-fi thriller The Box in its debut.
The movie has become the top grossing R-Rated thriller of the past decade. Right now it stands as the fifth largest horror/supernatural movie release of all time, and is on track to unseat The Grudge for the #4 spot. Paranormal is also the #22 highest grossing film of the year, and is set to overtake Zack Snyder's $130-$180 million budgeted adaptation of Watchmen in a week or two. Full press release after the jump.
For Immediate Release
PARAMOUNT PICTURES' PARANORMAL ACTIVITY SOARS PAST THE $100 MILLION MARK
Film Becomes Highest Grossing R-Rated Thriller of the Past Decade
HOLLYWOOD, CA (November 12, 2009) – The hit $15,000 thriller PARANORMAL ACTIVITY has grown from its midnight-only showings in a handful of college towns to become this year's biggest movie phenomenon, and will cross $100 million at the box office after only five weekends of national release as of Friday. In so doing, the movie has become the top grossing R-Rated thriller of the past decade.
PARANORMAL ACTIVITY began its theatrical life with midnight-only screenings in 12 college towns across the U.S. and quickly developed into a national wide hit, with fans visiting the ParanormalMovie.com website and demanded the film be brought to their city. After more than 1 million such requests, Paramount expanded the film nationally where it has been playing to packed theaters ever since.
"What is truly amazing about PARANORMAL ACTIVITY is the depth of commitment from fans who demanded to see it," said Paramount Pictures Chairman and Chief Executive Officer Brad Grey. "Adam Goodman, our head of production, believed in the film and championed it from the very first screening. This box-office milestone is also a testament to Oren Peli's considerable talents as a filmmaker. All of us at Paramount are proud to have been involved with his revolutionary project."
In PARANORMAL ACTIVITY, after a young, middle class couple moves into what seems like a typical suburban "starter" tract house, they become increasingly disturbed by a presence that may or may not be demonic, but is certainly most active in the middle of the night.
Especially when they sleep. Or try to.
Directed, written and produced by Oren Peli, the innovative thriller stars Katie Featherston and Micah Sloat. The film was produced by Jason Blum. Steven Schneider served as executive producer.
Follow PARANORMAL ACTIVITY on Twitter at www.Twitter.com/TweetYourScream, where you can find fan reactions, press reviews and theater information.