Focus Features Announces 2010 Release Dates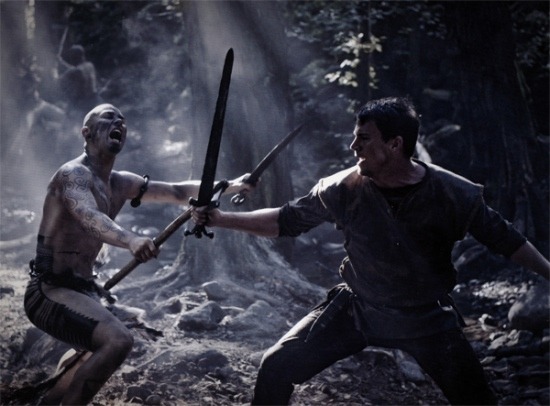 Focus Features today announced their 2010 release slate. Highlights include:
March 12th 2010: The Squid and the Whale writer/director Noah Baumbach's Greenberg which stars Ben Stiller
April 16th 2010: Thomas Balmès' Babies, a documentary film which simultaneously follows four babies around the world – from birth to first steps.
Wednesday, September 1st 2010: Anton Corbijn's The American starring George Clooney

as a retiring assassin
Third Quarter 2010: Kevin Macdonald's Roman epic adventure The Eagle of the Ninth
November 2010: Anna Boden & Ryan Fleck's (Half Nelson, Sugar) dramedy adaptation of Ned Vizzini

's 2006 novel

It's Kind of a Funny Story
TBA 2010 (we assume in December for Award Season): Sofia Coppola's Somewhere starring Stephen Dorff

and

Elle Fanning
After the jump you can read the full press release, which includes detailed plot synopsis for all of these films.
FOCUS FEATURES ANNOUNCES 2010 RELEASE SLATE, PASSES $1 BILLION MARK IN DOMESTIC BOXOFFICE
FOR IMMEDIATE RELEASE
NEW YORK, November 12th, 2009 – Focus Features CEO James Schamus today announced the company's domestic theatrical release slate for calendar year 2010, with six confirmed movies to date.
Mr. Schamus said, "Next year's Focus slate follows one of the company's best years ever – our eighth profitable year in a row since our inception, and the year in which we passed the $1 billion mark in cumulative domestic box office alone.
"Our 2010 lineup is as audacious as any in our history, ranging from American indies like Anna Boden & Ryan Fleck's It's Kind of a Funny Story to big international productions like Anton Corbijn's The American."
Focus president Andrew Karpen noted, "This month's tremendous showing at the American Film Market once again proves the resiliency and flexibility of Focus' global approach to the business. The breadth, depth, and nuance we bring to the international release of each film on our slate – and our ability domestically to manage every kind of release, from specialized platforms to wide openings – is what truly defines Focus's unique approach."
Co-chairman of Universal Pictures Donna Langley said, "Focus' 2010 slate further demonstrates its unique ability to continually develop and deliver some of the best and most compelling specialty films in our industry."
Opening in select cities on Friday, March 12th will be Greenberg, starring Ben Stiller opposite Greta Gerwig. Noah Baumbach, an Academy Award nominee for his original screenplay of The Squid and the Whale (which he also directed), wrote Greenberg from a story conceived by Jennifer Jason Leigh and himself. Scott Rudin, an Academy Award winner as producer of No Country for Old Men, and Ms. Leigh are producing the movie, to which Focus holds worldwide rights. At a crossroads in his life, Roger Greenberg (played by Mr. Stiller) ends up housesitting at his brother's home in Los Angeles. There, he strikes up an unlikely friendship with his brother's assistant Florence (Ms. Gerwig), an aspiring singer. Florence and Greenberg's encounters lead to an uncertain and wonderfully vulnerable courtship.
Babies will open in select cities domestically on Friday, April 16th. Focus also has select international rights to the feature, directed by Thomas Balmès from an original idea by Alain Chabat, who produced the movie with Amandine Billot and Christine Rouxel through his Chez Wam production company. The film simultaneously follows four babies around the world – from birth to first steps. The children are, respectively, in order of on-screen introduction: Ponijao, who lives with her family near Opuwo, Namibia; Bayarjargal, who resides with his family in Mongolia, near Bayanchandmani; Mari, who lives with her family in Tokyo, Japan; and Hattie, who resides with her family in the United States, in San Francisco. Re-defining the nonfiction art form, Babies joyfully captures on film the earliest stages of the journey of humanity that are at once unique and universal to us all.
Opening nationwide on Wednesday, September 1st will be director Anton Corbijn's The American, starring Academy Award winner George Clooney in the title role. The American is Mr. Corbijn's second feature film as director, following the award-winning 2007 drama Control. Focus holds worldwide rights to the suspense thriller, which is currently in production on location in Italy. Alone among assassins, Jack (played by Mr. Clooney) is a master craftsman. When a job in Sweden ends more harshly than expected for this American abroad, he vows to his contact Larry (Bruce Altman) that his next assignment will be his last. Jack reports to the Italian countryside, where he holes up in a small town and relishes being away from death for a spell. The assignment, as specified by a Belgian woman, Mathilde (Thekla Reuten), is in the offing as a weapon is constructed. Surprising himself, Jack seeks out the friendship of local priest Father Benedetto (Paolo Bonacelli) and pursues romance with local woman Clara (Violante Placido). But by stepping out of the shadows, Jack may be tempting fate. The screenplay by Rowan Joffe is adapted from Martin Booth's novel A Very Private Gentleman, published in 2005. The film's producers are This is that's Anne Carey; Smokehouse's Grant Heslov; Smokehouse's Mr. Clooney; Ann Wingate; and Jill Green.
The Roman epic adventure The Eagle of the Ninth will open nationwide in the third quarter of 2010. The film is co-financed by Film4 with Focus, which holds worldwide rights excluding U.K. free-TV. The Eagle of the Ninth, which wraps production on location in Scotland next week, is directed by Academy Award winner Kevin Macdonald and produced by Academy Award and Golden Globe Award nominee Duncan Kenworthy. Jeremy Brock, BAFTA Award-winning screenwriter of Mr. Macdonald's 2006 film The Last King of Scotland, has adapted the screenplay from Rosemary Sutcliff's classic novel of the same name. The Eagle of the Ninth is set in the dangerous world of second-century Britain. In 140 AD, twenty years after the unexplained disappearance of the entire Ninth Legion in the mountains of Scotland, young centurion Marcus Aquila (played by Channing Tatum) arrives from Rome to solve the mystery and restore the reputation of his father, the commander of the Ninth. Accompanied only by his British slave Esca (Jamie Bell), Marcus sets out across Hadrian's Wall into the uncharted highlands of Caledonia – to confront its savage tribes, make peace with his father's memory, and retrieve the lost legion's golden emblem, the Eagle of the Ninth. The movie also stars Donald Sutherland, Mark Strong, and Tahar Rahim.
Acclaimed writer/directors Anna Boden & Ryan Fleck's (Half Nelson, Sugar) new film It's Kind of a Funny Story will open in select cities in November 2010. Production begins in New York City in early December 2009. Focus holds worldwide rights to the feature, which it is co-financing with Wayfare Entertainment. Kevin Misher is producing It's Kind of a Funny Story with Ben Browning. The comedy-drama has been adapted by Ms. Boden & Mr. Fleck from Ned Vizzini's 2006 novel of the same name; 16-year-old Craig (to be played by Keir Gilchrist), stressed out from the demands of being a teenager, checks himself into a mental health clinic. There he learns that the youth ward is closed – and finds himself stuck in the adult ward. One of the patients, Bobby (Zach Galifianakis), soon becomes both Craig's mentor and protégé. Craig is also quickly drawn to another 16-year-old, Noelle (Emma Roberts). With a minimum five days' stay imposed on him, Craig is sustained by friendships on both the inside and the outside as he learns more about life, love, and the pressures of growing up. Also starring are Viola Davis, Zoe Kravitz, Aasif Mandvi, Lauren Graham and Jim Gaffigan.
Reuniting writer/director Sofia Coppola with the film company with which she made the Academy Award-winning worldwide hit Lost in Translation, Focus will release her new movie Somewhere in 2010, with the exact date not yet set. Focus also has select international rights to the feature. In addition to directing Somewhere from her original screenplay, Ms Coppola is producing the feature with Roman Coppola and G. Mac Brown through American Zoetrope. Somewhere is the story of Johnny Marco (played by Stephen Dorff), a bad-boy actor stumbling through a life of excess at the Chateau Marmont Hotel in Hollywood. With an unexpected visit from his 11-year-old daughter (Elle Fanning), Johnny is forced to look at the questions we all must confront.
Focus' 2009 releases have included LAIKA Entertainment's Coraline, directed and adapted by Henry Selick, which was the first stop-motion animated feature to be conceived and photographed in stereoscopic 3-D, and which became Focus' second-highest-grossing domestic release of all time; Shane Acker's animated fantasy epic 9; writer/director Cary Joji Fukunaga's Sin Nombre, which won two awards at the 2009 Sundance Film Festival and is the year's second-highest-grossing foreign-language film; and Academy Award-winning writer/directors Joel and Ethan Coen's A Serious Man, starring Michael Stuhlbarg.
Focus Features and Focus Features International (FFI) (www.filminfocus.com ) together comprise a singular global company, dedicated to producing, acquiring, financing, selling, and distributing original and daring films from emerging and established filmmakers – films that challenge mainstream moviegoers to embrace and enjoy voices and visions from around the world. The company's flexible and nuanced approach to distribution allows it to support a wide range of films, from those geared to a single local market to worldwide hits. The company operates as Focus Features domestically, and as Focus Features International overseas.
Focus Features and Focus Features International are part of NBC Universal, one of the world's leading media and entertainment companies in the development, production, and marketing of entertainment, news, and information to a global audience. Formed in May 2004 through the combining of NBC and Vivendi Universal Entertainment, NBC Universal owns and operates a valuable portfolio of news and entertainment networks, a premier motion picture company, significant television production operations, a leading television stations group, and world-renowned theme parks. NBC Universal is 80% owned by General Electric and 20% owned by Vivendi.
Eagle of the Ninth photo thanks to Collider