Movie Trailer: Adam Sandler's New Comedy Grown Ups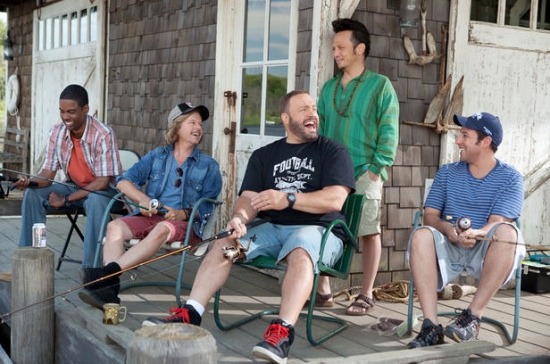 Columbia Pictures has released the teaser trailer for the new Adam Sandler comedy Grown Ups. The film stars Chris Rock, Kevin James, David Spade, Rob Schneider, Salma Hayek, Steve Buscemi, Maria Bello, Gary Busey and David Spade, and is directed by Dennid Dugan, the filmmaker behind of some of Sandler's earlier films like Happy Gilmore and Big Daddy, but who recently has been responsible for some comic clunkers like I Now Pronouce You Chuck & Larry, and You Don't Mess with the Zohan.
Five friends and former teammates reunite years later to honor the passing of their childhood basketball coach. With their wives and kids in tow, they spend the Fourth of July holiday weekend together at the lake house where they celebrated their championship years earlier. Picking up where they left off, they discover why growing older doesn't mean growing up.
It looks like a fairly generic comedy, even more so than the recent Sander efforts. Almost makes you wish that Sandler was still making second rate romantic comedies with Drew Barrymore again. You know, when they at least featured a few good jokes. And what is that on Kevin James' face? That can't be a beard, is it? Watch the full teaser trailer after the jump, and leave your thoughts in the comments ago.
Grown Ups hits theaters on June 25th 2010.