Leap Year Movie Trailer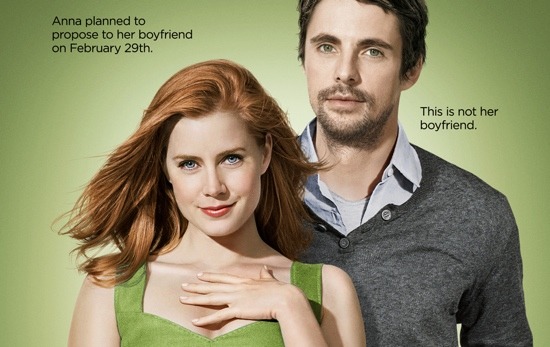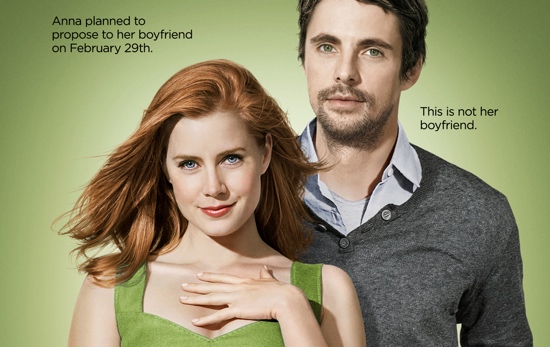 Universal Pictures has released the first movie trailer for Leap Year, which is a romantic comedy about a woman who has an elaborate scheme to propose to her boyfriend on Leap Day.
Amy Adams and Matthew Goode star in Leap Year, a romantic comedy that follows one woman's determined quest to get married to the perfect guy...despite what fate has in store for her. When their four-year anniversary passes without a marriage proposal, Anna (Amy Adams) decides to take matters into her own hands. Investing in an Irish tradition that allows women to propose to men on February 29th, Anna decides to follow her boyfriend Jeremy (Adam Scott) to Dublin and get down on one knee herself. But airplanes, weather and fate leave Anna stranded on the other side of Ireland, and she must enlist the help of handsome and surly Declan (Matthew Goode) to get her across the country. As Anna and Declan bicker across the Emerald Isle, they discover that the road to love can take you to very unexpected places.
From Anand Tucker, the director of Shopgirl and Hilary and Jackie, and based on a screenplay by Slumdog Millionaire writer Simon Beaufoy and Can't Hardly Wait scribes Harry Elfont and Deborah Kaplan, comes another middle of the road romantic comedy where the female character appears to be reduced to a marriage obsessed spaz. I'd love to say that I'll never see this film, but sadly, I'll watch almost any movie that Amy Adams is involved in. Watch the trailer after the jump, and leave your thoughts in the comments below.
Leap Year hits theaters on January 8th 2010.