Stephen King News Pile-Up: Under The Dome To HBO, More Dark Tower, Cell Screenplay By King And More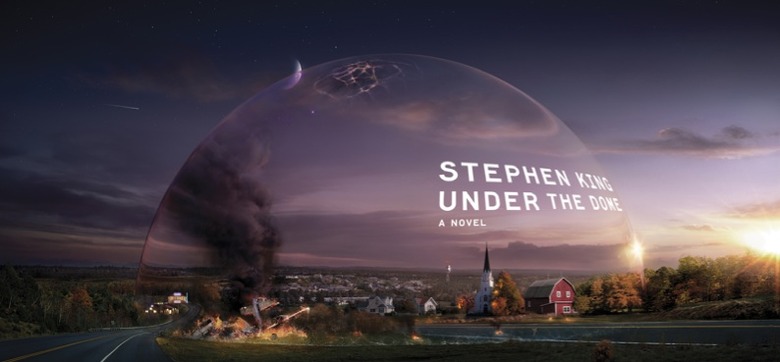 While signing copies of his new novel Under the Dome in a Dundalk, Maryland Walmart last night, Stephen King also took part in a decent-length, rapid-fire Q&A that has already been posted to YouTube. You can see the whole thing below the break, or leave it up to me to tell you which bits and pieces I found the most interesting.
King says early on in the clip that he "thinks" Under the Dome is "actually" going to be a HBO series. There's no more info than that, and none more out there so far, but watch this space.
When asked if he'd continue the Dark Tower saga, King says that he has one more book to write and it will come between Wizard and Glass and Wolves of the Calla. Don't forget that we only just reported how JJ Abrams has stepped away from the proposed Dark Tower movie.
King promises that his upcoming American Vampire comic series "aint much like Twilight".
There are no plans for an adaptation for King's Insomnia.
King has himself just finished a screenplay for Cell so "maybe", he says, "it will be done. And I got so many complaints about the end of the book that I changed everything". Back in the Summer, we reported than John Harrison was writing a version of Cell for a TV miniseries and it's both possible that King has co-written with him or simply superceded him. I'm still mourning the scrapped Eli Roth version.
The video was found at Dread Central, who also published another little scrap of Dark Tower info from King's messageboard:
Stephen has given me permission to pass along that he has an idea for a new Dark Tower book, the working title of which will be The Wind Through the Keyhole. He has not yet started this book and anticipates that it will be a minimum of eight months before he is able to begin writing it.
Oh, it's a busy time in King land. I only wish somebody had asked about the return of Carrie: The Musical.