Script Review: Duncan Jones' Mute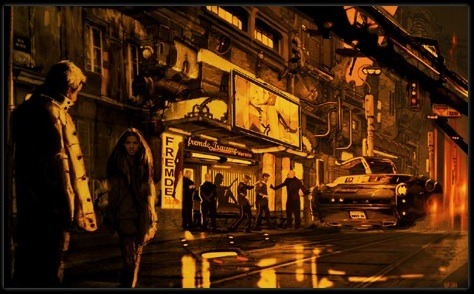 ScriptShadow has a review of the screenplay for
Mute
, the sci-fi noir project that
Moon
director
Duncan Jones
has been developing with
Mike Johnson
for the last few years. You may recall that Jones
recently signed on to direct
Source Code
, with
Jake Gyllenhaal
attached to star. Jones had commented on Twitter that he decided to put
Mute
on hold because he got an offer he couldn't refuse, and that Mute is a "hard sell" in this economy. And now we know more.
Mute is one of those personal projects that probably won't appeal to anyone outside a tiny niche audience. It appears that Jones knows this, and is perfectly okay with it. "Moon" was never going to light up the box office either, yet it already has a rabid fanbase. The question is, does Mute satisfy on any level? Man, that's a really hard question to answer.
What is the story about? Set in 2046 Germany, Mute follows a brutish 40 year old mute named Leo who must go in search of his missing Afghan girlfriend. While raising "hell in Berlin's shady underbelly", he learns more about Naadirah's "secret life." This is intercut with another storyline, which Carson didn't seem to be a fan of AT ALL, which follows an American named Cactus Bill who is looking to acquire a fake pair of passports for his foreign wife and daughter so that they can escape home to the US.
Carson notes that the 2006 draft was set in present day Berlin, while the most recent 2009 draft is set in 2046. Jones has often compared the project to Blade Runner, but Reeves claims that the decision to set the film in the future does nothing to the story, and purely only a visual change. I can understand why Jones would want to go in that direction, especially after his debut feature Moon attracted such a rabid old school sci-fi-loving fanbase. Carson also questions why the main character of the story is mute if his disability did not help or hurt his search or interactions.
On the other side of the coin, Carson praises the imagery that Jones conveys in the description, and predicts that if Mute ever gets made, it "will probably be one of the coolest fucking trailers ever to hit the geek community." That Blade Runner fans will be "swimming in a soupy ecstasy of barely-lit futuristic noir til they can't tell themselves from their shadows." And hearing that kind of prediction makes me immediately forget about the more worry-some critiques. You can read the full script review on
ScriptShadow
.