TV Tidbits: Ray Bradbury Developing Six-Hour Miniseries, SyFy Launching Comedy Series Outer Space Astronauts, Current TV Gets Dumbed Down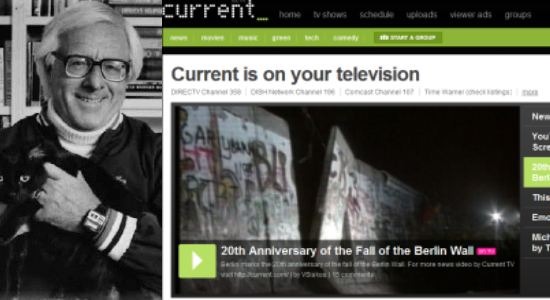 Even though legendary sci-fi author Ray Bradbury is ready to say "To hell with the Internet!", it appears he's willing to give television a bit more leeway. The author has signed on to develop a six-hour miniseries which will feature six of his short stories, each by a different director. The adapted stories aren't known yet since each director will get to choose their favorite. The project is currently being shopped around to different networks—though if SyFy doesn't snap this up, ima have to choke an Ewok.
Speaking of sci-fi, it seems that SyFy is soon premiering a new five-episode comedy series, Outer Space Astronauts. The series "is a futuristic comedy about eight military misfits who journey to the far reaches of the galaxy on board the O.S.S. Oklahoma." The series is exec produced by David O. Russell (?!), and is the brainchild of frequent Russell collaborator Russell Barrett.
Says SyFy exec VP Mark Stern:
Syfy fans have never seen animation quite like this before. Out of the basement and mind of show creator, Russell Barrett, he's delivered a funny and fresh take on the future of underground and homegrown animation today.
The series was a part of a Sci-Fi reader poll a few years ago where the network asked their readers if the series should be greenlit. I'm predicting the "never before seen" type of animation will resemble something along the lines of an Adult Swim series.
Finally, we've learned today that crazy things are going on over at Current TV. The new Current CEO, Mark Rosenthal, is making sweeping changes across the network, and is specifically aiming at killing most of their in-house short form content. Consequently, they're laying off 25% of their staff, or about 80 workers. According to a TechCrunch source, the situation is a "major bloodbath...across all departments".
The network will focus on traditional half-hour and hour-long content acquired from other sources. The changeover makes sense considering Rosenthal's MTV roots. Despite how it may seem, Current reports that the layoffs weren't about saving money, and that this year will be their most profitable. Hurray?
Honestly, Current should probably get out of the TV network business altogether and focus their energy on their online component, as well as distributing video Revision 3-style. But Rosenthal, being a product of old media, probably won't be making that move anytime soon.