Page 2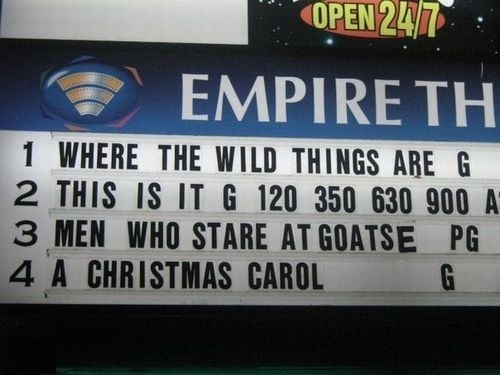 Page 2 is a compilation of stories and news tidbits, which for whatever reason, didn't make the front page of /Film. After the jump we've included 55 different items, fun images, videos, casting tidbits, articles of interest and more. It's like a mystery grab bag of movie web related goodness.
The Men Who Stare at Goatse. [tdw]
/Film is the 46th most retweeted news source on Twitter, and the the #1 retweeted movie related news source according to Tweetmeme's new leaderboard section.
The Carrie Musical is getting cast: Tony Award winner Sutton Foster will play the gym teacher Ms. Garder, while Tony nominees Marin Mazzie will portray Margaret White, Jennifer Damiano will play Sue, and American Idol finalist Diana DeGarmo will play Chris! [playbill]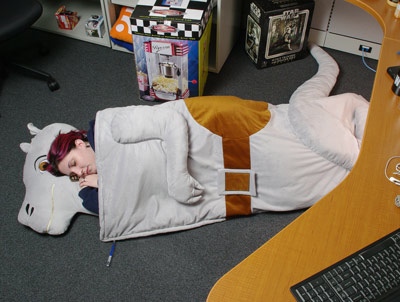 ThinkGeek has put the Star Wars Tauntaun Sleeping Bag up for preorder, set to ship on November 30th 2009. But the actual LucasFilm produced product doesn't look nearly as cool as the original April Fools Day concept.
Roland Emmerich talks to Rotten Tomatoes about his five favorite films.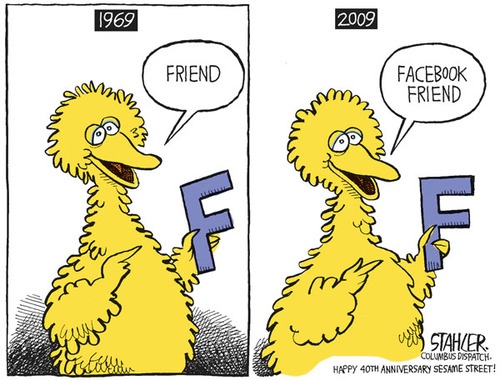 Jeff Stahler shows us the difference between 1969 and 2009.
Vice lists the top ten most dubious films released in the Criterion Collection.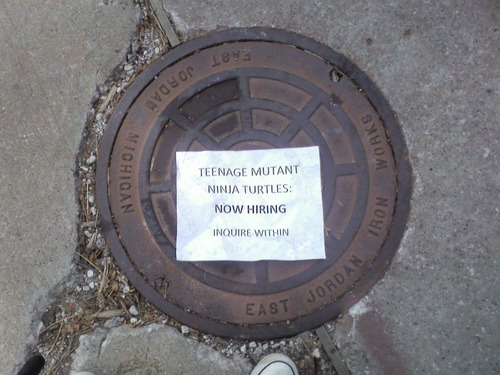 The Teenage Mutant Ninja Turtles are now hiring. [tdw]
Watch out a featurette for the Steven Spielberg/Tom Hanks HBO miniseries The Pacific.
Prolific TV comedy writer David Lloyd (The Mary Tyler Moore Show, The Bob Newhart Show, Cheers, Taxi, Frasier) has died. [finke]
FirstShowing has a great interview with Richard Kelly where they talk spoilers for Kelly's new movie The Box.
DenofGeek lists 19 movies that can be watched again and again and again.
Rotten Tomatoes counts down ten movies that changed (the end of) the world.
James Cameron tells Playboy that he really had no interest in making a movie about the Titanic: ""I made Titanic because I wanted to dive to a shipwreck, not because I particularly wanted to make the movie...Titanic was about 'f*ck you' money." [cinematical]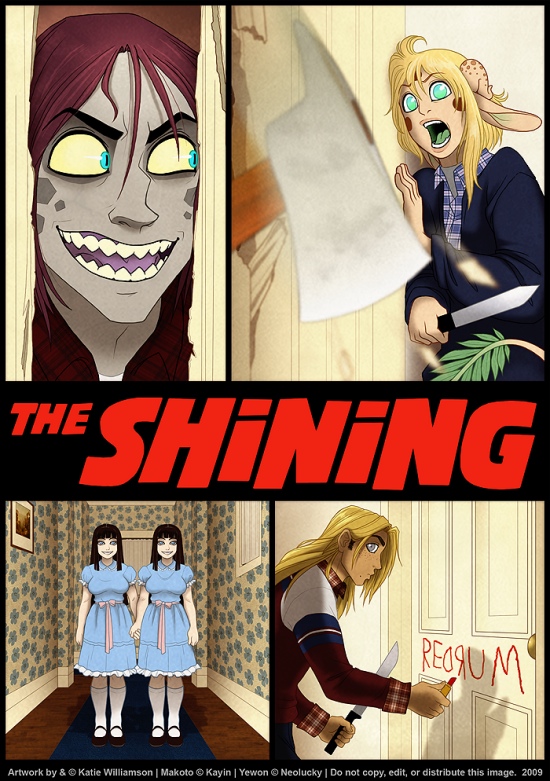 If The Shining was an Anime, it would look something like this wonderful art created by Katie Williamson. [patches]
More Actors on Twitter: Neil Patrick Harris (@ActuallyNPH), Verne Troyer (@VerneTroyer), Olivia Wilde (@oliviawilde)
USA Network has renewed its contract with World Wrestling Entertainment through the fall of 2014. [livefeed]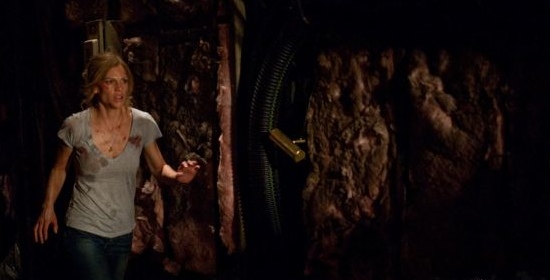 Bloody Disgusting has two new stills from Hammer Films' The Resident, which stars Hilary Swank, Jeffrey Dean Morgan, Christopher Lee and Lee Pace.
James Cameron is to receive the Lucky Brand™ Modern Master Award at the Santa Barbara fest. [incontention]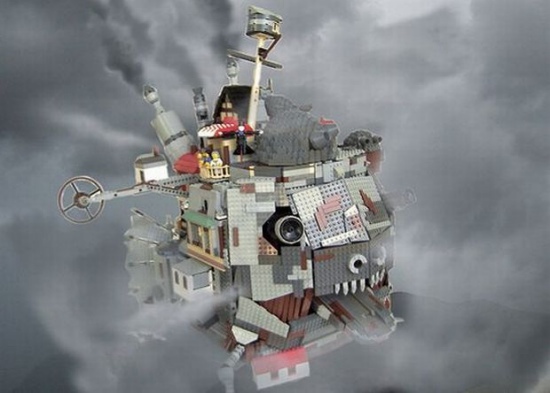 Someone built Howl's Moving Castle using LEGO. [boingboing]
Urban Dictionary has added Junophobia, an irrational fear of teenagers who incorporate more than 10% of Diablo Cody's slang into their lexicon.  [joblo]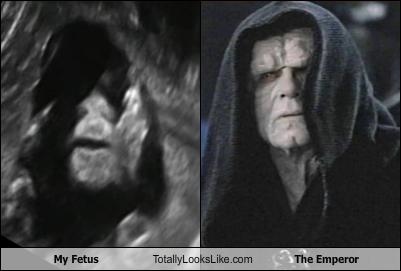 My Fetus Totally Looks Like The Emperor (via TotallyLooksLike.com).
IndieWire lists the decade's worst Oscar snubs.
ScriptShadow has a screenplay review of Nathan Parker's adaptation of Irish noir writer Ken Bruen's Blitz.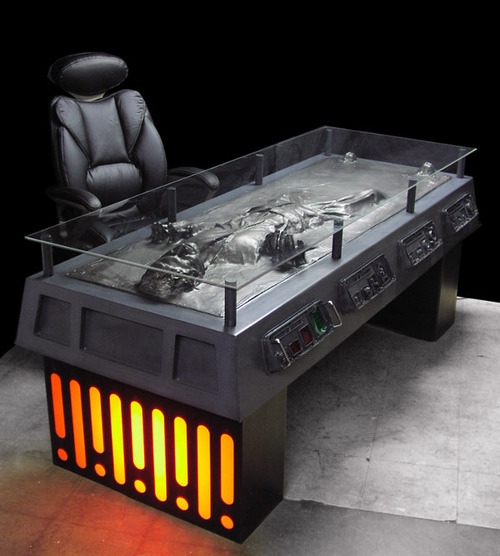 Tom Spina's Han Solo in carbonite custom desk has been making the internet rounds again, which we'll use as another excuse to post it again.
Judd Apatow will answer fan-submitted questions on his latest film Funny People on Wednesday, Nov 18 from 12:30 – 1:00 PM PT (3:30 -4:00PM ET) on FunnyorDie.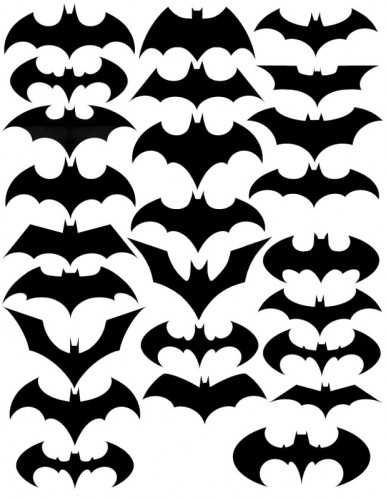 Bat symbols. [myconfinedspace]
Megan Fox on one of the rejected jokes from Saturday Night Live: "They wanted me to do a Q. and A. with the audience for the opening monologue. And Hitler is in the audience. Hitler stands up and says, 'Why did you compare me to Michael Bay?' " Fox laughed. "Which is funny, but we can't do that." [nytmag]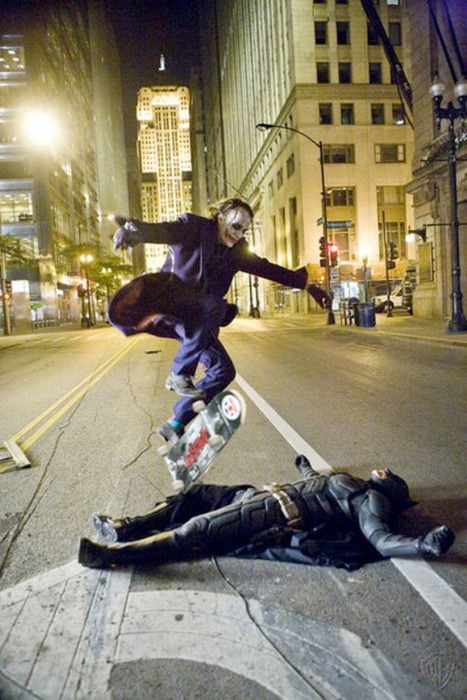 The Joker wasn't trying to hurt Batman, he was just trying to do a skateboarding kick-flip. [tdw]
Marvel Studios has promoted Louis D'Esposito to the role of co-president at the unit of Marvel Entertainment. [heat]
Edgar Wright writes an open letter to 2012 director Roland Emmerich on Twitter: "Dear Mr Emmerich. Congrats. You sure blew up the world again and no mistake. Keep up the good work. Yours faithfully, Edgar. p.s. Ka-boom!"
Edgar Wright reunited with Nick Frost and Simon Pegg for Total Film Magazine's Comedy Of The Decade Shoot. [wright]
The MPAA has successfully shut down an entire town's municipal WiFi because a single user was found to be downloading a copyrighted movie. [boingboing]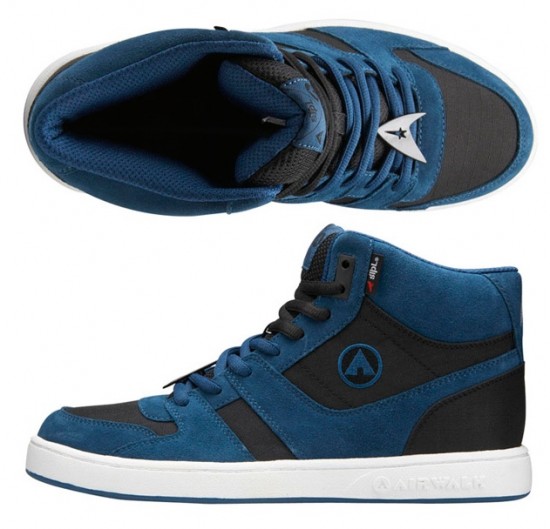 Payless just released Star Trek sneakers. [collider]
Paul W.S. Anderson is still circling a big screen adaptation of the video game Castlevania at Rogue Pictures, but they are still waiting on a script. [shock]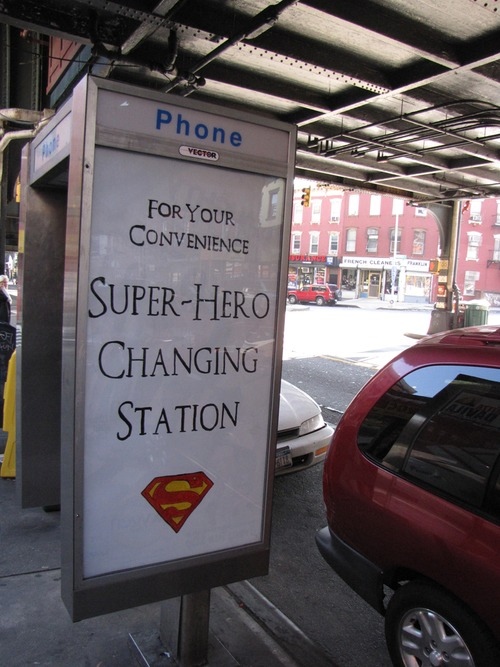 This Brooklyn payphone has been transformed into a superhero changing station. [tdw]
Ang Lee talks to RT about his five favorite films.
The Twilight Saga: New Moon has already become the top-selling pre-release title in Fandango's ten-year history.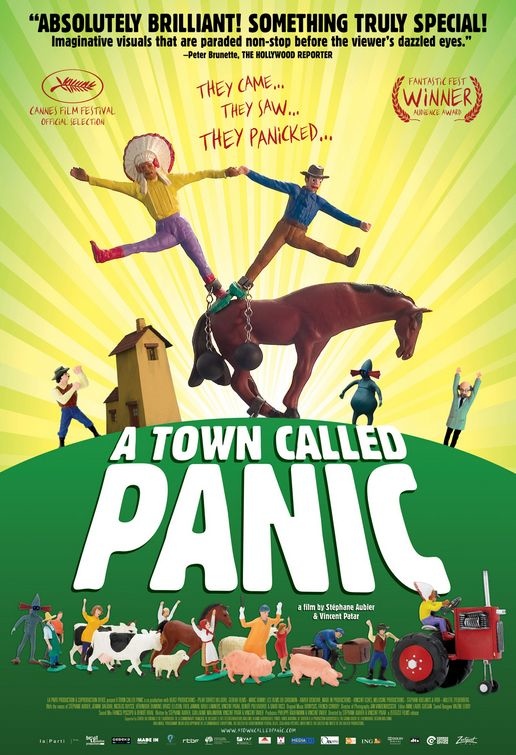 Check out the movie poster A Town Called Panic. [impa]
Rainforest Films' Stomp the Yard 2: Homecoming has begun principal photography in Atlanta. [thr]
This television advertisement for Tim Burton's exhibit at Moma is very Burton-esque.
Alan Moore (Watchmen, V for Vendetta) has revealed that he'll be writing lyrics for the next opera from Damon Albarn and Jamie Hewlett, the duo behind the cartoon pop band Gorillaz. [scifi]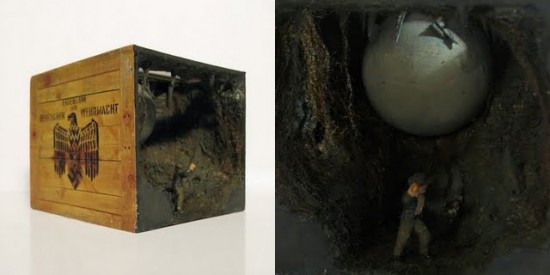 Maxime Pecourt built this Indiana Jones diorama inside a Lost Ark-style crate. [superpunch]
The Hollywood Screenwriting listing The Black List now has an official website.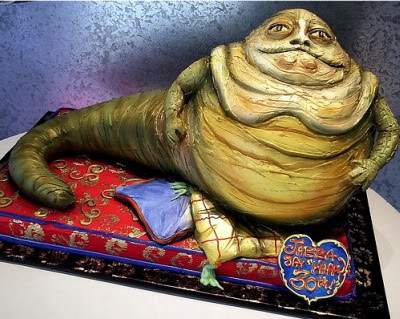 GreatWhiteSnark has a photo of an awesome Jabba the Hutt cake.
The Playlist lists the top five music scenes in Wes Anderson movies.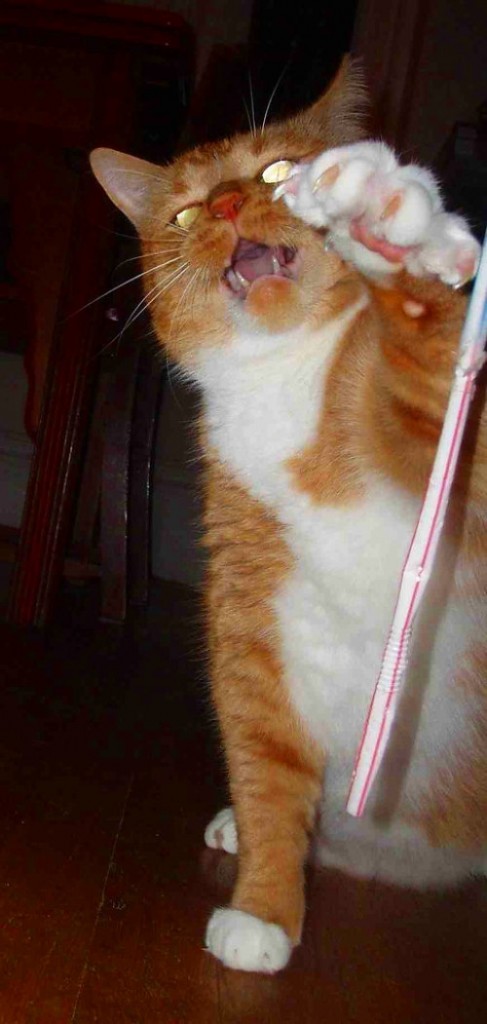 If Cat zombies existed, it would look like this Zombie LOLcat. [uniquedaily]
The Vancouver home, most commonly known as the Cullen residence in The Twlight Saga: New Moon, is up for sale for $3.3 million.
Loses his head, Yoda flash drive does. [fanboys]
Derrick Comedy has uploaded the MP3 for the song "Unregistered Sex Offender" from their short film Boy Band.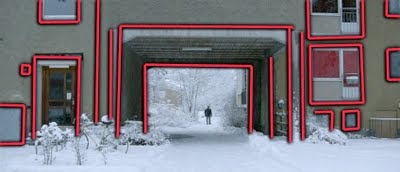 FX Rant has posted part one of their indepth look at the cinematography of Let The Right One In.
Zombieland will be released on DVD and Blu-ray on February 2nd in regular and special editions. [bloodydisgusting]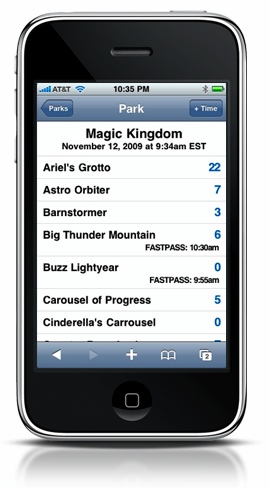 You can now get Walt Disney World line wait times on your iphone. [disneyblog]
Paul Wendkos, who directed over 100 films and television shows including the 1959 surf movie Gidget, has died at age 84. [variety]
MovieMoron takes a look at the top five drive-in movie theaters.