Date Night Teaser Trailer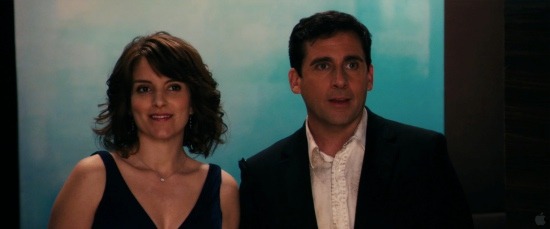 There have been a bunch of movie trailers to hit over the last 24 hours: Clash of the Titans, Kick-Ass, and now 20th Century Fox has released the first teaser trailer for the Action romantic comedy Date Night. The film stars Tina Fey and Steve Carell as Claire and Phil Foster, as a bored married couple's attempt at a glamorous and romantic evening into something more thrilling and dangerous due to a case of mistaken identity.
The Fosters are a typical suburban couple whose lives – including their weekly date nights of dinner and a movie – have become routine. To reignite the marital spark, they visit a trendy Manhattan bistro where a case of mistaken identity turns their evening into the ultimate date night-gone-awry. But as Claire and Phil take their unexpected walk on the wild side, they begin to remember what made them so special together.
Judging from the trailer, this is just what we would expect from Night at the Museum/Pink Panther helmer Shawn Levy. A couple mild jokes, an obvious storyline and a flurry of cameos and small supporting performances from actors/actresses you know (like Mila Kunis, Leighton Meester, Mark Wahlberg, James Franco, Mark Ruffalo, Kristen Wiig, and Ray Liotta). If you look closely near the end of the trailer, you might even see Olivia Munn, of G4 Attack of the Show fame. And what is up with Wahlberg's Minority Report/Iron Man-style futuristic computer set-up? Seems a bit too much for this movie, doesn't it?
Fox is betting on this film to be an early summer comedy, but it will face some heavy superhero competition, going head to head with The Losers, and the next week Kick-Ass and Machette. Watch the trailer after the jump, and leave your thoughts in the comments below.
Watch the trailer in High Definition on Apple.