Weinsteins Go Back To Disney For Help Promoting The Musical Nine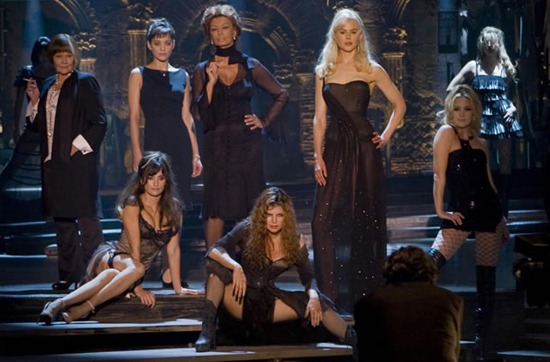 This is an interesting development. The Weinsteins famously broke off from Disney several years ago when they left Miramax to found The Weinstein Company. But their new outfit has been struggling financially, and they've turned back to Disney (via ABC) to cross-promote the Rob Marshall musical Nine. But this isn't just some run of the mill deal where Disney coughs up some cash and takes some profit. It's a plan that will either make Nine the film with some of the highest awareness ratings of the fall, or will make everyone sick of it before it even has a chance.
Variety has these details. One of the biggest is that my mom will learn about the film when it is a part of the Nov. 17 episode of Dancing With the Stars, which will feature a sequence set to the film's song 'Be Italian' and the dancers wear outfits from the movie. On Nov. 22, the film's trailer will run simultaneously on Lifetime, ABC Family, SoapNet, A&E and Bio, with an airing that same night on ABC during the American Music Awards. Finally, the movie will be written into episodes of All My Children, One Life to Live and General Hospital, the latter hopefully being the entire reason that James Franco is appearing on the show. I knew that guy was up to something.
This is a huge deal; there will also be moments involving the nighttime talk shows, ABC's sign in Times Square, ABC-owned TV stations and ABC.com will have a Nine microsite. If it works, expect to see more of this sort of thing. Product placement has long been invading movies; I don't see why we haven't already had more movies becoming product placed in TV shows. (It's happened, but not on this scale.)
Also, below is video from Vogue of Annie Leibowitz's photo shoot involving the female leads of Nine which, to reiterate, is Rob Marshall's film version of the stage musical based on Fellini's 8 1/2, starring Daniel Day-Lewis, Penélope Cruz, Kate Hudson, Marion Cotillard, Nicole Kidman, Judi Dench and Sophia Loren.