Clash Of The Titans Movie Trailer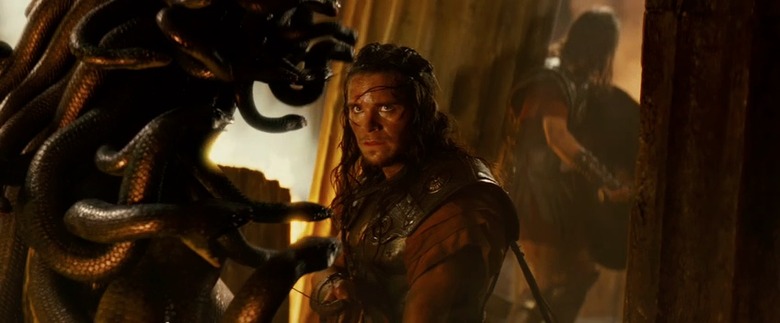 Warner Bros has released the first teaser trailer for Louis Leterrier's remake of Clash of the Titans. With speed ramp, heavy guitar riffs, and fast paced edits, this definitely isn't "your father's Clash of the Titans". And I'm not really a fan of the "Titans will Clash" slogan. I know a lot of you will probably be impressed by this trailer, calling it "bad ass". But for me, much of the low-fi magic that made the original special appears to be missing from this version, instead replaced with loads of CG and Lord of the Rings-style flyby shots. It could just be the "lets appeal to the mainstream Mountain Dew drinkers" edit. Who knows what the actual film will look like... We'll see. Watch the trailer for yourself after the jump. And leave your thoughts in the comments below. I look forward to a lot of you explaining why I'm wrong. Bring it on...
[flv:http://pdl.warnerbros.com/wbmovies/clash/cott/trl1/COTT_DomesticOnlineDebutTrailer_Large.flv 560 232]
Watch the trailer in High Definition: 480p, 720p, 1080p
In "Clash of the Titans," the ultimate struggle for power pits men against kings and kings against gods. But the war between the gods themselves could destroy the world. Born of a god but raised as a man, Perseus (Sam Worthington) is helpless to save his family from Hades (Ralph Fiennes), vengeful god of the underworld. With nothing left to lose, Perseus volunteers to lead a dangerous mission to defeat Hades before he can seize power from Zeus (Liam Neeson) and unleash hell on earth. Leading a daring band of warriors, Perseus sets off on a perilous journey deep into forbidden worlds. Battling unholy demons and fearsome beasts, he will only survive if he can accept his power as a god, defy his fate and create his own destiny.
"Clash of the Titans" is being directed by Louis Leterrier ("The Incredible Hulk"). Leading the international cast is Australian actor Sam Worthington ("Terminator Salvation," the upcoming "Avatar") as Perseus, the mortal son of Zeus, king of the gods. Academy Award® nominee Liam Neeson ("Taken," "Schindler's List") takes on the role of the mighty Zeus, and Academy Award® nominee Ralph Fiennes (the "Harry Potter" films, "The English Patient") plays the role of Hades, god of the underworld, who feeds on human fear. Rounding out the cast is Gemma Arterton ("Quantum of Solace") as Io, Perseus' mysterious spiritual guide throughout his journey; Mads Mikkelsen ("Casino Royale") as Draco, who takes up his sword to join Perseus' quest; Jason Flemyng ("The Curious Case of Benjamin Button") as Acrisius, a one-time king turned hideous beast; and Alexa Davalos ("Defiance") as Andromeda, a princess doomed to lose her life if Perseus does not succeed.
"Clash of the Titans" is directed by Louis Leterrier from a screenplay by Travis Beacham ("Dog Days of Summer") and Phil Hay & Matt Manfredi ("Aeon Flux"), and based on the motion picture "Clash of the Titans," directed by Desmond Davis and written by Beverley Cross. The film is produced by Basil Iwanyk ("We Are Marshall") and Kevin De La Noy ("The Dark Knight"). The executive producers are Academy Award® winner Richard D. Zanuck and Legendary Pictures' Thomas Tull, Jon Jashni and William Fay.