This Week In DVD & Blu-Ray: Up, Watchmen: The Ultimate Cut, And More
We may receive a commission on purchases made from links.
This Week in DVD & Blu-ray is a column that compiles all the latest info regarding new DVD and Blu-ray releases, sales, and exclusive deals from stores including Target, Best Buy and Fry's.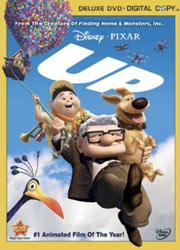 UP(Available as single-disc DVD, 2-Disc Deluxe Edition DVD, and 4-Disc Blu-ray/DVD Combo)
Pixar is not a boon to cinematic originality. Their formulas are just as heavily recycled as any simple-minded rom-com, or any trashy horror flick. Pixar's success lies not in the bare story arcs of their films, but in the way they tell the story. This is what differs them from so many of Dreamworks' past efforts: they respect the art of storytelling. Up exemplifies this notion perfectly. The film displays a comfortable familiarity in its conflicts and character arcs, from the bitter protagonist seeking redemption to the boy in desperate need of a father figure to the idol-turned-villain 'twist' (if you can call it that), and so on and so forth. While in a lesser film, plot beats like these might act as a detriment, Pixar's usage of formulas is actually one of its greatest assets. Rather than break free from the mold established by countless classic tales before it, they embrace those elements. Doing so not only provides their films with a rewarding accessibility that the whole family can enjoy, but by taking those ubiquitous movie tropes and making their inclusion feel organic to the story, the process also allows them to illustrate just why exactly those formulas work so well. It feels new to us because Pixar makes it feel new, as every familiar plot point is treated with only the utmost heartfelt sincerity and intelligence. Instead of Carl Fredricksen's loss toward the beginning of the film acting as merely a way to facilitate the adventure that later ensues, Pixar takes the time to show us why we should care. And holy hell does Pixar know how to make you care. If you're not choking back tears in the first 15 minutes, you're probably not watching the right movie. When the film isn't busy leaving you an emotionally devastated wreck, it captivates your senses with the pure winsome wonder of its visuals, and then thrills you with some of the most exhilarating action sequences to grace the screen since Raiders of the Lost Ark. Not to mention, you'll likely spend most of the experience grinningly stupidly due to the non-stop hilarity of the film's wonderful band of characters (Dug the dog is an obvious highlight, but it's Kevin the bird who truly won my heart). There's a rhythm and pace to the film that's simply flawless, resulting in the rare film that will have you glued to the screen for every second of its runtime. It may be formulaic, sure, but you'll be too busy loving the film to care.
Blu-ray? Yes.Notable Extras: 2-Disc DVD – Commentary by director Pete Docter and co-director Bob Peterson, "Dug's Special Mission" short film, "The Many Endings of Muntz" featurette, "Partly Cloudy" short film, "Adventure is Out There" documentary, and a digital copy. Blu-ray – Includes everything on the DVD, as well as Cine-Explore, Geriatric Hero, Canine Companions, Russell: Wilderness Explorer, Our Giant Flightless Friend Kevin, Homemakers of Pixar, Balloons and Flight, Composing for Characters, Married Life, and the single-disc DVD.
BEST DVD PRICE*
Target
Best Buy
Fry's
$15.99
$15.99
$15.77
Amazon – $14.99
*Does not include 2-Disc Edition, which costs $19.99 at Fry's and Amazon, and $22.99 at each of the other listed stores.
BEST BLU-RAY PRICE
Target
Best Buy
Fry's
$26.99
$23.99
$19.95
Amazon – $19.99
EXCLUSIVE DEAL:What? Free 150-page journal when you buy either the 2-Disc Deluxe or Blu-ray editions of Up.Where? Target.EXCLUSIVE DEAL:What? Save $10 when you purchase both Up and Monster's, Inc. ($23.77) on Blu-ray.Where? Fry's.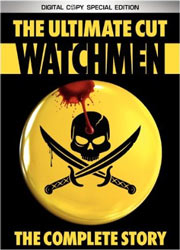 WATCHMEN: THE ULTIMATE CUT
The effort is appreciated, Zack. I imagine there are plenty of diehard Watchmen fans out there who are eager to pick up this "definitive" cut, and specifically held off on the Director's Cut for that very reason. As a direct translation of the graphic novel, this is as close as you're going to get. All of Tales of the Black Freighter scenes have been restored, and that includes the transitional material involving Bernard and Bernie. On the one hand, these scenes play a vital role in the effectiveness of that final shot between the two characters, which in alternate versions didn't leave much of an impact (if any). On the other hand, these scenes also demonstrate Alan Moore's point about utilizing the freedom of the graphic novel medium to do things no other form of media could accomplish, including film. With the restrictive confines of a set running time, Watchmen: The Ultimate Cut suffers vastly in comparison to the graphic novel in that it doesn't let you move at your own pace. Instead of the Tales of the Black Freighter acting as an interesting complementary piece to the central storyline, it merely interrupts the flow of the story, and forces you to wait through a series of out-of-place animated sequences until you can get back to the actual film. For this reason, my personal "definitive" version of the film will always remain the Director's Cut, but The Ultimate Cut still remains worth watching as a nice albeit slightly gimmicky bit of fan service.
Blu-ray? Yes.Notable Extras: DVD & Blu-ray – 2 all-new audio commentaries with director Zack Snyder and illustrator Dave Gibbons, over 3 hours of special features ("The Phenomenon: The Comic that Changed Comics", "Real Super Heroes, Real Vigilantes", "Mechanics: Technologies of a Fantastic World", "Watchmen: Video Journals", "My Chemical Romance Desolation Row", "Under The Hood", "Story Within A Story: The Books of Watchmen"), a digital copy of the theatrical version, and Watchmen: The Complete Motion Comics.
BEST DVD PRICE
Target
Best Buy
Fry's
$34.79
$39.99
N/A
Amazon – $28.99
BEST BLU-RAY PRICE
Target
Best Buy
Fry's
$45.49
$49.99
N/A
Amazon – $39.49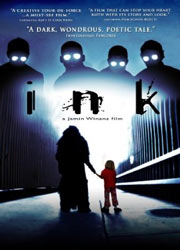 INK
I am continually amazed at what budding filmmakers can achieve without the aid of studio financing. When I see a trailer for a movie like Ink, my immediate assumption is that the movie is all flashy FX and style, with little in the way of substance. It's very rare that enough indie talent will come together to deliver in all of the respects that you'd hope for in a film, so the most I usually hope for in a truly independent effort is a strong script. A strong story costs nothing. Finding a way to get that story filmed and edited costs a lot. So if I see a $250,000 movie that has a strong focus on visuals, the first thought that pops into my head is that the film was made by somebody who's concerned primarily with the technical side of filmmaking and has spent their time mastering how to work on the cheap, and as such, is probably less experienced when it comes to screenwriting and, simply put, telling a good story. ...And then I saw Ink, a movie which confidently told me to blow all of my assumptions out my ass. While this isn't a movie that's likely to impress the casual viewer who isn't familiar with (or doesn't care about) the hardships of making a film without studio backing, those with an appreciation for indie cinema are guaranteed to be wowed. With a fantasy world that calls to mind what you might expect if Terry Gilliam re-envisioned The Matrix, the story is as engaging as the visual design is inventive. Though intricate and occasionally puzzling, the creative dreamscape that's been created stays grounded thanks to the father/daughter relationship that anchors the story. Impatient viewers may grow irritated by the lack of explanation early on, but I appreciated writer/director Jamin Winans' eagerness to convey the story through showing instead of telling (even if there is some needless plot exposition later on). The film also has a few solid moments of action, and an impressive score that calls to mind elements of the Sunshine soundtrack. While there are also some minor problems that plague the film, such as moments of iffy acting and frenetic editing, as well as an obvious attempt to hide the film's low budget through excessively luminous video filters, these are all forgivable given how little the filmmakers had to work with. If this is what the Winans siblings can do with $250,000, I'd love to see what they can accomplish with, you know, an actual budget.
Blu-ray? Yes, on November 24.Notable Extras: Director commentary, 10-minute behind-the-scenes featurette, Coffee with Chris and Quinn, and a deleted scene.
BEST DVD PRICE
Target
Best Buy
Fry's
$16.99
$19.99
$16.99
Amazon – $16.99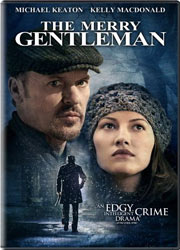 THE MERRY GENTLEMAN
Appropriately moody and sometimes even meditative, The Merry Gentleman marks Michael Keaton's directorial debut, and it's an impressive enough effort to get me interested in seeing what else the actor can do behind the camera. The film is a minor work, to be sure, but that's not a bad thing. As yet another movie about a hit man suffering from some severe problems (others that come to mind are In Bruges, The Matador, and You Kill Me), The Merry Gentleman wisely steers away from the intricacies of Keaton's character's job, and puts the focus more on being a character study of the three leads, the standout being Kelly Macdonald. Bruised and alone, Macdonald manages to maintain an underlying sense of unbearable sadness even when she's smiling, and looks on the verge of tears in every scene. She remains the film's emotional base, while Keaton—as a director—brings a quiet desperation to the film that suits the slow-burn quality of its narrative. Worth a watch.
Blu-ray? No.Notable Extras: None.
BEST DVD PRICE
Target
Best Buy
Fry's
$15.69
$14.99
$16.99
Amazon – $14.99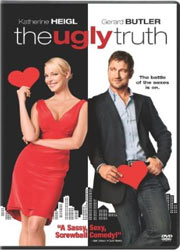 THE UGLY TRUTH
A by-the-numbers romantic comedy that builds its romance through exploring the "ugly truth" about men, women and relationships... Talk about a self-defeating premise. Gerard Butler and Katherine Heigl certainly give it their all, and both come out of the film unscathed, but the film seems to confuse reality with crudeness, and in doing so takes what could've been a refreshing twist on rom-com conventions and turns it into nothing more than an R-rated version of the same stupid, stereotypical, unfunny bullshit that gets released a dozen times every year.
Blu-ray? Yes.Notable Extras: DVD & Blu-ray – Select scenes filmmaker commentary, deleted and extended scenes, alternate endings, 2 featurettes ("The Truth Is Ugly: Capturing the Male & Female Point of View", "The Art of Laughter: A Making of Hilarious Proportions"), and a gag reel.
BEST DVD PRICE
Target
Best Buy
Fry's
$15.99
$16.99
$19.99
Amazon – $15.99
BEST BLU-RAY PRICE
Target
Best Buy
Fry's
$26.99
$26.99
$27.99
Amazon – $25.99
EXCLUSIVE DEAL:What? Free $5 Gift Card with purchase of DVD or Blu-ray.Where? Fry's.Other noteworthy DVD (and Blu-ray) releases this week...
Ballast [DVD / Blu-ray] – Xavier: Renegade Angel (Seasons 1 & 2) – The Accidental Husband – Spread [DVD / Blu-ray] – Justice League (The Complete Series)
Other noteworthy Blu-ray-specific releases this week...Monsters, Inc. (4-Disc Blu-ray/DVD Combo) – Heat – Godzilla

NOTE: Some deals may be in-store only.

Exclusive Retail: My One and Only ($14.99), starring Renee Zellweger. Includes behind-the-scenes footage and six "making of" featurettes.

$14.99 – DVD or Blu-ray: Weeds (Season 4)$19.99 – Californication (Season 2), DVD or Blu-ray: Mad Men (Season 2)$24.99 – Sons of Anarchy (Season 1)

$15.99 – The Simpsons (Season 1 – 9)