The End Of The World? S*** My Dad Says Twitter To Become A Sitcom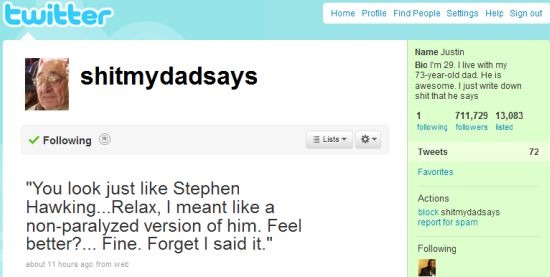 This has to be a first. Uber popular Twitter account s***mydadsays has already landed 29-year-old writer Justin Halpern a book deal, but today we've learned CBS also wants to make a sitcom out of the musings of Halpern's kooky father. The show will be exec produced by former Will and Grace alums, and Halpern will write and co-exec the script along with Patrick Schumacker. And yes, the title will be changed for television.
Son, no one gives a s*** about all the things your cell phone does. You didn't invent it, you just bought it. Anybody can do that.
Nobody is that important. They eat, s***, and screw, just like you. Maybe not s*** like you, you got those stomach problems.
I like the dog. If he can't eat it, or fuck it, he pisses on it. I can get behind that.
Since Halpern is also a senior-editor at Maxim.com, I would assume he actually has the capability to write a script. If this concept can actually be translated into a sitcom is an entirely different question. I assume it's going to feature an old man that just spouts out crazy zingers every episode, but I'm not sure that can actually sustain a show.
That this Twitter account has risen in popularity so quickly is somewhat terrifying. Halpern has only posted once a day since August, accumulating a grand total of only 72 tweets. And if you want to see something truly crazy, just go to the twitter page, reload every few seconds, and watch the followers climb. Insanity.
[Source: Variety]