New Female Lead Confirmed For Spider-Man 4, Romola Garai Auditioned... But Is It Black Cat?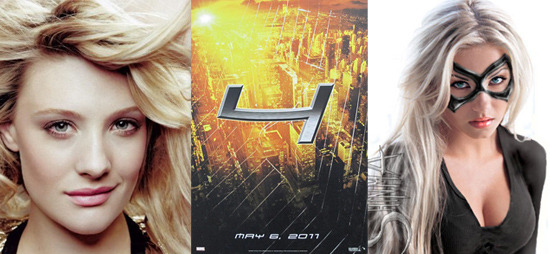 Earlier today a rumor broke that Rachel McAdams is in talks to join Sam Raimi's Spider-Man 4 as the anti-hero/love conflict Black Cat. We didn't know if this was true, or just another one of the countless internet superhero rumors. I still can't confirm the validity of the story, but a /Film reader named Ambrose H forwarded me a link that at least confirms two parts of the story:
Sam Raimi and Co are already casting the feature
They are looking for a new female lead
Not only that, but Romola Garai has auditioned for the role. Garai is a 27-year-old British actress who starred in Amazing Grace, The Other Man and Dirty Dancing: Havana Nights.
In the latst issue of The Observer, Garai shared the details about what she was up to last week, which included a video audition for the latest Spidey:
Love is at the root of everything good that has ever happened and will happen." This phrase swam into focus as I moved up the escalator at Oxford Circus tube on Tuesday morning on my way to put myself "on tape" for a part in Spider-Man 4. This is the acting equivalent of the London Marathon in that it's important to try your best as long as you understand that you aren't going to win.
Garai is only a few years younger than McAdams, and certainly has the same look, which leads me to believe there might actually be something to this Black Cat rumor after all.
Black Cat photoshop on the right header image thanks to matiassoto@deviantart