Exclusive: The Imaginarium Of Dr. Parnassus US Poster

Terry Gilliam's incredible The Imaginarium of Dr. Parnassus will finally reach American cinemas on Christmas Day, or at least a number of cinemas in New York and Los Angeles. The rest of the country will have to cross their fingers/pray/get in touch with their local cinemas and wait to see if it comes their way in it's expanding release in the early part of 2010.
As this date draws near, the promotional materials will start to pile up. There's already a US trailer (to go with the original UK one) and now, I'm very happy indeed to be bringing you the /Film Exclusive Premiere of the film's US poster right after this jump.
Here it is – and you can of course, left click upon it to make it larger and right click upon it to save it.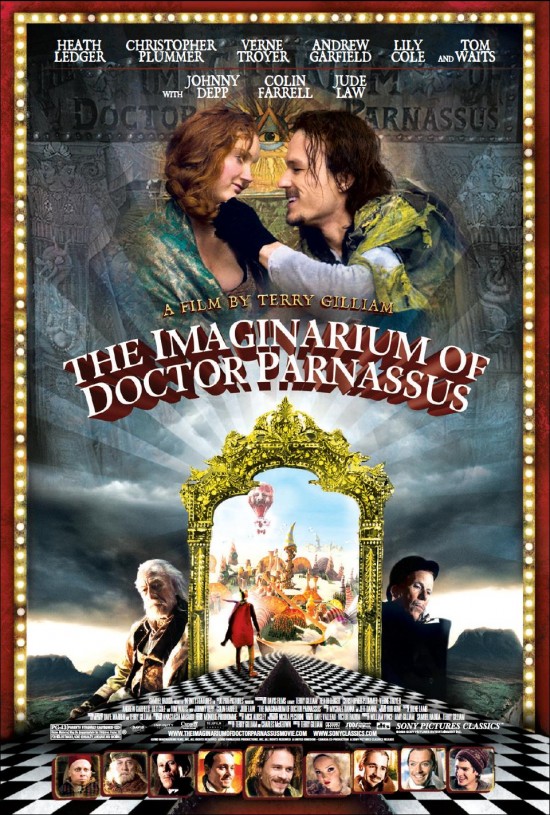 This is undoubtedly a better poster than the one used for the film's October release in the UK. However, I don't think it's up to the quality of the other Brit-side offering, the Lily Cole design I shared with you a few weeks ago.
Note that Andrew Garfield makes an appearance on the US poster, tucked away in the little box to the bottom right. At last he's made it into something of the marketing materials – I was suspecting some kind of conspiracy.
The centrepiece here seems to suggest the film will be a love story between the characters of Lily Cole and Heath Ledger. I'd argue that's a rather selective representation of the film as while there is quite a bit of business on that front, it's far from being the A-plot. On the other hand, I'm not quite sure what image would convey the A-plot of the film...
I'm still head over heels in love with this film and consider it quite easily the most extraordinary movie of the year. The film has now been something of a hit across the continental mainland in Europe, with Variety even stopping to write a news piece specifically to note how successful it proved  against the stiff local competition in Italy. Here's hoping this poster helps it achieve the same on it's American release.