Meet Alice In Wonderland's Characters - Including The Caterpillar
A new magazine scan has revealed very many of the characters from Tim Burton's upcoming Alice in Wonderland semi-sequel-adaptation-thing. This includes the Caterpillar, as played by Alan Rickman and if I'm correct, we haven't seen him before now.
Get a look at the full spread and also a close-up of scan of Rickman's wriggly alter ego after the break.
Here's the group shot, then the detail. Click on either of these to expand them.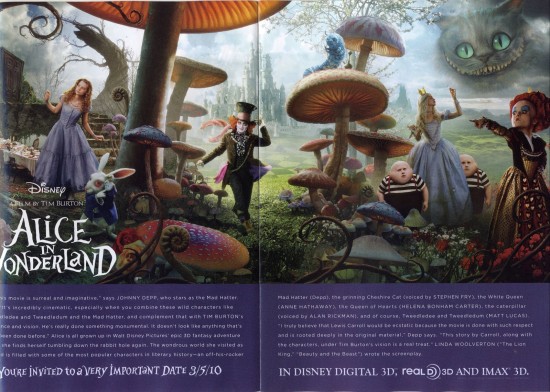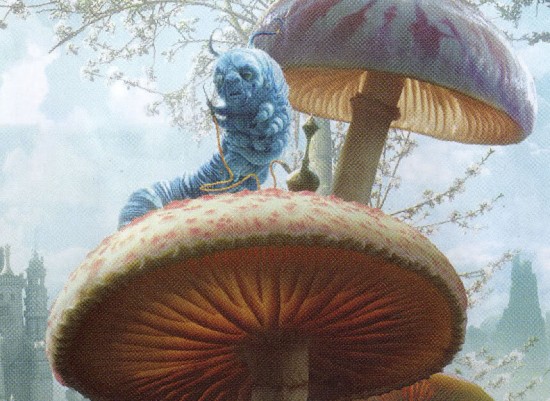 The full-page image comes courtesy of Deviantart user Nate Lestrange who appears to have scanned it from a magazine (I'm guessing the official zine of Disney club D23, but it's not entirely clear) while the Caterpillar close-up, I searched out and found at the Photobucket page of NBXZero.
The magazine spread is a curious portmanteau of previously released images and the odd bit of new stuff. In the background is the castle of The White Queen, and it seems to be quite comprehensively chessy, not just dressed with the odd pawn here or rook there.
Back at the start of September, Burton himself told MTV that he hadn't seen the Caterpillar yet. I guess they wanted to fix down his approval on the final version of the bug before releasing even a character image like this.
The Facebook fanpage of the Mad Hatter is promising something new for tomorrow. I think it might be a high-quality version of this image, while there's also some hope that it could be a new trailer. It could be anything, of course.
Here's hoping it's something encouraging because as much as I have loved all of Burton's films so far, found Linda Woolverton's script for this new Alice to be engagingly daffy and often surprising, and would probably name the two Alice books as real favourites of mine, I've been harbouring some real doubts since seeing the first trailer for this movie.