Bruno Blu-Ray Breakdown And Video Commentary Clips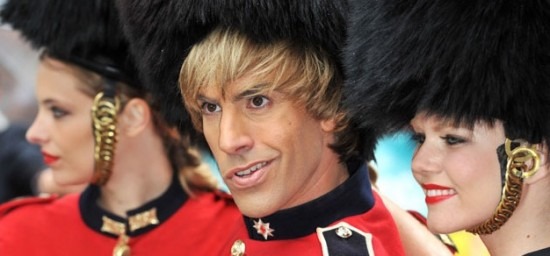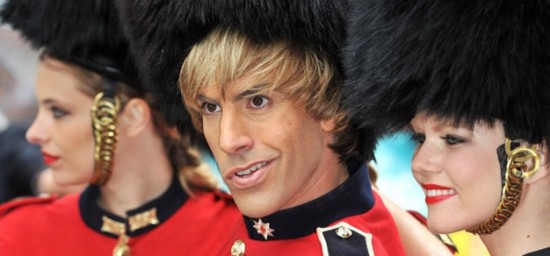 Available from November 17th in the US, but this Monday November the 9th here in the UK, are the DVD and Blu-ray special editions of Bruno. I absolutely loved the film, and still consider it amongst my few favourite films of the year. This is what I want from the crossover between documentary and fiction, not silly pranks like Paranormal Activity.
I'm just through with the Bruno Blu-ray disc and, frankly, have been floored by the special features it contains. As well as the expected alternative, deleted and extended scenes there's a brilliant enhanced commentary with Sacha Baron Cohen and Larry Charles that I found almost as entertaining as the movie proper. This is the real reason to buy the disc. Even Bruno naysayers might be interested in finding out who we see in the film was actually in on the act, and who was unsuspecting.
After the break, more on the disc's features and some clips from the video commentary.
The alternative scenes feature Pete Rose in the place of Paula Abdul and former UN Ambassador John Bolton, president of "American Values" Gary Bauer and former Secretary of Homeland Security Tom Ridge each in place of Ron Paul. These last three 'guests' are intercut together.
The deleted scenes include the LaToya Jackson moment that was in the print shown to the press but then removed before general release. I think its a real shame that it was dumped in the special features and not reinstated into the film, personally. There's also a series of unused clips called, in Bruno's pigeon-Austrian, Fashionveld Montage, Partymeister, Hollywood Hausvendors, Haus Designfraulicke, Teasche, Sczientischtenmann, Feurwaffe Gun-arty, Fessel-Center, Anti-Schniedelmeister Festival and, only on the BD, Der Cenral Ost.
As for the extended scenes, you've got more of the kids casting for the photos, more of the wedding, another gay converter, more of the swingers, three extra bits with Lloyd the agent, more with the focus group and, again as a perhaps rather cynical BD exclusive, more of the National Guard. Why couldn't that be on the DVD, exactly? I guess the pull of HD isn't so strong on a film with the look and feel of Bruno so Universal were worried about people plumping for the cheaper option?
As with the deleted scenes from Borat, I dare say all of this material will end up on YouTube before too long. That seems the natural home for a lot of these clips, going viral and pinging around, whooping up minor controversy and a lot of pub talk.
On the other hand, I think the commentary alone is reason enough to get a hold of the disc proper. This so-called "expanded commentary" is a fairly simple picture-in-picture track with Sacha Baron Cohen and Larry Charles sitting and discussing the picture. There's occasionally, but not that often, some visual reference material popped up on screen too. What sets it apart from a normal chat track, however, is that the commentators have been given the power to pause the film and talk at length about any scene they see fit. The full running time is about a half hour longer than the film alone.
Sacha Baron Cohen is out-of character, for once, as he sits and talks through some of the whys and wherefores of the film. There's a lot of references to how they legally ensured they could do what they were doing, some revelations of how sequences were pieced together from scenes shot in wildly removed locations, and a fair bit on how Cohen beat the odds to pull of some of the scenes in very tricky circumstances. It's almost like a thriller at times, as Cohen and Charles discuss closing nets, vicious security guards and last-ditch dashes. They also spill on just who we see was in on the act and clued-up to Bruno being a fictional character. You might be surprised who was just playing along – for example, Harrison Ford was in on the joke, where I assumed we were looking at an outtake of an interview gone wrong – but also satisfied that it's only a very small number of folk throughout.
I'm reluctant to spoil any of the details because it was definitely the best new commentary track I came across since Disney's Sleeping Beauty one.
Ultimately, I've come away with even more respect for Cohen. He's not only somebody I admire as a performer now, or as one of cinema's great activists, but also a dedicated, sincere craftsman who put himself through the ringer for the good of his picture. Frankly, I found his attitude inspirational.
A great surprise is that Londoners will get a chance to see this commentary projected on the big screen and enjoy it in a group. This really doesn't happen all the time – heck, does it ever happen? Even better, it's not going to cost a thing and they'll give you two free drinks from the bar – so, I'd just recommend you roll up in good time. It's on this Sunday, 8th November, 7.30pm at the Prince Charles Cinema and I wish I could join you there.
If you aren't in London, you can sample a few clips from the Bruno commentary track here and now.
[flv:http://media2.slashfilm.com/slashfilm/trailers/Bruno_VelcroSuit460k.flv 400 224]
[flv:http://media2.slashfilm.com/slashfilm/trailers/Bruno_RonPaul460k.flv 400 224]
[flv:http://media2.slashfilm.com/slashfilm/trailers/Bruno_Demonstration460k.flv 400 224]
[flv:http://media2.slashfilm.com/slashfilm/trailers/Bruno_PornStar460k.flv 400 224]
[flv:http://media2.slashfilm.com/slashfilm/trailers/Bruno_BleachingScene460k.flv 400 224]
[flv:http://media2.slashfilm.com/slashfilm/trailers/Bruno_HuntingScene460k.flv 400 224]
[flv:http://media2.slashfilm.com/slashfilm/trailers/Bruno_PsychicScene460k.flv 400 224]