Zach Galifianakis Eying Humpty Dumpty In Shrek Spinoff Puss In Boots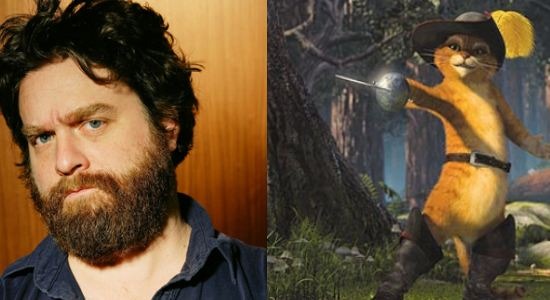 Because the world can never get enough Shrek, we've known for some time that an upcoming spinoff film, Puss in Boots, has been in the works. Now it seems like things are finally moving forward. The increasingly bankable Zach Galifianakis is currently in talks to voice Humpty Dumpty. He'll be joining Antonio Banderas as the title character, and Salma Hayek as "Kitty" (this is their post-Robert Rodriguez reunion?!). The film will cover the feline's adventures before Shrek 2. Tom Wheeler is covering the screenwriting duties, and Shrek the Third co-writer/co-director Chris Miller is directing.
For a series that's rich with comedic characters, Galifianakis is a fitting choice. At this point, I'd usually mention that he's far too good for the material, but Galifianakis has voided that statement with his involvement in G-Force.
At this point, I'm just wondering when the Shrek gravy train will end. I liked the first film well enough, and Shrek 2 was pretty harmless, but the third entry just felt completely devoid of life—and most importantly, humor. According to Box Office Mojo, Shrek 2 made $441 million domestically, a significant increase over the original's returns of $267 million. Shrek the Third came in midway at $322 million, and that film (along with Shrek 2) cost around $150 million compared to the first film's budget of $60 million. They weren't nearly as profitable domestically, but then they also raked in way more internationally.
I'm sure the studio will be looking closely at how well the fourth Shrek film and Puss in Boots perform, but judging from the series pretty consistent draw in the worldwide box office, we're probably going to be seeing many more entries for some time.