Talent Switch On The Tourist: Alfonso Cuarón And Johnny Depp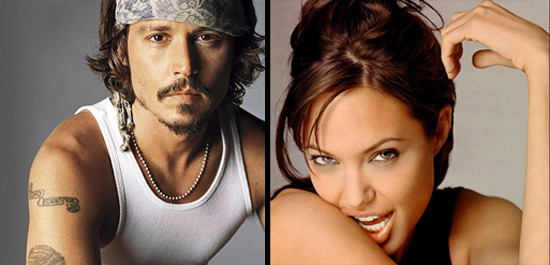 I wrote recently about the movie The Tourist that some projects just don't seem to die, no matter how the talent involved comes and goes. Maybe they should, though. Especially if they end up being Angelina Jolie films. We've just seen the US trailer for Salt, and the more I look at that, the more it looks ridiculous. (And I'm told it's a disaster; we'll see about that.) Now The Tourist, to which she just provisionally signed, is undergoing yet another talent swap — lead actor Sam Worthington is out, as is presumed director Florian von Donnersmarck. Who's in — one is a very big name — after the break.
According to Variety, Worthington will be replaced by Johnny Depp in the lead role of "an American tourist who, on behalf of Interpol, goes undercover to entrap a former lover who's a suspected global criminal." Jolie is the suspected criminal, and it doesn't take a scientist to figure that a Jolie/Depp pairing could be huge.
Now in the running for director: Alfonso Cuarón. I was intrigued by the idea of The Lives of Others director von Donnersmarck taking the film, but I'm just as happy to see him bounce off onto something in which he might have more interest. I'd say the same thing about Cuarón, pretty much — let's see if he signs on the dotted line. Apparently both Worthington and von Donnersmarck skipped out over 'creative differences'. That's the spin, anway. Nikki Finke says the director left (or never properly signed a deal) because he's "difficult and demanding." Which sounds like his job, more or less.
So, a Tom Cruise role goes to Sam Worthington, then to Johnny Depp while the female lead passing from Charlize Theron to Jolie. And the director's queue started with Bharat Nalluri, then von Donnersmarck, and now perhaps Cuarón. Will the musical chairs continue, or is everyone just going to take a seat for a couple months so this thing can get made? And will the script be rewritten yet again? (Julian Fellowes wrote originally, and Cruise ordered a Christopher McQuarrie draft, with Variety reporting that Jeffrey Nachmanoff also had a turn.) I'd bet that it will.