Up DVD/Blu-Ray Release Party To Be Held At Ice Cream Store Featured In The Movie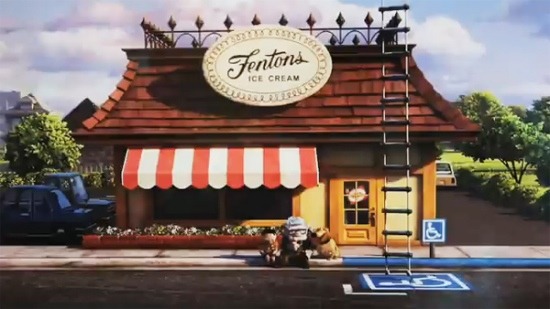 To celebrate the Blu-Ray and DVD release of Disney•Pixar's UP, Oakland California's Fentons Creamery will host the official release party for the animated film.
The popular East Bay Ice Cream Store made a cameo appearance in the summer blockbuster when Carl Fredrickson and Russell parked their Zeppelin above Fentons and enjoyed some delicious ice cream. In was only fitting to celebrate the November 10 release to Blu-Ray and DVD with an ice cream social that can bring the community together.
Fentons is not the only East Bay location featured in the movie. Check out our previous article detailing all the cool easter eggs hidden in Up. Full details on the party are available after the jump.
The public is invited to come down for an evening full of fun events including:
Pixar Animators demonstrating how to draw characters from the film.
A photo opportunity with Carl Fredrickson's house floating away.
A special "Spirit of Adventure Sundae" created and served for one night only.
Contests to win various prizes including copies of the film on Blu-Ray and DVD, Pixar Prize Packages, and Free ice Cream.
WHEN:
Tuesday, November 10, 2009
5:00PM – 8:00PM
WHERE:
FENTONS CREAMERY
4226 Piedmont Ave
Oakland, CA
From the revolutionary minds of Pixar Animation Studios and the acclaimed director of MONSTERS, INC. comes a hilariously uplifting adventure where the sky is no longer the limit. Carl Fredricksen, a retired balloon salesman, is part rascal, part dreamer who is ready for his last chance at high-flying excitement. Tying thousands of balloons to his house, Carl sets off to the lost world of his childhood dreams. Unbeknownst to Carl, Russell, an overeager 8-year-old Wilderness Explorer who has never ventured beyond his backyard, is in the wrong place at the wrong time — Carl's front porch! The world's most unlikely duo reach new heights and meet fantastic friends like Dug, a dog with a special collar that allows him to speak, and Kevin, a rare 13-foot tall flightless bird. Stuck together in the wilds of the jungle, Carl realizes that sometimes life's biggest adventures aren't the ones you set out looking for. Including the hilarious short film "Dug's Special Mission," UP reaches new heights on Blu-ray™ and DVD. "You will want to see it again and again," raves Christopher Kelly of the Fort Worth Star-Telegram. It's adventure that will send your spirits soaring!