And The Oscars Hosting Duties Go To... Steve Martin And Alec Baldwin!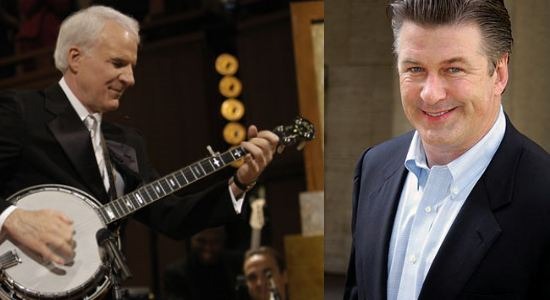 Step off that ledge Oscar fans, even though Hugh Jackman has declined to return to this year's event, the show will go on. Today we've learned via the LA Times that Steve Martin, a veteran host of the ceremony, and Alec Baldwin, a newcomer, will be sharing the hosting duties for the 82nd Academy Awards. Says Martin: "I am happy to co-host the Oscars with my enemy Alec Baldwin."
As for Martin and Baldwin, I think the two could bring a great dynamic to the show. My memory is a bit fuzzy on Martin's performance as the host of the 2000 and 2002 ceremonies, but Baldwin is one of my favorite SNL hosts, and I'm sure the Oscars could allow him to use that charisma on a larger scale. The two are also appearing together in Nancy Meyer's upcoming film It's Complicated with Meryl Streep.
I'm also hoping that this next ceremony will remind us of Martin's better days. Aside from his brilliant guest spot on 30 Rock, I haven't liked anything he's done since Bowfinger (and no, I'm not a Shopgirl apologist). Many of his recent works have nearly driven me to the point of self harm, so I seriously hope he takes this chance to remind us why we all loved him decades ago.
And for the lot of you hoping that Neal Patrick Harris would get the gig, I feel your pain.
Discuss: Do you think Steve Martin and Alec Baldwin will make a good hosting pair? Does this make you more or less excited for this year's ceremonies?