This Week In DVD & Blu-Ray: G.I. Joe: The Rise Of Cobra, The Taking Of Pelham 1 2 3, And More
We may receive a commission on purchases made from links.
This Week in DVD & Blu-ray is a column that compiles all the latest info regarding new DVD and Blu-ray releases, sales, and exclusive deals from stores including Target, Best Buy and Fry's.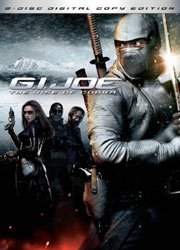 G.I. JOE: THE RISE OF COBRA(Available as single-disc and 2-Disc Edition)
Wearing its Saturday morning cartoon influences on its sleeve as proudly and prominently as the dunce cap on its head, G.I. Joe: The Rise of Cobra is a goofy, cheesy, logic-defying exercise in silliness that thumbs its nose at physics and includes lines like "Deploy the sharks!" said with a straight face. Yeah, I pretty much loved it. On the 'so-dumb-it's-enjoyable' scale (in this particular case, a more fitting benchmark than the 'so-bad-it's-good' scale), the film comes very close to fulfilling its potential (Ninja in a jetpack – Check!), but stops just shy of being consistently fun and hilarious enough to give it much rewatch value (Why aren't the sharks armed with laser beams? C'mon Sommers, get with the program!). Viewers may feel like bashing the film for the absurdities of its narrative, its lack of complex characters, and its overall disdain for the necessity of plot to facilitate action set pieces, and they have every right to do so. It seems a little pointless though, considering that audiences are given full disclosure of the film's intentions the moment they read the title.
Blu-ray? Yes.Notable Extras: Single-disc DVD – Audio commentary by director Stephen Sommers and producer Bob Ducsay. 2-disc DVD & Blu-ray – Includes everything on the DVD, as well as a Big Bang Theory: The Making of G.I. JOE featurette, a Next-Gen Action: The Amazing Visual FX and Design of G.I. JOE featurette, and a digital copy of the film.
BEST DVD PRICE*
Target
Best Buy
Fry's
$15.99
$15.99
$14.77
Amazon – $15.99
*Does not include 2-Disc Edition, which costs $19.77 at Fry's, and $22.99 at each of other the listed stores (including Amazon).
BEST BLU-RAY PRICE
Target
Best Buy
Fry's
$24.99
$24.99
$22.77
Amazon – $19.99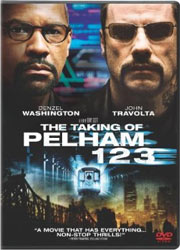 THE TAKING OF PELHAM 1 2 3
Everything about this movie is one giant clusterf*** of a miscalculation. From Tony Scott's desperate attempts to convince audiences that they're watching an action movie to John Travolta's apparent departure from the Village People and embarrassingly forced delivery of curse words (not to mention lines like, "Lick my bunghole, motherf***er!"), there is nary a single element of this remake to the solid '70s original that even partially works, let alone lives up to its predecessor. Scott's hyperactive editing style may have sounded good to the studio on paper ("This will keep viewers entertained while having to sit through all of that pesky dialogue!"), but ultimately, all it does is detract from any chance there could have been for a more realistic atmosphere, which would've been appropriate given the relatively small scale of the heist at hand (in Hollywood terms, anyway). That's a minor complaint compared to what happens later, however, as Scott takes repeated detours from the central storyline to feature outrageous car crashes and police officers flying off motorcycles, all of which are heavily emphasized for the sake of justifying the "Summer blockbuster" tag. Even the smaller details are handled poorly, such as Denzel Washington's character's relationship with his wife, which I can only assume was meant to earn both laughs and some sort of an emotional response, only to instead come across as contrived, awkward and artificial. Some may take comfort in the fact that the film consistently straddles the line of excessive mediocrity without ever becoming outright terrible, but for me, that's worse. At least with a movie that's terrible, it does elicit an emotional response. With The Taking of Pelham 1 2 3, the only emotional response I had was boredom, and eventually, frustration at the realization that I'd have to discuss it.
Blu-ray? Yes.Notable Extras: DVD & Blu-ray – Commentary with director Tony Scott, commentary with writer Brian Helgeland and producer Todd Black, and several featurettes including No Time To Lose: The Making of Pelham 1 2 3, The Third Rail: New York Underground, Marketing Pelham, and From the Top Down: Stylizing Character.
BEST DVD PRICE
Target
Best Buy
Fry's
$16.99
$15.99
$19.99
Amazon – $18.49
BEST BLU-RAY PRICE
Target
Best Buy
Fry's
$26.99
$24.99
$19.99
Amazon – $19.99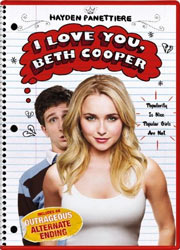 I LOVE YOU, BETH COOPER
Speaking of excessive mediocrity and massive miscalculations... I Love You, Beth Cooper is a movie that tries to follow in the footsteps of The Girl Next Door (even to the point of replicating several of its scenes) by taking its geek-wish-fulfillment-fantasy premise and injecting it with heart and wisdom to go with the laughs. It fails at delivering all three. Even if the characters were remotely interesting, likable, or believable, and the film's abundance of gags and pratfalls had an ounce of cleverness or creativity to them, Chris Columbus' direction is so ham-fisted, so lacking in anything resembling subtlety, I can't imagine any of it working anyway. The entire movie is scene after scene of awkwardly-paced set pieces and forced character interactions, sporadically interrupted by moments of uncomfortably saccharine melodrama. Elaborating beyond that is probably giving the film more attention than it deserves.
Blu-ray? Yes.Notable Extras: DVD & Blu-ray – An alternate ending, deleted scenes ("The Graduate", "College Worthy Handyman", "Beth Digs for Buried Treasure", "Beth Remembers a Cooverman Moment"), a behind the scenes featurette with the cast, a "Peanut Butter Toast" improvised song by Paul Rust, 2 FOX Movie Channel Presents in Character features with Hayden and Paul, and an "I Love You, Larry Doyle" feature.
BEST DVD PRICE
Target
Best Buy
Fry's
$16.99
$17.99
$15.77
Amazon – $16.99
BEST BLU-RAY PRICE
Target
Best Buy
Fry's
$25.99
$25.99
$24.77
Amazon – $25.49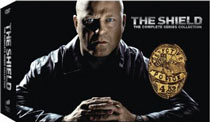 THE SHIELD: THE COMPLETE SERIES
There are enough people out there who consider The Shield one of the greatest shows of all-time that I'd likely be paying them a disservice if I failed to make mention of this release, even if I have nothing to say on the matter (*cough*TheWireisbetter*cough*). The set includes a bonus disc, and all 88 episodes of the show come encased in a collectible 34-page bound anthology book, which includes photos, quotes, and a letter from series creator Shawn Ryan. You can get a better look at the packaging over at TVShowsOnDVD.
Blu-ray? No.Notable Extras: Includes all the special features from the previous 7 season DVD releases, as well as two new featurettes ("Rampart", "The Barn").
BEST DVD PRICE
Target
Best Buy
Fry's
$129.99
$109.99
N/A
Amazon – $115.49
Other noteworthy DVD (and Blu-ray) releases this week...
Aliens in the Attic [DVD / Blu-ray] – Food, Inc. [DVD / Blu-ray] – Say Anything [DVD / Blu-ray] – Star Wars: The Clone Wars (Season 1) [DVD / Blu-ray]
Other noteworthy Blu-ray-specific releases this week...Forrest Gump – North by Northwest (50th Anniversary Edition) – It's a Wonderful Life – Wings of Desire (Criterion Collection)

NOTE: Some deals may be in-store only.

$12.99 – The Simpsons (Season 12), 24 (Seasons 1 – 7), Arrested Development (Seasons 1 – 3), Family Guy (Seasons 1 – 7)$18.99 – Californication (Season 2), Scrubs (Seasons 1 & 2 double pack), Prison Break (Seasons 1 & 2 double pack), The Big Bang Theory (Season 2), That '70s Show (Seasons 5 & 6 double pack)$14.99 – Blu-ray sale: Kill Bill: Vol 1., Kill Bill: Vol. 2, Patton, Independence Day

$9.99 – Blu-ray sale: Traitor, Sunshine Cleaning, The Terminator, Robocop, Reservoir Dogs, The Usual Suspects, Bullitt, Total Recall, Carrie, The Graduate, Napoleon Dyanmite, Road House, and more...$14.99 – Blu-ray sale: Primal Fear, Fletch, Constantine, The Lost Boys, Field of Dreams, Cinderella Man, Seabiscuit, and more...$19.99 – Blu-ray sale: Orphan, Gran Torino, Observe and Report, Wanted, Role Models, Pirates of the Caribbean: At World's End, and more...$4.99 – Minority Report, T2: Judgment Day, Total Recall, True Lies, Man on Fire, and more...