Owen Wilson To Play Marmaduke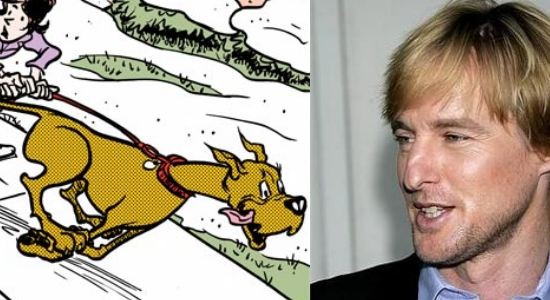 I think it's the nose. Owen Wilson has signed on to play the voice of everybody's favorite  Great Dane, Marmaduke, in Fox's upcoming live action/CG adaptation of the comic strip. The script "sees Marmaduke navigate a volatile Mutts vs. Pedigrees turf war, woo the purebred of his dreams and overcome a fall from grace." Blame Tim Rasmussen and Vince Di Meglio for that. The film will be directed by Shanghai Noon(I actually liked that!)/Failure to Launch helmer Tom Dey.
The cast also includes Lee Pace, Judy Greere, and William H. Macy as the humans, and "Fergie, Emma Stone, George Lopez, Christopher Mintz-Plasse, Steve Coogan, Damon Wayans, and Marlon Wayans" as the dogs. IMDB also lists Ron Perlman, Amanda Seyfried, and Jeremy Piven as dog voices, but perhaps they've dropped off.
In the end, this is just a simple family film, and it's basically just an excuse to get "big" actors voicing animals. We'll also be seeing Wilson voice a stop-motion puppet in Fantastic Mr. Fox soon, a film that I'm not too excited for, but will at least be more creatively fulfilling than a film featuring a CG Marmaduke.
At this point I'm just worried what other classic comic characters film studios will set in their sights to adapt into horrific CG/live action monstrosities. I also wonder if it's ever possible for these sorts of projects to ever turn into good films.
Source: THR