Page 2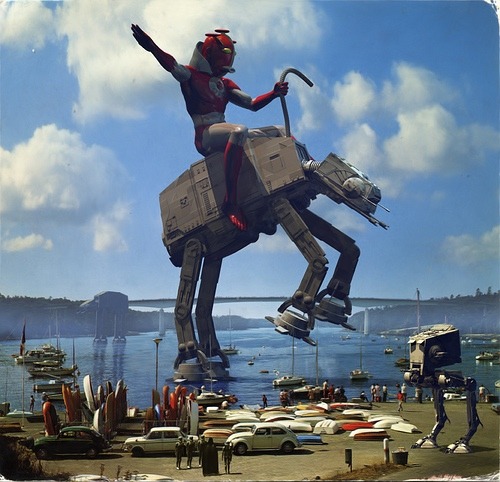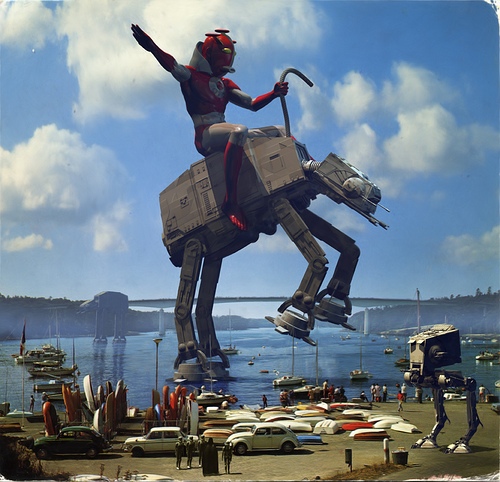 Page 2 is a compilation of stories and news tidbits, which for whatever reason, didn't make the front page of /Film. After the jump we've included 47 different items, fun images, videos, casting tidbits, articles of interest and more. It's like a mystery grab bag of movie web related goodness.
Italian artist Franco Brambilla has created a series of photos that blends vintage postcards with zany Sci-Fi beings.
Screen Media Films has acquired worldwide rights to Adam Kane's political thriller Formosa Betrayed, starring James Van Der Beek. [thr]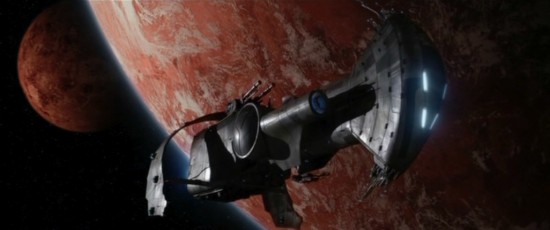 io9 has a few new images from Batman: Dead End director Sandy Collora's Hunter Prey.
Check out this behind the scenes featurette on Spike Jonze's We Were Once A Fairytale.
Dimension Films are planning a remake of Hellraiser in 3-D. [shock]
FilmSchoolRejects takes a look at 7 directors who could handle Dune.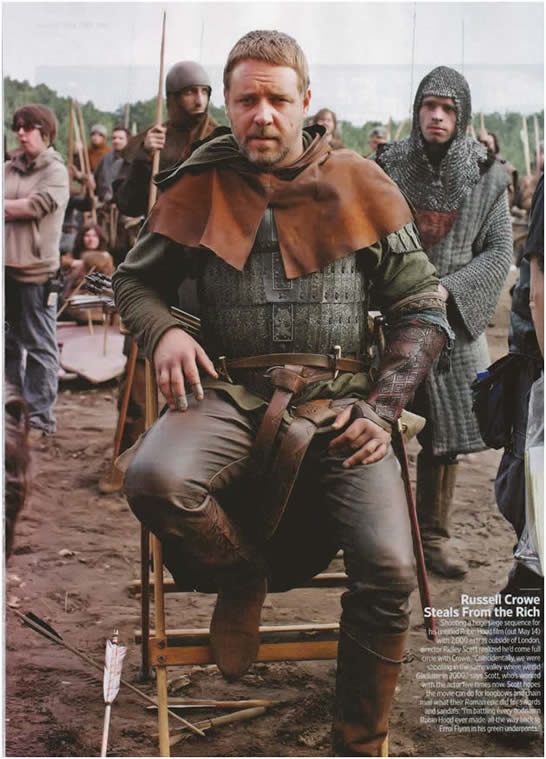 This scan of Russell Crowe in costume in Ridley Scott's Robin Hood comes from Empire Magazine. [via: FirstShowing]
Jim Jacks will produce a supernatural action thriller titled Mortis Rex, which is the directorial debut of Hellboy writer Peter Briggs. [variety]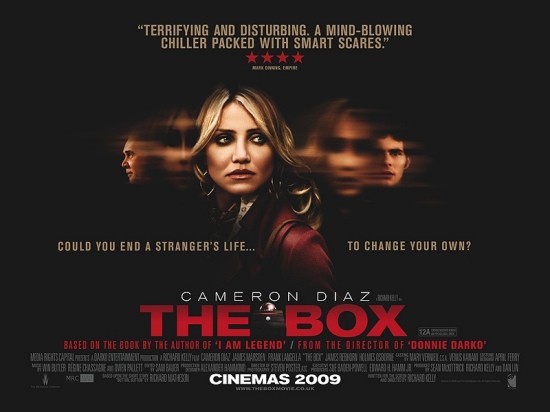 Empire has a look at the new UK quad poster for Richard Kelly's The Box. I wish they were promoting this film more on the creepy box than the face of Cameron Diaz.
Disney's Prince of Persia: The Sands of Time has been rated PG-13 for "intense sequences of violence and action." [THR]
DreamWorks has purchased Someone in the Dark, an original screenplay written by Richard Blaney and Gregory Small, a teen thriller which will be directed by Writer-director Carlos Brooks. [THR]Diora Baird's deleted scene from Star Trek where she plays an Orion Slave Girl is now online.William Atherton (Die Hard and Ghostbusters) will guest star on the final season of Lost. [twitter]
71 Marvel titles have been added to the iPhone comic reader Comixology. Digital versions cost $2 each. I'm waiting for the much rumored Apple Tablet.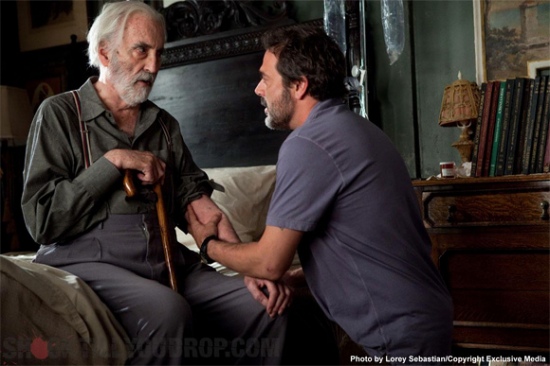 Shock has a first look at Christopher Lee & Jeffrey Dean Morgan in Hammer Film's The Resident.Spike Lee strikes back at Tyler Perry: "When John Singleton–people came out to see Boys in the Hood.  He did Rosewood, nobody showed up.  So a lot of this is on us. You vote with your pocketbook, your wallet. You vote with your time, sitting in front of the idiot box. And the man has a huge audience.Tyler is very smart with what he's done. He started out with these plays, and church busses would pull up, packed, and he's parlayed it. He's bought his own jet.  If you can buy a jet you have money. But at the same time, for me, just–the imagery is troubling." [thelivefeed]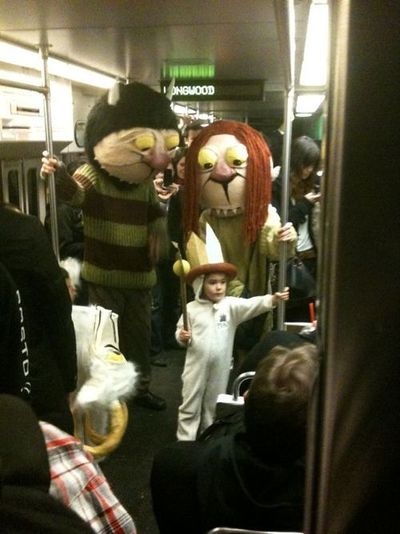 CaseyDonahue photographed this group of people in awesome Where The Wild Things Are costumes on the train.
ABC's revamped Scrubs will return on December 1st. [variety]
GWS has posted the above video of a homemade $150 8-foot-tall AT-ST Star Wars costume.According to the New York Times, half of Saw's audience is female; two-thirds of them under 25.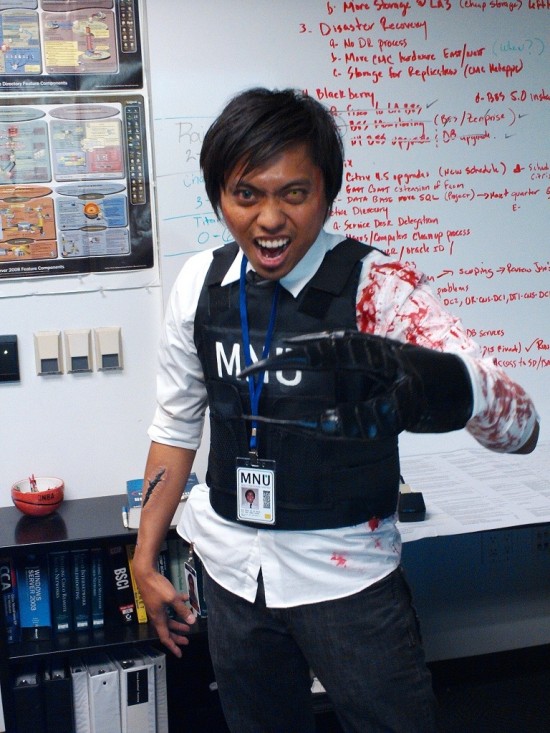 /Film reader Brian B sent in a photo of his District 9 costume: "Infected Wikus from District 9 costume. DIY MNU vest, badge (used a template I found online and used my picture instead), prawn arm, growth scars, and freaky contacts (yellow left contact, green right contact)."
Producers hope that Smallville will have a tenth season. Guys... lets just let this end, alright? [SHH]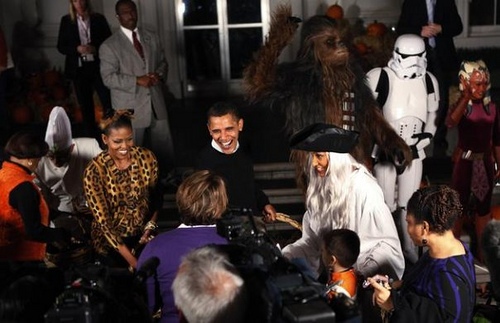 This Halloween, President Obama and the First Lady hung out with Star Wars characters at the White House. [yahoo]
AICN has a reader test screening review for Platinum Dunes' remake of A Nightmare on Elm Street:  "So the version I saw tonight could have been an excellent remake. At this point it's at mearly 'mediocre' status in my mind, but with possible 'good' potential. I want for it to be good and I would love to see more of Haley."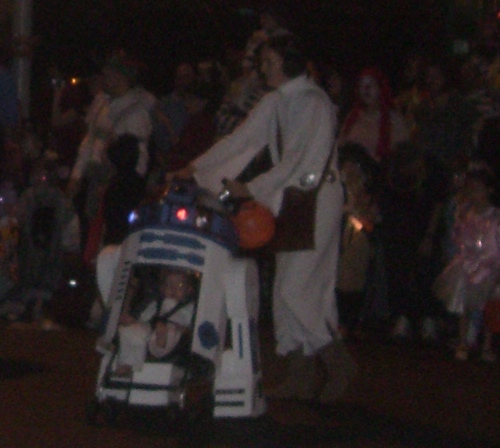 How cute is this R2D2 Star Wars stroller someone put together for Halloween? [tdw]
Nathan Fillion tells MTV that a sequel to Joss Whedon's online musical Dr. Horrible's Sing-Along Blog has been titled, and several songs have been written.
The television series Southland, canceled by NBC, is being picked up by TNT. [thr]
It might be too late for this year's Halloween, but this video teaches you how to make your own Max costume from Where The Wild Things Are.
NBC has canceled Trauma. [variety]
Popular Mechanics spoke with Dr. James Allen, Wilbour Professor of Egyptology and Chair of Egyptology and Ancient Western Asian Studies at Brown University, to find out what the hieroglyphics in the poster for Lost: The Final Season might mean.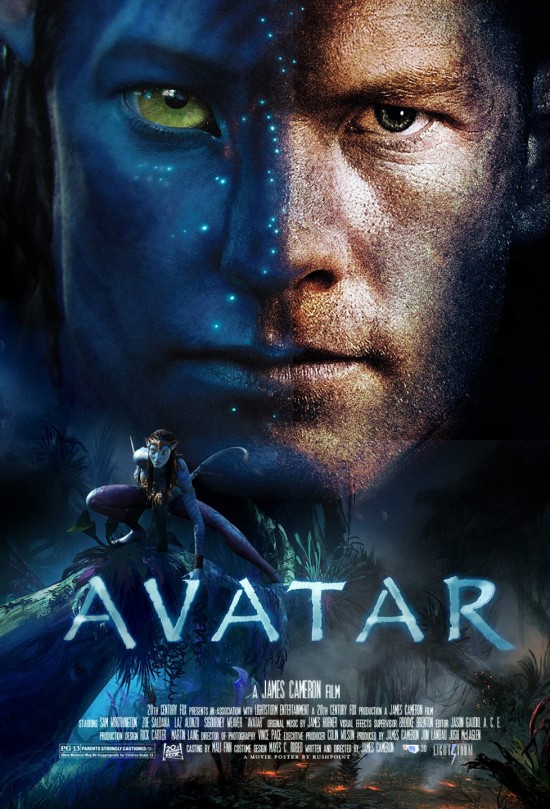 /Film reader Bruno V's fan made Avatar movie poster is better than the one 20th Century Fox released.
Turner Classic Movies (TCM) and Universal Studios Home Entertainment (USHE) have entered into an extensive new partnership to offer classic movie fans rare vintage films, all digitally remastered, on DVD on a made-to-order basis. [PRNewswire]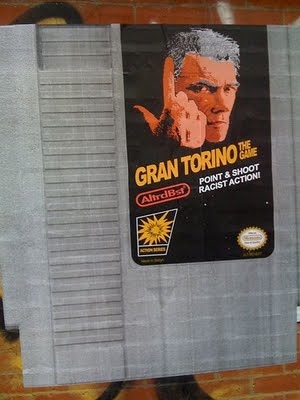 If they made a NES video game based on Clint Eastwood's Gran Torino, it might look something like this. [superpunch]
Martin Scorsese lists his top 11 horror films of all time for The Daily Beast.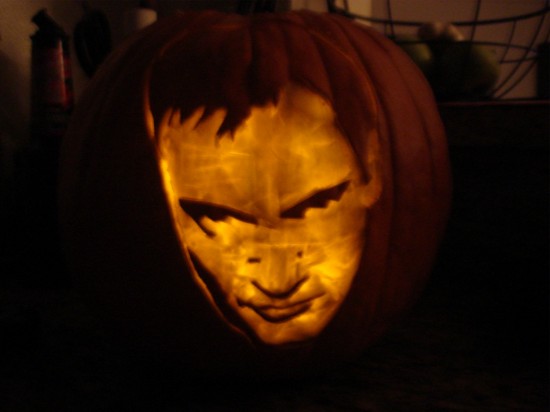 /Film reader Ranjit R created this Quentin Tarantino jack-o-lantern for Halloween.
Napoleon Dynamite director Jarred Hess puts a damper on hopes of a sequel: "I think initially, there was talk about that but at least from doing another film, shooting another live-action movie with Napoleon, I just don't know if it would have the same charm, especially with the success that particular film has had." [starpulse]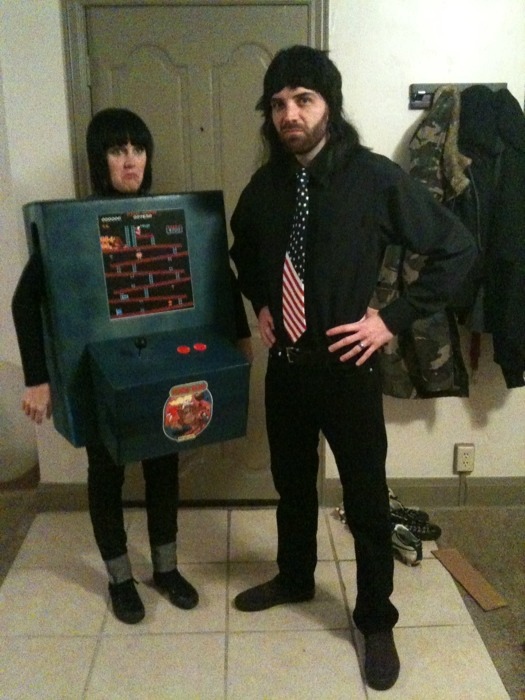 How cool is this King of Kong themed halloween costume? [this is the duke via icarusarts]
Listen to a preview of the entire soundtrack of Wes Anderson's Fantastic Mr Fox. [playlist]
WeAreMovieGeeks list their 9 favorite Tim Burton movie characters.
LOL: Watch a 30 second preview of Transformers 3 above.
MTV has an excerpt from the Star Wars horror novel Star Wars: Death Troopers.WiReD lists the top 10 Halloween movies for younger kids: The Nightmare Before Christmas is #1.Gizmodo posted a video of a guy who built a Ghostbusters proton pack built with LEDs, an Arduino controller, and red and green lasers.
Warner Bros has launched a new viral Facebook game to promote Sherlock Holmes. [firstshowing]
Syfy has handed out a 13-episode order to a U.S. version of the BBC dramedy Being Human.
Watch this video performance from Pixar's Halloween Costume contest.
Fox has given a sixth-season order to American Dad. [variety]