Geek Deal: Tales From The Crypt Seasons 1-7 For $99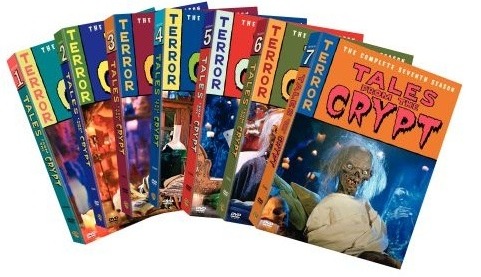 We may receive a commission on purchases made from links.
Amazon's Gold Box Deal of the Day is the complete series of Tales from the Crypt (seven seasons) for $99, 63% off the $267 list price. As with any of the Gold Box Deals, this price will only be valid until midnight.
Based on the legendary and gruesome EC Comics from publisher William Gaines, this horror anthology featured stories of murder, the super natural, gore and humor and always had a twist ending of sorts. Some of Hollywood's biggest names took part, either working in front or behind the camera. Hosting duties fell to everyone's favorite decaying corpse, the Cryptkeeper. The success of this series spawned a Saturday morning cartoon series (Tales From the Cryptkeeper), a short-lived Saturday morning game show on CBS (Secrets of the Cryptkeeper's Haunted House) and lots of merchandise. Two feature films (Demon Knight and Bordello of Blood) were also produced and released in the late 90's. The TV series originally aired on HBO, but was later syndicated to Fox, the Sci-Fi Channel, and most recently AMC. This 20-disc set includes all seven seasons.
Disclosure: We use affiliate links, when available, for some of the Cool Stuff and Geek Deals featured on the site.