Ang Lee Updates Progress On Life Of Pi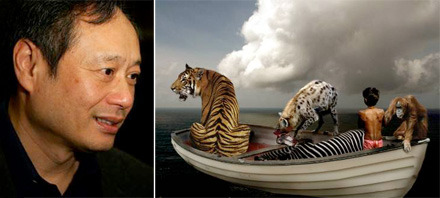 We may receive a commission on purchases made from links.
Things are moving along (albeit slowly) with Ang Lee's adaptation of the fantasy novel Life of Pi. Speaking recently with Digital Spy, Lee mentioned that he's recently turned in his first draft of the script, and that we can probably expect it in two years. He hasn't thought about casting as of yet.
The story follows a young Indian boy who ends up stranded on a boat for 227 days with a hyena, zebra, orangutan, and a Bengal tiger. Something tells me they're going to work extra hard to find the perfect child actor for this role, since he's going to be the only human for most of its run time. The project has caught the attention of many directors, including M. Night Shyamlan, Alfonso Cuaron, and Jean-Pierre Jeunet since the novel by Yann Martel was released in 2001.
The project seems well suited to Lee's more imaginative tendencies, and already has me more interested than his recent films, Taking Woodstock and Lust, Caution. You can grab the book on Amazon for around $10.
The official book description is as follows:
The son of a zookeeper, Pi Patel has an encyclopedic knowledge of animal behavior and a fervent love of stories. When Pi is sixteen, his family emigrates from India to North America aboard a Japanese cargo ship, along with their zoo animals bound for new homes. The ship sinks. Pi finds himself alone in a lifeboat, his only companions a hyena, an orangutan, a wounded zebra, and Richard Parker, a 450-pound Bengal tiger. Soon the tiger has dispatched all but Pi, whose fear, knowledge, and cunning allow him to coexist with Richard Parker for 227 days while lost at sea. When they finally reach the coast of Mexico, Richard Parker flees to the jungle, never to be seen again. The Japanese authorities who interrogate Pi refuse to believe his story and press him to tell them "the truth." After hours of coercion, Pi tells a second story, a story much less fantastical, much more conventional–but is it more true?
I only hope this project ends up being more creatively and financially successful than Taking Woodstock. Lee can be a truly fantastic director when he's firing on all cylinders. I'm also hoping he taps into the sense of whimsy we haven't really seen in his work since the fantastic Eat Drink Man Woman. If you haven't seen that film yet, make it a priority. Here's the Netflix link, just so you have no excuse not to add it to your queue.
Discuss: Do you have high hopes for this adaptation? If you've read the book, do you think Ang Lee could make a suitable adaptation?
Source: Digital Spy via The Playlist