/Film UK: HG Wells, The Coens, Johnny Depp, New Toy Story 2 Trailer And More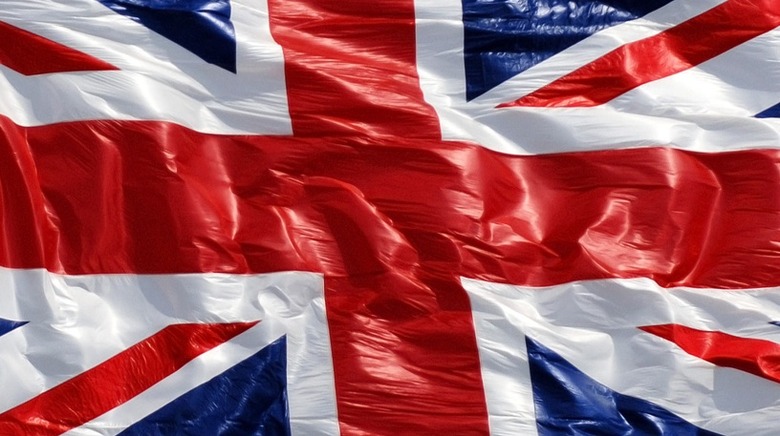 Coming to you weekly from my vantage point in good old Blighty, it's Slashfilm UK. Anglos and Anglophiles rejoice as every Friday morning – GMT, of course – I'll be bringing you a round up news, links and coverage specific to the film comings and goings here in UK. Sometimes we'll be talking about films that have already played in the US, other times it will be films that won't make it to the States US for a good while yet, and from time to time you'll read about films that will never make it to the US at all.
Coming up after the break are The Coens, The Horseman, a new HG Wells adaptation, Johnny Depp playing guitar and an awful lot more.
Those krazy Koen Coen Bros. have been in town promoting A Serious Man which screened this week at the LFF and hits UK screens on November 20th. I say town, I mean London – I think I've been a little too exposed to Lahdahn Meeja types of late. The Coens spoke to Dragon wrangler Evan Davis of the BBC and proclaimed that "boom times in the movie business are over" and that they're worried about it. If they're worried – I'm worried.
Blinkbox and the BFI have made a pact which will bring 37 classics streaming, free but ad-supported, to your desktop. Screen Daily give John Maybury's Love is the Devil, Derek Jarman's Caravaggio and Terrence Davies' Distance Voices, Still Lives as a set of rather fruity examples of what will be available. Now nobody – well, nobody in the UK – will have any excuse for not seeing Caravaggio and Distant Voices, Still Lives and there'll be another medium through which I can feel disappointed with Maybury's Francis Bacon biopic.
The paparazzi have been stalking Sam Riley and Andrea Riseborough on the set of a new, BBC-backed production of Brighton Rock. The film will also star Helen Mirren and Carey Mulligan, the former a past Oscar winner for Blighty, the latter a future one. Here's a shrunken thumbnail of some snaps, but there's lots more at CelebMad.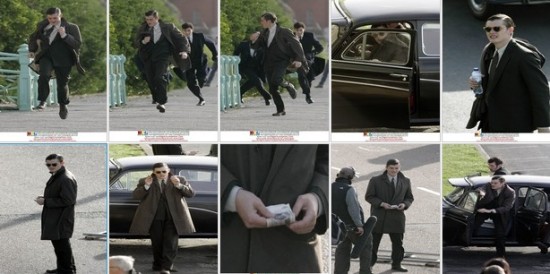 James Bond's old gaffe Pinewood Studios is to temporarily become a drive-in theatre from Saturday, starting with Halloween screenings of The Omen (er... in the middle of the afternoon?) and The Shining. Standard ticket prices start at £35 for a four-person car and the season runs on Saturday nights until the 6th of December.
Next Tuesday's London premiere of Zemeckis' A Christmas Carol is to be world's largest premiere of a 3D film ever, using a good handful of cinemas in the capital and a bunch more up and down the country. In London, they'll also be trying for a world record attempt – the largest Christmas Carol singalong. Andrea Bocelli, who performs the closing song of the film, will be in Leicester Square and will link up with a choir on the steps of St Paul's Cathedral to lead the crowds via big screens across the capital. You can vote for the two carols to be sung on the night online.
The 53rd London Film Festival had, for the first time ever, a dedicated awards ceremony. Jacques Audiard's A Prophet won the best picture gong, with Jack Thorne winning Best British Newcomer with his screenplay for The Scouting Book For Boys. There's no trailer for Scouting yet, but the BFI have a clip online. Just visit the page and click the misnamed Play Trailer button.
Talking of awards, the BIFA noms are out. That's British Independent Film, you know? Their official site lists everybody up for a gong, including such /Film faves as Moon for Best British Independent Film, Armando Iannucci and Duncan Jones for Director, the screenplays of In The Loop, Moon and An Education, and Bunny and the Bull and The Imaginarium of Dr. Parnassus for something they're calling Achievement in Production. Odd that cinematography, music and set design are all under the one umbrella, competing for Best Technical Acheivement.
Michael Hoffman's The Last Station portrays the last few months of Tolstoy's life as some kind of tragicomedy. Screen Daily have several stills of James McAvoy, Christopher Plummer and Helen Mirren in (in)action, of which here's just the one.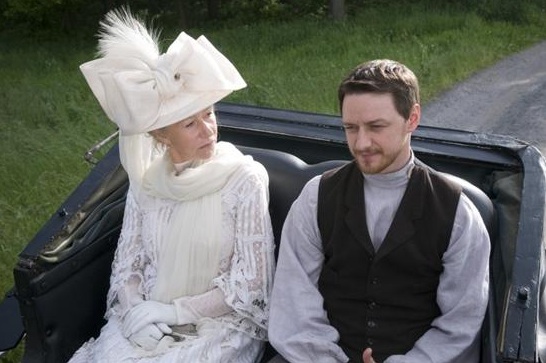 Jim Jarmusch's Limits of Control is eventually set for a UK release courtesy of Revolver, just about my favourite distributor. Again, this story comes from Screen Daily.
Mark Gatiss has adapted HG Wells' The First Men in the Moon for the BBC, and will star in the production alongside Rory Kinnear. We do have a film industry in Britain, see, and it even makes sci-fi... it's just that the films often bypass cinemas. And DVD.
The BBC say that First Men in the Moon is "the inaugural drama for Mark Gatiss and Damon Thomas's Can Do Productions". My hunch on what will be the second? A TV version of Andy Nyman and Reese Shearsmith's stage show Ghost Stories. Nyman tweeted today:
Exciting 'Ghost Stories' developement coming on Friday.............stay tuned.
Gatiss and Shearsmith have a history, Gatiss and Nyman have a history... it's not a bad bet.
There's a new UK trailer for the 3D reissue of Toy Story 2. It hits UK cinema screens in January next year, though I saw it at the London Film Festival this last weekend and... wow. Blimey. I'm pretty much lost for words but I'm sure this was one of the very few best trips to the cinema I've ever had.
Toy Story 2 is not only the best Pixar film to date, I'd peg it as one of the very few best films I've ever seen. Digitally projected, and with Joshua Holland's sensitive, smart 3D treatment in place it's even better. Honestly, cinema can't get much better than this. Here's the trailer:
The Guardian have a video that shows what happened when Jean Smith, 84, took a trip to see An Education, her first visit to the cinema in almost 40 years. I found the story quite touching.
Crying Game and Mona Lisa producer Stephen Woolley has been appointed to the board of Film London. And talking of Mona Lisa... Screen Daily (really, can I just call them SD or something?) report that Handmade Films, who were behind that as well as The Long Good Friday, Withnail and I, Time Bandits and so on, are launching a kids division with adaptations of some childrens books by Sarah Ferguson, the Duchess of York. Anybody who remembers Budgie the Helicopter will already have started loading a shotgun.
Here's the poster for Debbie Isitt's Nativity, an improvised comedy in the vein of her previous Confetti. There's also a trailer available.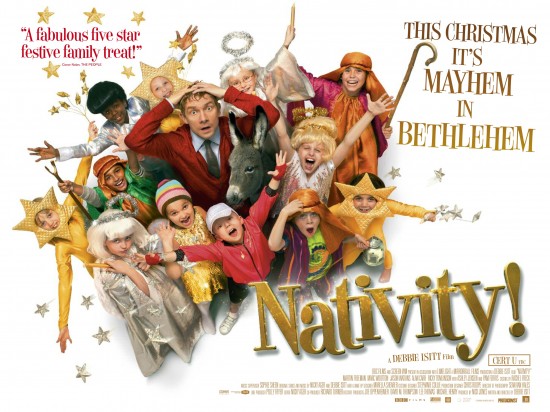 Being Human is a BBC supernatural flat share drama about a ghost, a werewolf and a vampire all trying to get along. As well as there being a second series of Tony Whithouse's smash success on the way for we Brits, it seems that SyFy are looking to get in on the act and remake the series in America. According to The Hollywood Reporter, the BBC originally approached SyFy (or whatever it was called back then) to come on board and co-produce the original TV film that predated the series.
Is Johnny Depp gonna play a gig with Babybird? If we can believe Spoonfeed, then yes. Awesome. I think I'd like to go to this, even though it would be in Hoxton.
Think that all of the Avatar FX were coming courtesy of Weta? Nope – London's Framestore are in on the act too. Not their London branch, though, but the Icelandic satellite, says Variety.
Brutal Aussie revenge film The Horseman is to get a cinematic release across the UK as of today. That's a world first – it didn't even go to the big screen down under. I really quite liked it when I saw it at Frightfest, and I'm even tempted to go catch it again.
Talking of Frightfest, I'll be at the all-nighter this Saturday. Tweet me if you'll be there too, it'd be cool to say hi.
I think I'll wrap it up here for the week. If you're a UK filmmaker, publicist, distributor or, basically, whatever, then you can send me your items for submission by e-mail.