An Education's Carey Mulligan Joins This Beautiful Fantastic, A 2009 Brit List Entry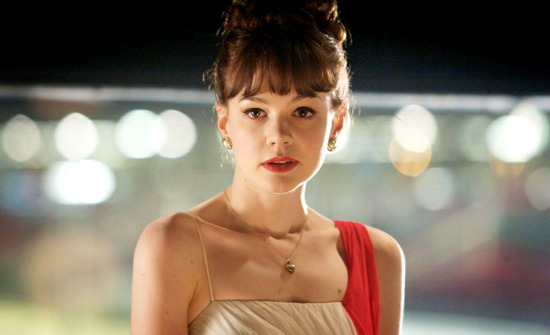 The actress 'It Girl' this year is definitely Carey Mulligan, who has been drawing raves for her performance in An Education since the film premiered at Sundance. She's already working on Wall Street 2: Money Never Sleeps, and now she's been cast in This Beautiful Fantastic, which will be based on a script that made the Brit List a couple months ago.
Screen Daily reports on the film, and lists the tremendous cast with which Mulligan will appear: Tom Wilkinson, Christopher Eccleston, Mackenzie Crook and Joanna Lumley. The film will shoot in early 2010 in Scotland and Germany with Terry Loane directing from Simon Aboud's script, said to be "a modern fairy tale in the vein of Amelie and Finding Neverland."
The film follows "frustrated children's author Bella Brown, who only leaves her obsessively ordered flat for work at the library. Chronically shy, she has no friends, no family and no life until she falls in with Billy, a hopelessly messy inventor who whirls through the library's carefully balanced world like a shambolic tornado."
One would expect that Mulligan plays Bella Brown, but who is the inventor? Eccleston seems like the prime pick, but I suppose it could just as easily be Wilkinson if Loane wanted to keep things interesting. Little May-September friendship/love affair never hurt anyone, right? (I'd actually quite like to see Crook step up and be the inventor, but I'd expect he'll be someone who works at the library or another similar ancillary character.) Screen Daily notes that more casting will be announced soonish, so let's hope the additional names are equally interesting.
The Playlist notes that they've read a year-old draft of the script in which Billy, the inventor, is a more minor presence. In that draft a larger character is Bella's irascible old neighbor Alfie, who sounds like a lock for Wilkinson. In that draft Alfie has a cook, Vernon (probably Crook) who leaves his unpleasant employ to work for Bella. Drop us a copy of the script if you've got a current draft, as I'm curious to see how things have been changed about.