Jonathan Demme Adapting Dave Eggers' Zeitoun As Cartoon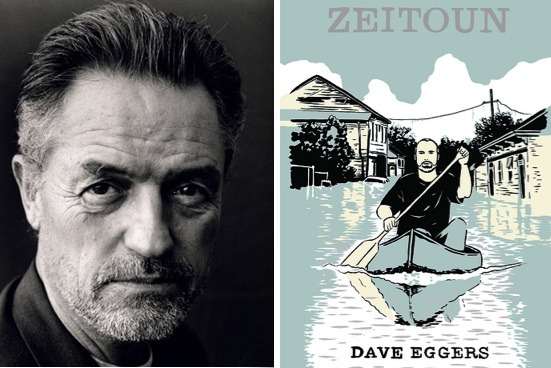 This summer Dave Eggers published his non-fiction book Zeitoun, an account of a New Orleans family experiencing Hurricane Katrina and its aftermath. Abdulrahman Zeitoun stayed in the city after the floods, using his canoe to get about the city in order to help people and it is his testimony, gathered via interviews, that herein provides Eggers material and, to a large extent, voice. It was a stealth publication, in the sense that nobody had much heard of it until shortly before it hit shelves, but Eggers commands a loyal fan base, for his whole McSweeney's line as much as for himself, so it was eagerly received.
One fan who leapt right into it was Jonathan Demme, who had been a follower of Eggers work since his son introduced him to What is the What. Demme had himself directed a series of films on post-Katrina New Orleans called Right to Return: New Home Movies From the Lower 9th Ward. If you ask me, he's absolutely the only director who would see a film in this book and then go on to realise it appropriately.
Demme's inspiration to make the film in animation was Rachell Sumpter's cover illustration:
I was staring at the book and there's this wonderful line drawing on the cover, the character of Zeitoun in his canoe, paddling through a submerged neighborhood. And I suddenly imagined, What if we could do an animated film and visualize the experiences of the Zeitoun family and all of New Orleans?
Of course, the formal purist in me immediately wonders what Demme knows about animation; the long time fan of his work answers that it doesn't matter, he is smart enough to know what he doesn't know and find answers and assistance. He told the NY Times that he's "deep, deep, deep into researching" how the film will be visualised but that so far, he's favouring a hand-drawn approach.
I'm wondering if Demme might call upon the real life participants to provide voice work, maybe a voice over narrative? It's also possible, I guess, that he might clear the rights to Eggers' original interview recordings and use those.
Dan Pyne, the screenwriter on Demme's Manchurian Candidate do-over as well as Fracture and The Sum of All Fears, is to script Zeitoun, and keep the narrative as close as possible to the real life events it chronicles. I want to give Demme the final word on this:
While honoring the absolute truth of the Zeitouns' experience and the truth of what happened in New Orleans we all feel like we have a chance to do right.