Nowhere Boy Movie Trailer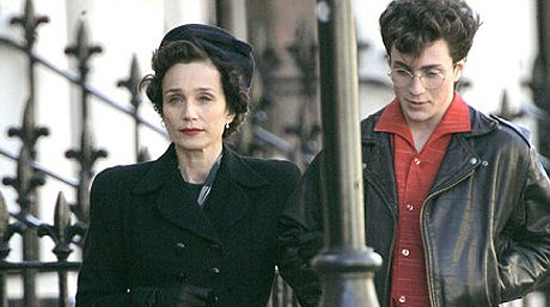 What to make of a John Lennon biopic featuring actors that look nothing like Lennon and Paul McCartney and shies away from actual Beatles songs? Actually, that sounds like an interesting idea; I'd rather be sold on a character based on performance, not the fact that the actor looks just like the real person, and if I'm going to watch the formative story behind a major artist I don't need to be reminded constantly of the person they became after the film ends.
So Nowhere Boy, starring Aaron Johnson as Lennon and Thomas Sangster as McCartney, has been an object of curiosity. Now there's a trailer for the film, and I'm not yet sold. Check it out after the jump.
Scripted by Matt Greenhalgh and directed by first-time feature director Sam Taylor-Wood, the film focuses on Lennon's late teen home life and early friendship with Paul McCartney. Kristen Scott Thomas plays Lennon's conservative aunt, essentially his adoptive mother, and Anne-Marie Duff plays his less reliable birth mother. It's coming of age stuff, and an invocation of the time period that led to the turbulent decade for which the Beatles were a soundtrack.
I like the way Greenhalgh scripted the life of Ian Curtis for the film Control, and I hope for some of the same work here. But this trailer looks staid and too conventional. The time period looks to be quite intact, but otherwise what I see here is disappointingly uninspiring.
I do actually like that this trailer uses no Beatles music at all, instead relying upon tracks like 'I Put a Spell on You'. Since the film is trying to represent the time period that led to the classic Beatles songs I hope we'll hear the music that influenced Lennon, rather than what he eventually produced. That voiceover we hear is actually Lennon, however, from recordings he made discussing his history.
The film premieres at the London Film Festival tomorrow night, and goes into release in the UK in December. Unless reviews are excellent, don't expect to actually see the film in the States this year, as any TWC release at this time of the year is going to be an awards-related push. Bet on it getting a Youth in Revolt-style push.