Page 3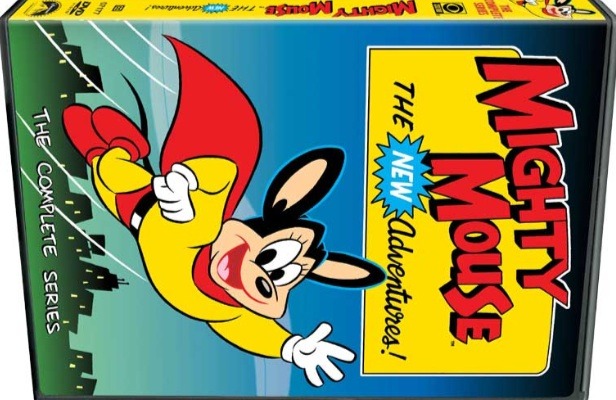 You "might" want to check out the upcoming Mighty Mouse DVD for some early work by Wall-E and Finding Nemo mastermind Andrew Stanton. TV Shows on DVD have details of the release. And, yes, I made that pun. You aren't dreaming.
Page 3 is the eccentric little brother of Page 2 and compiles even more stories which, for whatever reason, didn't make the front page of /Film. There's a whole heap of different items after the break – video clips, posters, pictures, odd snippets of news.
Look 3D are to beat Gucci and be the first to launch a line of non-temporary RealD compatible eyewear onto the market. Reuters have the press release in full. How long until the contact lenses launch, I wonder? James Cameron has been wearing them for a while, apparently.
As well as acting with his future roomies from the Nursing Home for 80s Action Heroes, Gov. Schwarzenegger has allegedly been hiding swear words in official letters. TMZ published the following image: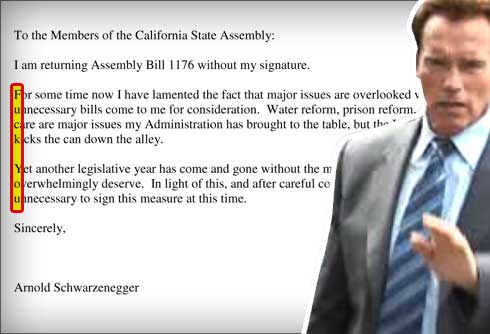 Production Weekly have tweeted that Wayne Wang is to direct Zhang Ziyi in Snow Flower and the Secret Fan. It will be adapted from Lisa See's novel about 19th century Chinese women communciating in nu-shu, the only gender-specific language we know to have existed.Screen Daily have the roster of upcoming pictures from Rock On! Films: Peter Fonda as a 'Nam vet struggling to come to terms with his past in I Ride Alone; Hulk Hogan as an FBI profiler in Black River; Jason Mewes as a Billy Joel tribute act in Billy Joel's Car; and Lacey Chabert as... something in Other Plans. Cripes. What a lineup.Rope of Silicon have a few new stills from the Zoe Saldana-Paul Walker-Idris Elba-Hayden Christiansen heist picture Takers. Here's just one of them.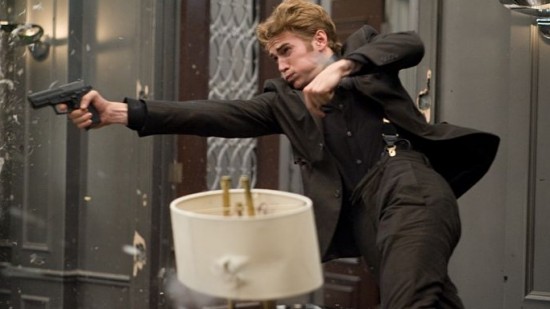 Kevin LeHane's Definitive List of Cliched Dialogue is starting to go viral. Number 20 made me do a LOL (is that how you say it?) and number 38 made me say... er... number 38.
The New Moon/Vitamin Water commercial is laugh-out-loud bad (keep your abbreviations).
Oren Peli's Area 51 is proving a hard sell even despite the success of Paranormal Activity and a relatively risk-free $10 million asking price. The NY Times report that at least Paramount, Overture, Dreamworks and Lionsgate have passed already.
Quiet Earth are reporting that Alejandro Jodorowksy's Cain Abel is going to go ahead, courtesy of producers Arcadiy Golubovich, Olga Mirimskaya and Parallel Films. Here's the synopsis they've provided:
Upon the death of their mother, Abel and Cain embark on a journey to bury her holy body next to their father's grave on a forbidden paradise island. But the island's treasures attract numerous kidnappers with different plans.
Twitch have been interviewing The Cat Came Back director Cordell Barker about his new feature-length toon Runaway, animated with only one assistant, 8 years in the making and looking great. Here's the teaser trailer:
Have a hard time making it through the first Sex and the City movie? At least it will be easier next time around. Kirsten Davis has told MTV that the sequel is "not going to be that long. It's like condensed soup" and as well as the trimmed running time there will be less costume changes next time out. Does it take place in limited locations or over a short time span, maybe?
Seth Rogen won't tell Movieweb what role Edward Furlong has in The Green Hornet but he does impart the stunning revelation that the band Anvil will be playing... a band.
Here's a little version of the UK poster for Richard Kelly's The Box. If you want to see it full size, Empire can sort you out.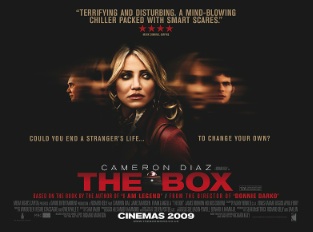 The first public screenings of Avatar in the UK... well, they'll be no later than Wednesday 16th December at the IMAX Birmingham. Can't you hear the voices of UK readers hollering "Eat that, America!" in our charming accents right now? Tickets go on sale this Friday.
Meanwhile, in Italy... The Imaginarium of Dr. Parnassus has opened real big for an under-promoted, little-marketed film. The Guardian say that Italian teens consider Terry Gilliam something of a rockstar.
Sometime LA Law actor and now horror director Corbin Bernsen is to follow up his Pontypool-alike Dead Air with another zombie movie. As he tells Fangoria, Three Strikes, You're Dead will be about a future Pittsburgh (of course) in which "the undead have been managed a little bit through drug therapy and created their own sports leagues". He does go on but it's funnier if I cut it off right there.
Bryan Lee O'Malley tweeted some Scott Pilgrim cosplay action. Here's Pseudo Ramona Flowers and Quasi Kim Pine, courtesy of flickr.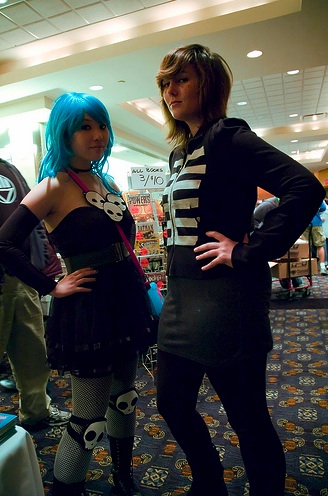 Charlize Theron has made a boo-boo. According to the BBC, she had no consent from Nelson Mandela to auction off a meeting with him but did it anyway. Can't she just stick to raising money by kissing girls? (See Luxist for photographic evidence.)Twitch have a statement from Oliver Tate the (fictional, of course) lead character of Richard Aoyade's britcom Submarine. Craig Roberts will be playing Oliver in the picture alongside Paddy Considine, Sally Hawkins and Noah Taylor while the previously attached Michael Sheen will now no longer be appearing.
The AFM poster for Phillip Ridley's brilliant Heartless has appeared on the website of sales agent Content.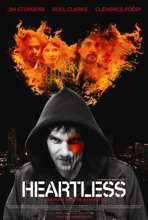 There's an extended promo clip for the new version of V over at EW. Running over 2 minutes long, a lot of it is really just a montage set to music.
Want to be a wizardly type at the Harry Potter themepark? Orlando Attractions say that the open auditions will take place next month and candidates will be required for auditions from January.
Peter Briggs is to direct and Jim Jacks produce Mortis Rex, which Variety say is to shoot next spring. It already has an official website from which I borrowed the two storyboard pictures for the bottom of the post (they've got more there). Here's the basic premise:
Mortis Rex is an Ancient Rome monster movie. In 123 AD, a disgraced Roman war hero is sent to defend a Roman garrison stationed in remote Scotland from a spate of mysterious killings. The hero reclaims his rightful warrior status by uniting with the local Druids and vanquishing a terrifying supernatural beast.