First Poster And Details For Luc Besson's Adele Blanc-Sec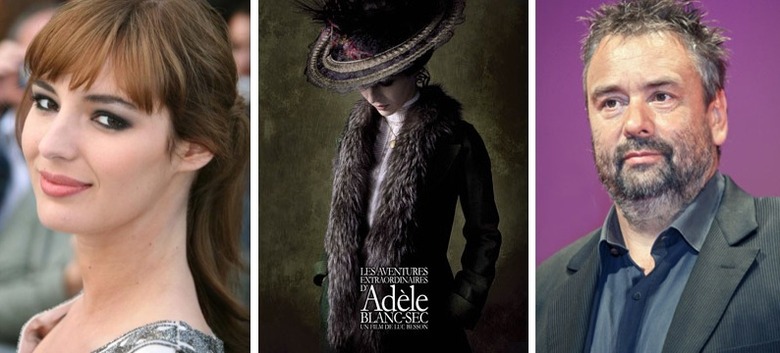 A little bit Indiana Jones, a little bit Tintin and a little bit Hellboy – and Euroapcorp, should you wish, you can have that tagline for your poster.
Luc Besson is moving fast on his new film Les Aventures Extrodinaire d'Adele Blanc-Sec (The Extraordinary Adventures of Adele Blanc-Sec, but likely to be just Adele Blanc-Sec when it crosses the Atlantic). From the various bits and pieces of info I can gather, Besson started shooting in Mid August and is now heading into post production for release in France on April 14 next year.
I'll reprise the first poster and share the plot, cast and plot details after the break.
Here's the poster from the AFM, courtesy of Twitch.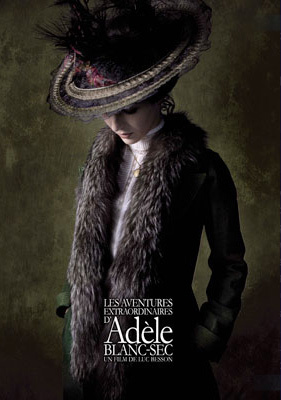 Gorgeous. That's Louise Bourgoin you can see there, a former Canal+ weather girl who now does a bit of painting and a bit of TV presenting between her big screen roles. Joining her in the cast are Gilles Lellouche as Inspector Caponi, Phillippe Nahon as Professor Menard, Jean-Paul Rouve as a fellow adventurer (Brindavoine?), and Mathieu Amalric as the villain.
Here's a little of the film's official synopsis:
The year is 1912. Adèle Blanc-Sec, an intrepid young reporter, will go to any lengths to achieve her aims, including sailing to Egypt to tackle mummies of all shapes and sizes.
Meanwhile, in Paris, it's panic stations! A 136 million-year old pterodactyl egg on a shelf in the natural history museum has mysteriously hatched, and the bird subjects the city to a reign of terror from the skies. But nothing fazes Adèle Blanc-Sec, whose adventures reveal many more extraordinary surprises...
This is all derived from the comic books of Jacques Tardi, nine volumes of which have been completed since the mid 70s. In the strips, the stories covered not only Paris before the War but also during and, eventually, afterwards. As Besson is planning a trilogy, perhaps he'll also get to cover the full timeline of the strips too.
From the synopsis, it looks to me like this first film is adapting the comics Adele and the Beast, Mummies on Parade and perhaps also The Mad Scientist.
There's a lot of fun and interest in how the strips have reinvented major events of the Belle Epoque and the Great War, showing the 'true' supernatural reasons for their happening. Satirically, the comics also posit that this truth has been covered up to protect the rich and powerful. I'm hoping Besson has maintained this element in his adaptation, alongside the inevitable thrills and spills.
Incidentally, I read on Comme Au Cinema that Ms. Bourgoin's next release after Blanc-Sec will be in Gilles Marchand's The Other World, a dark drama with a strange MMORPG element. Requiring a huge amount of post production work, it has already wrapped but won't hit screens until next Autumn. Sounds rather curious.