Hitman Director Xavier Gens To Direct The Fallout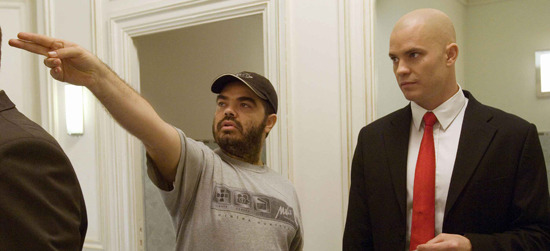 I'm always ready to see a post-apocalyptic action thriller, even when it turns out to be something like Babylon A.D. Call me an eternal optimist. Even the lousy films often have a kernel of a good idea in them. Now a new film called The Fallout, set in post-apocalyptic New York, will shoot early next year. But I'm already a bit detached from it after reading the directorial assignment. Helming will be Xavier Gens, the man behind Hitman and Frontier(s).
Put pretty simply, Gens has two strikes against him in my book. Hitman may have featured Olga Kurylenko's severe allergy to clothes and a heroically stoic good try from Timothy Olyphant, but it was truly a mess. (Granted, the post-production on Hitman was contentious, with reports of Gens being fired from the film.) And Frontier(s) recycled elements of other films in a way that left me bored. I even had the blank slate advantage of seeing it at a festival screening before I had any Hitman-based impression of Gens. The guy has an eye for visual style, sure, but so does every young director these days. Takes a lot more than that to make a film work.
So, going back to optimistic mode, what is The Fallout? Screen Daily says it's "billed as 'a thriller that combines elements of Assault on Precinct 13 with Lord of the Flies in a story of survival." Fair enough. Unfortunately it is exactly the visual side of Gens' work that producer Ross Dinerstein highlights as one of the reasons for the hire: "He brings a visual edge to this fascinating exploration of the human condition," the producer says.
Another producer, Darryn Welch, recognizes that the sub-genre is getting a bit crowded. "With a collective of 'End of the World' movies hitting the theatres presently, this film will undoubtedly stand out like a ravenous Pit bull in a school playground... brace yourselves cause this film has a serious bite to it!" Hyperbole is a producer's job, so I'll look for more details on Karl Mueller's script, and hopefully see some production design before starting to form any real expectations.
Meanwhile, we evidently won't be seeing Vanikoro any time soon. That was the shipwreck/cannibal film with Viggo Mortensen and Philip Seymour Hoffman said to be attached that was discussed back in '07 and '08. That combo seemed too weird to be true right from the outset.
EDIT: I wrote this late last night, so I neglected to mention that this is not an adaptation of the Fallout game series. A few comments made me realize that clarification might be helpful.