First Look: Ray Winstone And Temuera Morrison In Tracker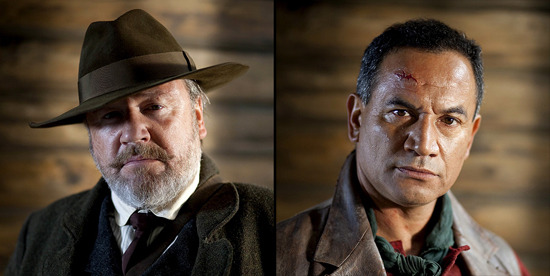 I've been hoping to see Temuera Morrison get a role where he could be as intense and amazing as he was in Once Were Warriors. Star Wars sure didn't provide it; nor did Couples Retreat. Could Tracker be the one to do it? With Morrison working opposite Ray Winstone in a chase film set at the turn of the century in New Zealand, I'm hoping so.
Empire has two new character portrait shots of Winstone and Morrison as the two leads of the film. Winstone plays Arjan, a South African guerrilla fighter and vet of the Second Anglo-Boer War, who accepts a bounty contract to hunt a Maori seaman named Kereama (Morrison). The latter is accused of killing a British soldier. As Empire describes it, "what follows is a cat and mouse pursuit through the varied landscape of NZ with both hunter and huntee testing their bushcraft and wits against that of the other." With those two in the lead? Sounds fantastic. So we probably won't see Morrison being as incredibly insane and fierce as he was in Once Were Warriors, but this might be a role with opportunities for action and depth.Screen Daily says "the film will explore the courage and strength required to be a good man," which brings to mind films like The Proposition (also featuring Winstone) and The Three Burials of Melquiades Estrada. If it has shades of those movies, I'll be quite intrigued. If it has shades of a film like Peckinpah's Pat Garrett and Billy the Kid, I'll be downright thrilled.Tracker is shooting now. It is directed by Ian Sharp and written by the late Nicolas van Pallandt, who succumbed to cancer two years ago. Sharp is also working on another van Pallandt script, Streetlight, a "dark, modern thriller set in the wet and deserted cityscapes of night time London," starring Ron Perlman and Juliet Stevenson.