Woody Allen's Next Has A Title: You Will Meet A Tall Dark Stranger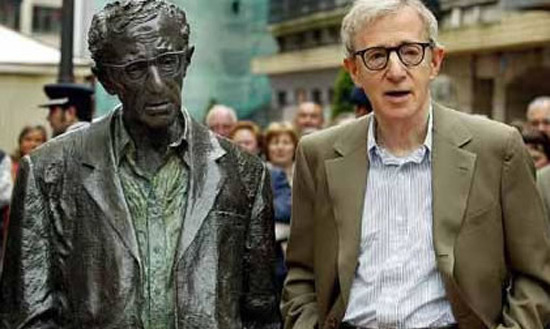 Sounds like the punchline to a joke about a carnival fortune teller. Woody Allen has been quietly making his next film, and as per usual we've known almost nothing about it up until now. (Even his casts sometimes don't get full scripts during production; Allen is quite good at keeping his films locked down.) Along with the title You Will Meet a Tall Dark Stranger, we also have a brief synopsis, which you can find right after the jump.
THR says the film "revolves around different members of a family, their tangled love lives and their attempts to try to solve their problems," which sounds like ten or twelve other movies that Allen has made. So thanks for that...really doesn't give us much to go on at all. But the cast is great: Antonio Banderas, Josh Brolin, Anthony Hopkins and Naomi Watts, the latter having replaced Nicole Kidman after she dropped out earlier this year. Gemma Jones, Lucy Punch and Slumdog Millionaire's Freida Pinto are in the cast as well.
I'm curious about this one. While I liked Allen's recent UK trilogy of films (Match Point, Scoop and Cassandra's Dream) to varying degrees I actually really liked a lot of Whatever Works, his return to New York. Maybe it was that the script hailed back to Allen's '70s work (he'd written the film for Zero Mostel in the mid/late '70s, then shelved it when Mostel passed away.) This is another UK-shot film; specifically, it takes place in London, or so we're told.
I find Allen fascinating as an artist; he's like a filmmaker version of the Ramones, endlessly relying upon and reworking basic themes. But he gets great work out of his actors, and I'm always hoping that he'll create another late-career masterwork to match the absolutely wonderful Sweet and Lowdown.