American Pie Presents: The Book Of Love Movie Trailer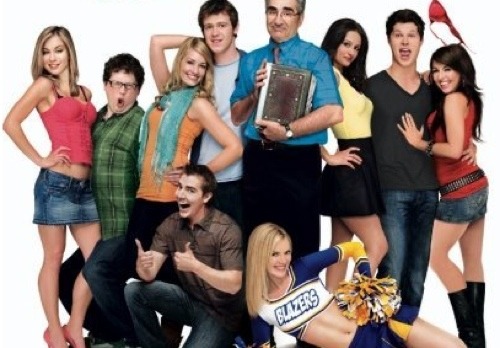 Yup, Universal is releasing yet another direct-to-DVD American Pie sequel/spin-off. And yes, the jokes have gotten progressively less funny. This time around, the story focuses on three friends at Great Falls High, who like the original group, are "determined to succeed in their mission of manhood and score with the ladies of their dreams." But before that can happen, they must reconstruct "the bible".
After some uproarious attempts with less than successful results, they accidentally discover a legendary guide to seduction hidden in the school library. It turns out to be a rarely-seen, often-sought manual about the secrets to sexual success, penned by some of the school's previous generations. But a few missing pages leads to hilarious surprises for everyone... including the alumni.  The film stars Eugene Levy, Rosanna Arquette, Bug Hall, Kevin M. Horton, Brandon Hardesty, Beth Behrs, Melanie Papalia, Jennifer Holland, John Patrick Jordan, Louisa Lytton, Sherman Hemsley, Curtis Armstrong and Jim Wynorski.
CraveOnline has the movie trailer for the film, American Pie Presents: The Book of Love, which will be available on Blu-ray, DVD and Digital Download on December 22nd. All copies feature both the Rated and Unrated versions of the film, which make you wonder why two versions of the film were even produced. Why not just release the Unrated version?