Cocktail: The Musical Coming To Broadway. Let's Take A Look At The Possible Jams.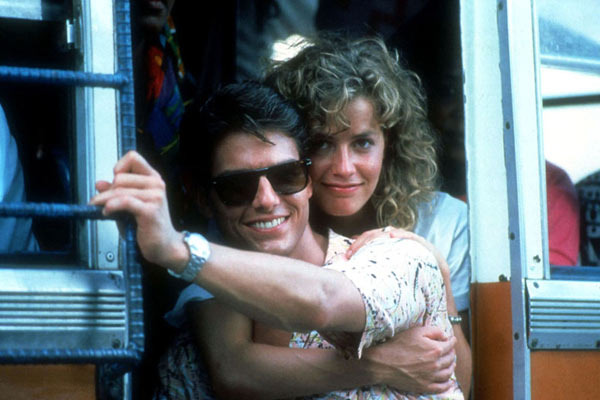 "When he pours, he reigns." In another sign that New York City is losing its edge, prominent stage producer, Marty Richards (Chicago), is bringing the straight-laced yet tutti-frutti Tom Cruise vehicle, Cocktail, to Broadway. *Attempting to hold back a smirk* Richards is teaming up with the film's screenwriter Heywood Gould—who actually adapted the flick from his book Cocktail, see below—to create a musical based on the story of a young man thriving in the world of "flair bartending" who vacates NYC for a gig (and two romantic female flings) in Jamaica. So, who would play Elisabeth Shue's heartbroken, humble, and secretly rich cutiepie who is left preggo after a one-night stand with Cruise...mon? Gould tells the NYP: "Marty Richards is on board and he's working on the score. It's far too early to talk about casting. We haven't approached anybody yet. But I do like Katie Holmes."  Get out. Tons of tourist-friendly jams to consider after the jump...
But, before we raid Rasta White Dad's jukebox: Did any of Slashfilm's New York readers attend the official 20th anniversary of Cocktail last Thursday night that was...held at the TGI Friday's at Penn Station (fyi: where the film was shot)? Gould was there, and according to Broadway World, so were "Tom Cruise look-a-likes" spinning bottles. Apparently, partymeister Mr. Andrew WK missed out! Judging by the film's bottle-spinning legacy, which I have to admit informed my stoned, shake-making days at Dairy Queen, Richards's Broadway production will need plenty of actors well versed in juggling and/or eye-hand coordination. And then there's the complexity of making the music even more flamboyant. I've included some of the famous songs included in the film here...
Who can forget the dizzying waterfall make-out sesh to Jimmy Cliff's "Shelter of Your Love"...
And the opening jam, Starship's "Wild Again" complete with shots of Cruise and a baby...
But the songs Cocktail is best known for are of course The Beach Boys' tropic rich guy anthem "Kokomo"...(how is this not a Jimmy Buffett song, again?)
And the pinnacle, Bobby McFerrin's whistle-tastic "Don't Worry Be Happy," which Tom Cruise is said to have his assistants arrange to play in any elevator he steps into. If you haven't seen this vid in a while, check out McFerrin's spectacled face as he reads a newspaper. Headline: "Financial Meltdown." It looks like this :0.
There's a certain irony to Cocktail coming to Broadway in 2009, one probably not lost on Heywood since his novel is said to more directly deal with said themes, since even the film lightly touches on class on gentrification in the '80s. For all its cheeseball neon-font nostalgia, it's difficult to name another Hollywood movie that so zestfully celebrates a working class profession so as to be forever synonymous with it.
In my opinion, the movie arguably did for bartending what The Karate Kid did for jobs involving waxing. And it must be noted that the competitive, rich-and-poor-women-as-prizes rivalry between Cruise and his older, Aussie wise-ass friend played by F/X's Bryan Brown predates the L.A. douchiness of The Game and Mystery by almost two decades. Which makes me wonder why the film hasn't been remade by Hollywood (Michael Bay attempted a botched gender-switch with Coyote Ugly). Maybe a play is better after all.
Note: NY Mag actually spoofed the idea of a Cocktail musical a while ago...