Page 3
We may receive a commission on purchases made from links.
[No photo]
Adam McKay's The Other Guys is filming on the streets of Manhattan. Above you can see one stunt in action, while you can look at Dwayne Johnson and Samuel L. Jackson below the break. That's where you'll also find 21 other movies stories that, for whatever reason, haven't hit the front page.
[No photo]
There's a load of other Other Guys images at Splash News and Collider, who also have  brief video clip of one stunt taking place.
Forces of Geek have spoken to Geoff Darrow and learnt that the Shaolin Cowboy movie will be hand-drawn animation and that Darrow will have a Japanese co-director.
It's reported at Variety that Kenny Ortega has bowed out of directing the Footloose remake. He wanted a higher-budget razzle-dazzle song and dance pic, the studio wanted something cheaper and, apparently, grittier. If they want "less emphasis on the musical numbers" then what do they really want out of this musical anyway?
Here's a bit of puerile silliness from the Evil Empire (and Warwick Johnson Cadwell, via Bad Librarianship).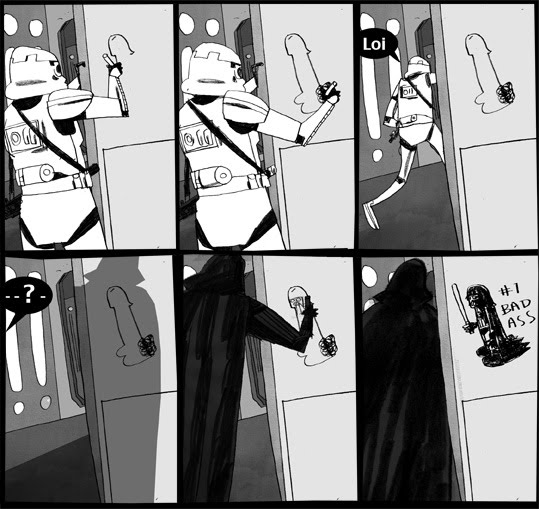 Jennifer Lopez's first husband Ojani Noa is putting together a "mockumentary" that would feature a fictionalised version of the actress-singer so, inevitably, Lopez has hit him with a writ. According to The Wrap, the film "chronicles Noa's life story as a Cuban immigrant and his ongoing pursuit of Lopez, a la Borat's pursuit of Pamela Anderson. The film is currently casting, and will start shooting in February."
My beloved Human Centipede has won the best film gong at Screamfest in LA. Bloody Disgusting report on that and the other big winners.
Sky News have profiled a very keen Mad Max fan who has moved from the UK to the Australian outback with plans to open a museum dedicated to the series. Will George Miller give him a pity cameo in the fourth installment?
After David Walliams, Paul Rudd, Steve Carell, Zach Galifianakis and Bruce Greenwood, the latest Dinner For Schmucks casting is Office Spaceman Ron Livingston. Variety don't reveal if he'll be one of the idiots or one of the arrogant gits mocking the idiots, but my money's on arrogant git.
David Hewlett has joined the cast of The Whistleblower. Better still, he's told GateWorld that MGM have just given him the nod (read: cheque) to get scripting on his follow-up to A Dog's Breakfast, his ludicrously sweet, gently funny directorial debut.
Will there be a sequel to Ed Brubaker, Zoe Bell and Lucy Lawless' web series Angel of Death? Depends upon the DVD sales of the first one, Bell tells Fangoria. Does anybody much even know the first one is out? I guess a few more of you do now.
Nick Frost has told Stuff that Peter Jackson would be delivering new pages of Tintin dialogue every day. Will he end up with a screenwriting credit? According to their story, the second Tintin will be directed by Jackson alone while the third will be handled by Jackson and Spielberg together again.
Princess and the Frog cosplay already? Oh, weeks ago even. The following image hit flickr in early October.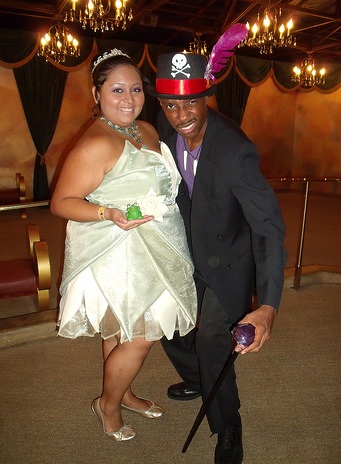 Do Michael Jackson's kids want to grow up and work in the film industry? TVNZ suggest so.
January Jones and Diane Kruger have joined the cast of Unknown White Male. Variety tell us that Jones will play the wife of Liam Neeson's character and Kruger "a Berlin taxi driver [who becomes his] unexpected ally."
JimCarrey.com will launch on October 29th and, according to a Carrey quote on MSN's Wonderwall, "It's kind of a psychedelic landscape of my brain laid out and I think you'll have fun. They get to see everything that's going on in my universe and done in a way that I think you'll have fun negotiating".
Computer and Video Games have the press release from Sony which confirms Netflix via PS3 will be available in the US from November. The price will be $8.99 per month for unlimited downloads.
I read at Screen Daily that Film4 have promoted Sam Lavender to Head of Development.
The brilliantly titled The Horribly Slow Murderer with the Extremely Inefficient Weapon is now online in full, ahead of a features-packed DVD release of an extended version. This short has scooped a whole heap of awards and, for what its worth, it made me laugh out loud myself.
Bob Iger, Disney CEO, has spoken to The Financial Times and given his vision for how the Hollywood business model needs to change. "If we don't adapt to the change there won't be a business" he claims before suggesting "research and development, risk-taking... real focus on changing the status quo"
Rob Zombie has wrapped up his director's cut of Halloween 2 and told Icons Of Fright (via Shock Till You Drop) that the main difference is in how he portrayed Laurie Strode. In the alternative version "she's an incredible mess and gets worse. She never has any good moments, she's just messed up, she's lashing out at everyone, she's horrible. Messed up on drugs, she's just completely spun out through the whole movie. It makes for a real challenging movie to watch "
French ex-con Frank Henry is teaming up with Isabelle Adjani for "a dark and complex gangster film which will counter the myths about the criminal underworld in France". The Guardian quote them both on the project, as well as the state of organised crime in France today.
Another Page 3, another video interview from Making Of. This one features Rian Johnson on Brick, his low-key, low-budget debut that has already grown to be a bona fide modern classic.