No Director Attached To Judge Dredd, Neither Dredd Nor Lobo Producers Or Writers Consulting The Comic's Creators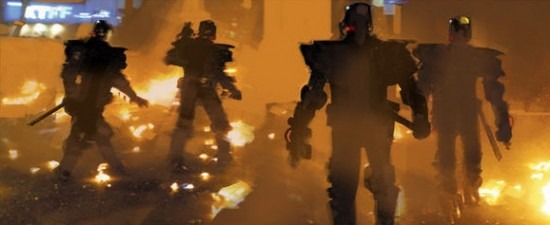 UPDATE: According to three sources close to the Judge Dredd film (two are employees at Rebellion, the publishers of 2000AD, the other is Jock, responsible for the concept art at the head of this post) a draft of Alex Garland's Judge Dredd screenplay has been shown to John Wagner, who created Dredd alongside artist Carlos Ezquerra. What isn't clear – yet – is what feedback Wagner offered, or how that feedback has/hasn't had an impact.
It is worth noting that many Dredd stories credited to either Alan Grant or John Wagner alone were actually written by the two of them in partnership, like some kind of reverse Lennon and McCartney.
The closest UK equivalent to Comic-Con would be the MCM Expo and I've been there today, looking for scoop. It's not one half the size of San Diego's mammoth geek Mecca (okay, not a quarter of the size, even) but it is rapidly expanding in terms of attendance figures, exhibitors and nifty special events. If you've got a good nose and alert ears, there's all sort of great stuff to sniff out and tune into.
The major panel on day one saw Andy Diggle, Jock and Idris Elba taking to the stage to promote The Losers. Meanwhile, a less high profile event saw Alan Grant joining a group of comics creators in discussing multi-media crossovers such as comics adapting stories from other media, and other media leeching ideas from the comics world. What connected these two panels? Talk of DNA's upcoming Judge Dredd movie.
Coming off of a question about production and concept design for The Losers and its relationship to Jock's original art in the comic, I asked Jock about the Judge Dredd picture for which he's been creating concept art and for which Alex Garland has written a screenplay. I wanted to know what we all want to know: is there a director attached? Quite simply, he said no, "there's not a director attached at the moment".
More concrete information came from Alan Grant. His soapbox topic appeared to be how aggrieved he was feeling that the Lobo film Joel Silver and Guy Ritchie are working up is getting designed to be a PG-13, which he rightly indicated as going absolutely against the original concept of the thing. He stressed that neither he, Keith Giffen nor Simon Bisley had been called upon to collaborate or even consult on the movie.
It became clear that Grant had no real idea how likely a new Judge Dredd film was becoming. When asked, he told us that neither he nor John Wagner, Dredd's creator, had heard anything from Rebellion or DNA and that no kind of input from the comic's team had been sought. This, he wanted us to know, was the reason he felt the first film went so disastrously wrong. He's clearly expecting the same from the second.
Time to feel a little less optimistic about the new Dredd? Maybe, but I'm still feeling pretty good about it. I'm sure my not-so-secret hope that Mark Romanek will sign on and turn it into a Blade Runner killer will end up little more than a delirious fantasy, though.
Incidentally, there's a lot more coming on the subject of The Losers later so don't touch that dial.