Rumor: Tobe Hooper Might Direct Twisted's Texas Chainsaw Massacre Remake/Sequel?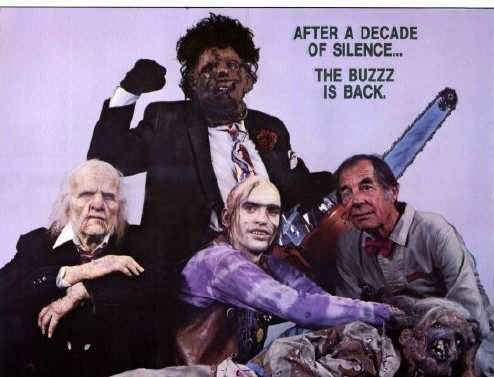 As it stands, this is a rumor at best and, more accurately, an informed online endorsement that could easily pick up steam amongst horror fans and online. Either way, it's the weekend and the thought of Tobe Hooper, creator of Leatherface and director of 1974's The Texas Chain Saw Massacre and its huggable '86 sequel, once again revving up the genre's best 'saw hadn't crossed my mind. It should have. According to Shock's Ryan Rotten, while attending a party for Saw IV, he saw Hooper hanging with TCM2's Bill Moseley and, more importantly, the team at Twisted Pictures. Dots connected, and Rotten has fully thrown his support behind Hooper's possible involvement.
I know, oohlala. But as we reported (and as Russ understandably bemoaned), Twisted Pictures purchased the franchise's rights from the metallic douches at Platinum Dunes. Twisted's first installment, vaguely said to be a contemporary take and possibly a true third sequel ignoring Dunes' entries, is already in development, with a screenplay by Stephen Susco (The Grudge). Moreover, it seems that Hooper's new management, Evolution, shares L.A. offices with Twisted, and also reps Susco. So, why would Hooper directing be a good idea for the franchise, and business-wise, is it a smart one, since Hooper hasn't directed a hit flick in a long time? We chime in after the jump. Let us know what you think...
Culturally, we have to admit, it would be swell timing to strike the zeitgeist with Hooper behind the camera in terms of celebrating franchise loyalty and canon. With Saw VI being dogged at the box office by the scarier, far less gruesome and homemade Paranormal Activity (which might gross $100 million, killer!), Activity's success conjures Hooper's original phenomenon, which masterfully relied on tension, realism, and the unknown as much as gore. This isn't to say that Hooper should or would go in a Blair Witch-type direction, of course not, but we're sure he's taken notice of the similarities.
This is also a time when horror fans haven't found their desires satiated or properly satisfied in seeing icons like Jason Voorhees and Michael Myers finally idealized in crowd-pleasing updates that are both scary and true to canon. If Hooper and Twisted do decide to go into business together with ole' Leatherface, the horror community would certainly get behind the decision, far more so than when Wes Craven returned to make New Nightmare (a film released long before Comic Con/online movie culture ignited and nevertheless came to dominate.) Rotten goes on to compare Hooper's return to George Romero's zombie comeback(s), but Hooper has a more commercial advantage in my opinion.
Not only that, but Hooper hails from Austin, Texas so the dudes at Mondo Tees and the Alamo would be a lock to throw support beyond the setting and historical ties; hell, Mondo recently christened Texas with a new "I [heart shredded by Leatherface] Texas" t-shirt (below). With so many pointless remakes that never seem to get it right, or mere rehashes done shot-for-shot with Abercrombie models, albeit to high profits, we have faith that Hooper could step up with a tank of gas and rip those notions up.
The one thing that Platinum Dunes is great at is marketing, exemplified when their 2003 TCM remake went on to gross a huge $80 million domestically. But Twisted Pictures is no slouch in this department: their posters for the Saw franchise and coinciding marketing campaigns (and famous grosses) are arguably just as successful and smarter on an aesthetic level. Twisted could have a field day by playing up Hooper's return, not to mention the return of "head cheese."
What say you?