Cool Stuff: City Secrets Movies: The Ultimate Insider's Guide To Cinema's Hidden Gems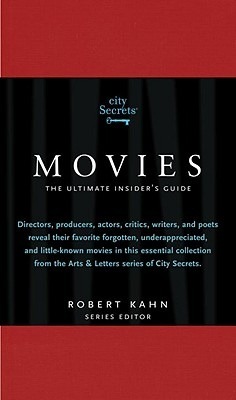 We may receive a commission on purchases made from links.
City Secrets guides have been called "the best literary gift to travelers since the Baedeker and Henry James" by the Financial Times, providing charming travelers' companions to the world's most fascinating cities. What made them different than the usual travel guides is that City Secrets offers reflections and discoveries from the authors, artists, and historians who know each city best.
Earlier this year City Secrets released a book titled City Secrets Movies: The Ultimate Insider's Guide to Cinema's Hidden Gems, which promises to take an "intimate, insider's approach to the arts, featuring brief essays and recommendations by esteemed figures in the film industry—including actors, directors, producers, and critics—and other writers and figures in the arts." Contributors of the book include Wes Anderson, Ken Auletta, Alec Baldwin, Adam Duritz, Milos Forman, John Guare, Arthur Hiller, Anjelica Huston, Barbara Kopple, Sidney Lumet, Simon Schama, Martin Scorsese, and Kenneth Turan, among many other film experts.
Some of the contributors have written essays on a film, or an aspect of a film (a performance, style, or theme) that they feel is overlooked or underappreciated, while others have chosen a well-known film for which they can offer personal insights or behind-the-scenes observations. The book is hardcover, 304 pages in length. Vanity Fair called it "A wonderfully subjective little guide to the best films of all time."
You can read a five page preview from the book on CitySecrets.com. The book has a cover price of $19.95, but is available for $13.57 on Amazon. Here is a sample from Martin Scorsese: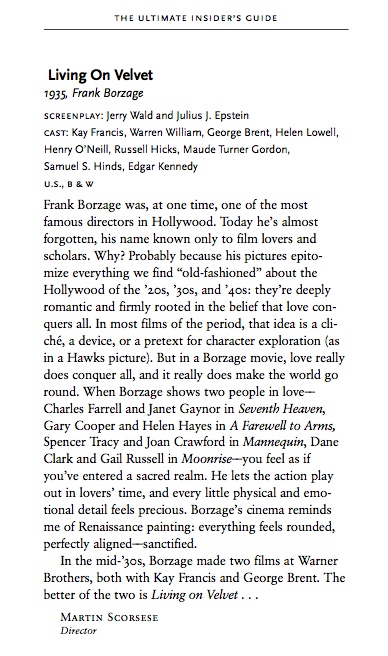 And best yet, a portion of the proceeds from this book is being donated to The Film Foundation, an organization founded by Martin Scorsese that raises funds for film restoration and conversation, and promotes awareness about motion picture history.
Cool Stuff is a daily feature of slashfilm.com. Know of any geekarific creations or cool products which should be featured on Cool Stuff? E-Mail us at orfilms@gmail.com.