Abbie Cornish Says Sucker Punch Is "Six Films In One"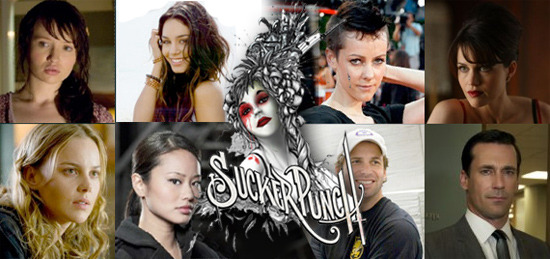 While doing press for Bright Star, HitFix was able to get actress Abbie Cornish to dish some dirt on the upcoming Zack Snyder film Sucker Punch, which began shooting in Vancouver last month.
As you know already, Snyder has called the film "Alice in Wonderland with machine guns", a 1950's-period action movie which tells the story of a girl named Baby Doll (Emily Browning) who is confined to a mental institution by her evil stepfather, who intends to have her lobotomized in five days. While imprisoned, she imagines an alternative reality to hide her from the pain. In this fantasy world, where she needs to steal five objects to help her out before she is deflowered by a vile man. So what juicy tidbits did Cornish spill?  Details after the jump.
Cornish says Snyder's latest is "seriously, six films in one almost," revealed that she carries "a good shot gun, a knife and a broad four", and talked briefly about her duel roles: "I have had a field day not only play the girl in the psych ward, but the girl in crazy action sequences killing 20 guys in row." Sounds cool to me, and we know Snyder will be able to make it look cool (my problem with most films that feature women kicking ass is that it looks forced and fake). You can read more comments from Cornish on HitFix.The film also stars Jamie Chung (Dragonball Evolution), Jenna Malone (Into The Wild, Donnie Darko), Vanessa Hudgens (High School Musical) play Cornish's fellow inmates who also travel into the alternate reality. Carla Gugino has also been cast as a nurse in the insane asylum who becomes a madam at a brothel in the film's alternate reality, and Mad Men star Jon Hamm plays High Roller, the owner of the sub world brothel. Warner Bros has previously announced a March 25th 2011 release date.