Page 3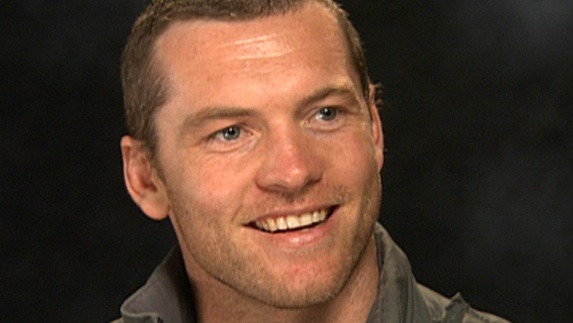 Hang on a minute... Sam Worthington is being linked to Mad Max 4 now? Steady on, ABC News. At least they're sticking to the Charlize Theron part of the story. But what's that about the project taking two and a half years? Blimey. 30 weeks of that will be at Broken Hill, the location for Mad Max 2, so far the series' zenith.
Another 15 little newslets that haven't made it to the front page for some mysterious reason or another coming right up after this break.
Lance Henriksen has been talking with "some independent producers that really want to put the money up" for a feature film of Chris Carter's Millennium. Henriksen's up for it, he tells Aint it Cool, but is telling the producers to not move ahead without Carter.
Courtesy of Twitch, here's the trailer for Boogie El Aceitoso, a rather aggressive toon from Argentina that has hit their 3D (and presumably 2D?) cinemas this week. It's a hitman comedy based upon the comics of Roberto Fontanarrossa.
if(document.getElementById("obj1f866af11db04864bca16236377b518f")) document.getElementById("obj1f866af11db04864bca16236377b518f").setAttribute("flashvars", "file=0d7e8f034d784d8599e4b78f68ce61df&permalink="+encodeURIComponent(location.href)); if(document.getElementById("emb1f866af11db04864bca16236377b518f")) document.getElementById("emb1f866af11db04864bca16236377b518f").setAttribute("flashvars", "file=0d7e8f034d784d8599e4b78f68ce61df&permalink="+encodeURIComponent(location.href));
If Amanda Seyfried is indeed right in what she's been telling the BBC, Abba will be providing the music for Mamma Mia 2. Earlier reports had it that Benny and Bjorn would not be playing ball with any sequel.
What's the first ever slacker film from Pakistan called? Slackistan. Read all about it at The Guardian.
Madonna and Alek Keshishian have written a script called W.E. and all about a fictional granddaughter of Edward 8th and Wallis Simpson. According to the hilarious Baz Bamigboye in the Daily Mail (Baz, I'm laughing at you, not with you) Madonna will direct the film herself. Great. Best bit of Baz's chucklesome story? That "a couple of agents who represent distinguished thespians sought reassurances that Madonna was not going to act in the picture as well".
Antoine de Saint-Exupery's tremendous The Little Prince, as filmed by Stanley Donen in the early 70s, is getting a new adaptation. Variety report that the toon will be made for TV in both 2D and 3D versions.
According to The Wrap, the launch of Broadway's Spider-Man: Turn Off the Dark may be pushed back from next February. It's Julie Taymor, so I'd be tempted to cross the Atlantic just to catch a matinee.
I read at The Leaky Cauldron that Quidditch has broken free from the imagination of J. K Rowling and become a real sport. The Quidditch World Cup is taking place in Vermont tomorrow, and will be live streamed for Potter nuts everywhere. Wake me when the Back to the Future hoverboard race begins.
Katherine Dieckman's Motherhood, starring Uma Thurman, is in 'select theaters' today. The director has spoken to Making Of for this video interview in which she describes the movie as a female Curb Your Enthusiasm.Pascale Laugier might well be prepping his film The Tall Man, a project he's been brewing for some years. Bloody Disgusting expect more details to come to light at AFM. After the simply astonishing Martyrs, my expectations for his work are very high. Whew – that Martyrs. If you haven't seen it yet, you really must. And try to stay completely unspoiled too.Stephen Soderbergh has been speaking to The Times while over here at the LFF. As well as sharing his dissatisfaction with the Che films and again threatening to quit directing within the next few short years, he relates an anecdote about changing hotels when he finds his room doesn't offer porn. I had to wonder if this was a theme interview, riddled with lies in order to promote The Informant!
Some promo artwork for Cabin Fever 2 has rolled out pretty much across the entire web, including the next few inches of your monitor.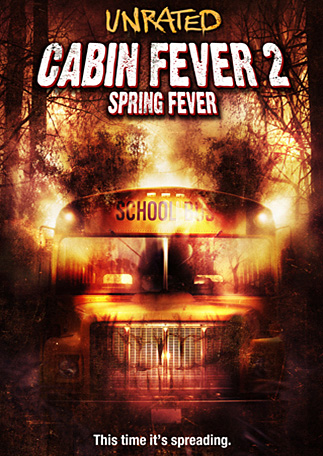 Black Sheep director Jonathan King will host An Evening With Guillermo Del Toro at Wellington, NZ's Paramount Theatre. The event is a fundraiser for the indie film One For the Road, which Wellington Scoop pitch as the first Kiwi musical drama.Lynn Ramsay's We Need to Talk About Kevin has secured funding and will start shooting in the US at the start of 2010. Variety reconfirm that Tilda Swinton will be starring.Topless Robot discovered a rather disturbing Craigslist ad from a true Star Wars loon looking for a very special Halloween date. Here's an excerpt, to whet your appetite for the full thing:
So this might seem strange and really offensive to some but hopefully someone will reply. I have always loved the scene in Empire Strikes Back where Chewbacca has to carry around a half reconstructed C3PO in a backpack...
It gets real bleak. Don't say I didn't warn you.