New Avatar Trailer Description And More High Resolution Photos
With a new trailer for James Cameron's Avatar hitting theaters this weekend, a batch of new high quality production photos has shown up online via SpoilerTV. Check out a couple of the photos after the jump, or click on through to see them all. And be sure to enlarge the photos to see them in high resolution. Want to know what the new trailer may bring? /Film reader Luke B has sent in a spy report, included after the jump.
Here is what Luke said:
First off, this trailer has a lot of the same footage already in the first teaser. It was only about halfway through that I realized that this was the new trailer. This one has a lot more plot in it, they introduce the female Na'vi character and the romance between her and the main character. We get to see a lot of cool images, like the evil human general character (I'm assuming he's evil) in a giant mech destroying things, but with a cup of coffee in his hands. We also get glimpses of the Michelle Rodriguez character (she says something along the lines of, "We're going up against machines and all we've got are sticks!" so I'm assuming she joins the good guys) and some of the other Na'vi. I don't remember too many of the other details. Overall though, this trailer had a much more epic feel to it. I was one of the many who was disappointed when the teaser was revealed, but this has brought my hype level up.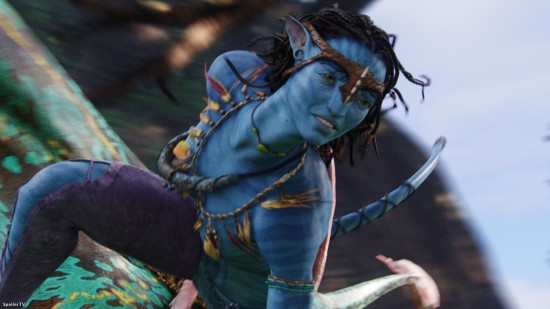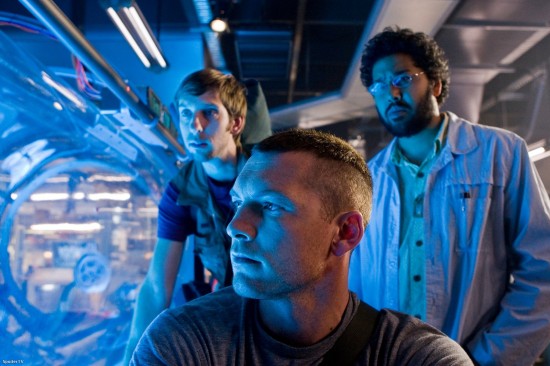 See more photos on SpoilerTV.
Official plot synopsis: AVATAR takes us to a spectacular new world beyond our imagination, where a reluctant hero embarks on a journey of redemption and discovery, as he leads a heroic battle to save a civilization. The film was first conceived by Cameron 14 years ago, when the means to realize his vision did not yet exist. Now, after four years of actual production work, AVATAR delivers a fully immersive cinematic experience of a new kind, where the revolutionary technology invented to make the film, disappears into the emotion of the characters and the sweep of the story.
AVATAR opens in theaters everywhere December 18, 2009.