New Old Dogs Movie Trailer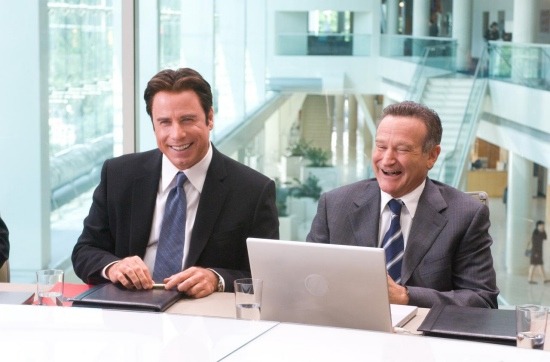 Disney has released a new trailer for the new Walt Becker-directed comedy Old Dogs on MSN. Watching this trailer makes you wonder why Robin Williams can't just make more movies like World's Greatest Dad or Good Will Hunting. Oh, a paycheck you say? Yeah... that's what we thought. And yes, Becker and John Travolta worked together in the 2007 film Wild Hogs. It's also notable that Travolta's daughter Ella Bleu makes her feature-film debut as one of the twins. Travolta's wife Kelly Preston also stars in the film—marking the first time the couple has appeared in the same film in more than 20 years.
This new movie tells the story of two best friends — one unlucky-in-love divorcee (Williams) and the other a fun-loving bachelor (Travolta), who have their lives turned upside down when they're unexpectedly charged with the care of 7-year-old twins while on the verge of the biggest business deal of their lives. The not-so-kid-savvy bachelors stumble in their efforts to take care of the twins, "leading to one debacle after another, and perhaps to a new-found understanding of what's really important in life." Watch the trailer, if you dare, embedded after the jump.
Old Dogs hits theaters on November 25th 2009.