Page 2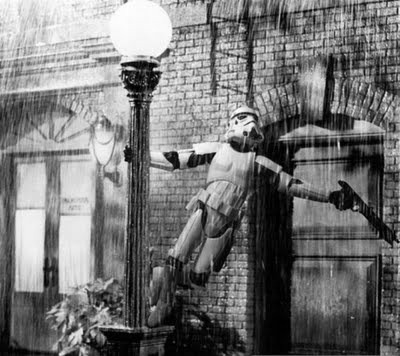 Page 2 is a compilation of stories and news tidbits, which for whatever reason, didn't make the front page of /Film. After the jump we've included 33 different items, fun images, videos, casting tidbits, articles of interest and more. It's like a mystery grab bag of movie web related goodness.
Stormtroopers can improve almost any movie. For example, how about "The Stormtrooper Singing in the Rain"? [superpunch]
Diablo Cody talks with Movieline about her favorite movie scene of all time, which somehow combines elements of classic horror, There Will Be Blood, Mamma Mia, and the updated 90210, tribal ceremony, and Jennifer Grey.
[No photo]
AP has some set photos from the remake of Red Dawn. Click through to see more.FilmSchoolRejects has an epic one-hour long interview with writer/director Kevin Smith.
[No photo]
Splash News has some new set photos from Christopher Nolan's Inception featuring Leonardo Dicaprio and Ellen Page.Marvel Studios mastermind Kevin Feige recently told the Los Angeles Times that the 1997 comic book movie Batman & Robin "may be the most important comic-book movie ever made." Feige backs up the huge claim by insisting that the film was "so bad that it demanded a new way of doing things," and that it "created the opportunity to do 'X-Men' and 'Spider-Man,' adaptations that respected the source material and adaptations that were not campy."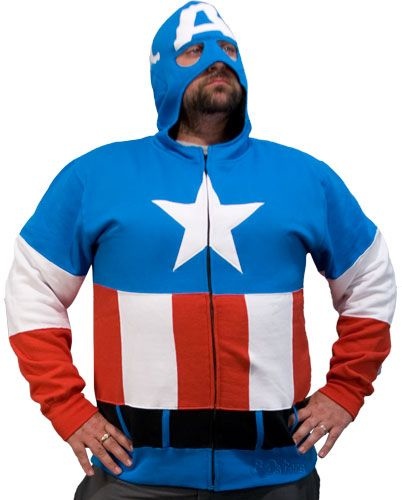 (Not) Cool Stuff: the Captain America Costume Hoodie.Yahoo Movies has a new rehearsal montage for Rob Marshall's new musical Nine.
Warner Premiere is so pleased by the performance of Superman/Batman: Public Enemies, which sold close to 200,000 copies in its first week, they are now actively looking to make Superman/Batman 2. [mania]
Production offices for Green Lantern production offices could be set up at Second Line Stages in New Orleans as early as this week. [NOLAnews]
Fox is prepping a new take on the British television series Daylight Robbery. [variety]
The Hollywood Reporter predicts that James Cameron's Avatar will premiere on "about 3,000 3D screens in about 2,700 theaters," and states that the film is "expected to open north of $75 million." The new photo above comes from that article.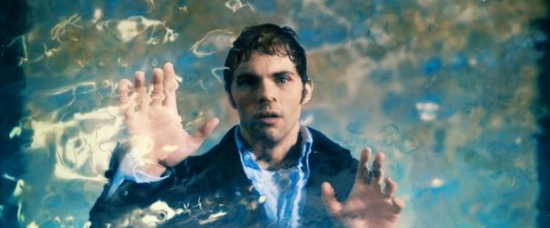 Shock has over 25 photos from Richard Kelly's The Box.
Soccer star Mia Hamm will produce a screen version of New York Times sportswriter Harvey Araton's book Alive and Kicking: When Soccer Moms Take the Field. [variety]
Starz has struck a 10-year deal with winter sports film producer Warren Miller , which includes the rights to air both past and future projects. [variety]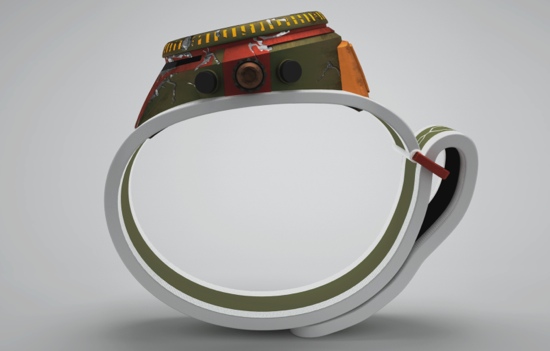 Marc Ecko is teaming with LucasFilm and Timex to produce a line of Star Wars watches: "The range is inspired by Star Wars. A mixture of metals, rubbers and nylons. My amazing partners at Timex- completely rocked these. Yes...they feature "indiglo"...sounds...and other technologies. From Boba to R2...Stormtroopers to Vader..."MovieMoron lists the top 10 romantic comedies of all time.
How to fold an origami Star Wars X-Wing fighter: [via: GWS]
Vic Mizzy, who composed the theme music for The Addams Family and Green Acres died Saturday in Los Angeles at age 93. [variety]
New MPAA Ratings have been announced, the most notable is Jason Reitman's Up in the Air, which earned a R Rating for language and some sexual content. [THR]
EW takes a look at the 20 coolest heroes in pop culture.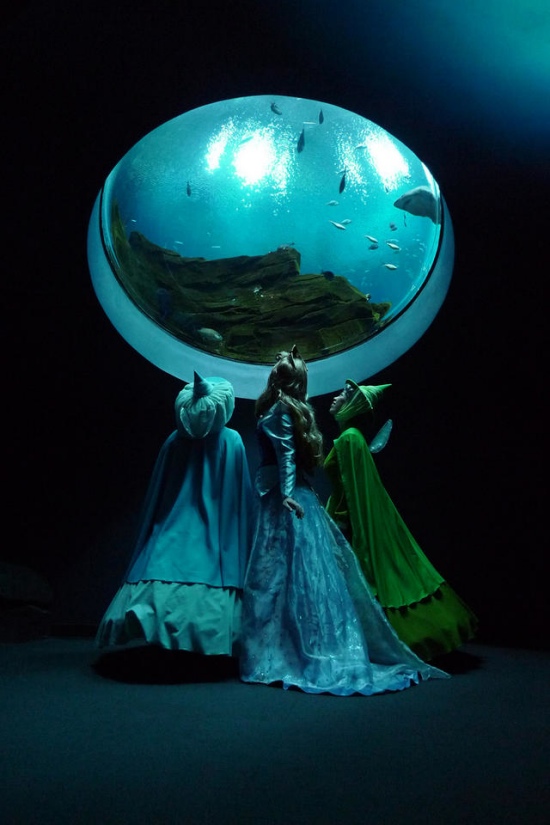 The above photo features three Sleeping Beauty cosplayers dressed as "Merryweather, Princess Aurora and Flora from Disney's Sleeping Beauty at the Georgia Aquarium during Dragon*Con Night 2009." [boingboing]
TCCandler has a listing (with photos) of the 100 best movie posters of all time.Fox Atomic is being relaunched as Fox Digital Studios, with plans to produce "a slate of original brand-backed projects for the Internet and other digital platforms." The first projects have not yet been announced. [variety]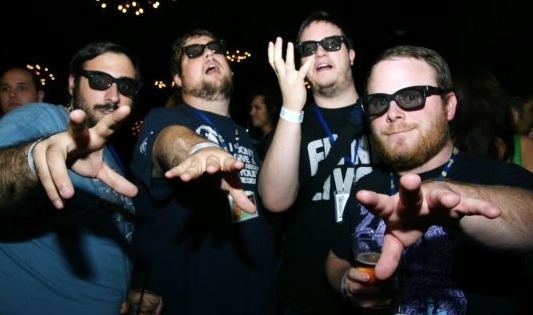 Here is a photo I was sent that was taken at the 3D dance party at Fantastic Fest. I'm on the left, followed by Quint (Eric Vespe) from Ain't It Cool, Alex Billington from First Showing and Chase Whale from Gordon and the Whale. Yes, we're all being dorks in our 3D glasses.
Total Film lists the 27 greatest South Park movie star cameos. [80stees]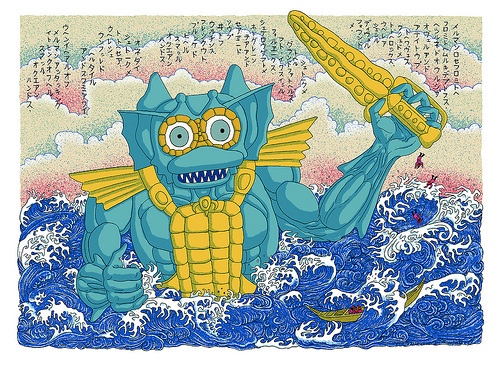 Nakatomi and Jacob Borshard have teamed up for a new art print:  "The Sinking of the Oruko Ship", an 18" x 24" eight color screenprint, limited edition of 40, available for only $30.
Nokia is taking cues from Paranormal Activity to promote their Maemo operating system. Head on over to Maemoproject to watch some video footage. If you wait long enough, something might happen. [techcrunch]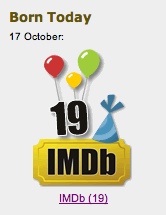 On October 17th, the Internet Movie Database celebrated it's 19th birthday. [erictric]
You can watch Marvel's motion comic book Spider-Woman for free on Hulu.
SciFi takes a look at 11 splatterific exploding head scenes from movies.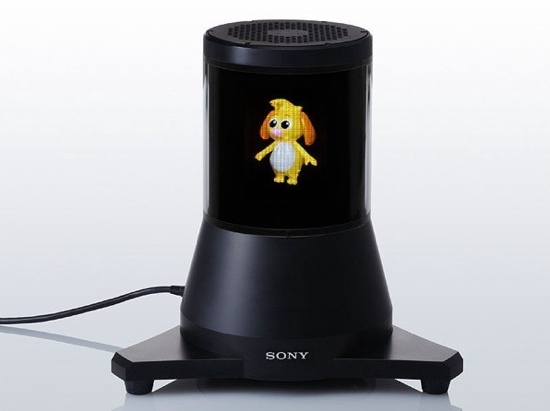 Sony has created a 360 degree 3D display which allows users to see the 3D without glasses, but for right now, it's just a concept. [marketsaw]
The Envelope wonders if the Academy will nominate James Cameron's Avatar for any Oscars.