This Week In DVD & Blu-Ray: Transformers: Revenge Of The Fallen, And More
We may receive a commission on purchases made from links.
This Week in DVD & Blu-ray is a column that compiles all the latest info regarding new DVD and Blu-ray releases, sales, and exclusive deals from stores including Target, Best Buy and Fry's.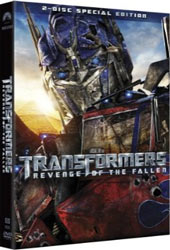 TRANSFORMERS: REVENGE OF THE FALLEN(Available as single-disc and 2-Disc Special Edition)Transformers: Revenge of the Fallen is an exceedingly stupid movie. To criticize the plot for being aggressively unfocused and convoluted would serve very little purpose, because it suggests the movie is even remotely concerned with having a plot. For the purpose of saving time, I will summarize the overall story thusly: a lot of goofy s*** happens, and none of it makes any sense. By comparison, the first Transformers is practically Shakespearean in its masterful storytelling abilities. This sequel is obviously less concerned with taking the franchise in interesting new directions than it is playing everything on as epic a scale as the increased budget will allow. With that in mind, if you appreciated any elements of the original Transformers beyond the visual thrill of seeing hunks of shape-shifting metal beating the s*** out of each other, it's very likely that this sequel will strike you as substantial disappointment. I, however, managed to enjoy the first Transformers strictly in spite of its non-robot elements, not because of them. So while Transformers: Revenge of the Fallen may take things a couple of steps further in the realm of tedious subplots, annoying characters and asinine sight gags (wrecking ball testicles? robo-humping? ...Oh Michael Bay, you scamp!), those—like myself—that are able to avoid getting worked up over those unfortunate inclusions will still find themselves rewarded with the familiar selling points of the franchise: giant robots, fast cars, hot chicks, and explosions. There are also some new ones, such as Optimus Prime busting out dual swords from his arms to Slap Chop some Decepticon scum. Such are the film's unsophisticated pleasures. With the right mindset though, scenes like these offer more than enough enjoyment to satisfy the cravings of many an action junkie—granted that you're able to decipher what's going on throughout the unreserved chaos of Michael Bay's shooting style.Blu-ray? Yes.Notable Extras: DVD – 2-disc includes audio commentary by director Michael Bay and writers Roberto Orci and Alex Kurtzman, the multi-part documentary The Human Factor: Exacting Revenge of the Fallen (this feature includes Seeds of Vengeance: Development and Design, Domestic Destruction: Production – United States, Joint Operations: Production – Military, Wonders of the World: Production – Middle East, Start Making Sense: Editing, Under the Gun: Visual Effects and Running the Gauntlet: Post-Production and Release), the featurette A Day with Bay: Tokyo, a 25 Years of Transformers featurette, the NEST: Transformer Data-Hub which explores the conceptual artwork of the film, the multi-angle featurette Deconstructing Visual Bayhem which includes commentary by pre-visualization supervisor Steve Yamamoto, extended scenes, and Linkin Park's New Divide music video. Blu-ray – Includes everything on the DVD, as well as The ALLSPARK Experiment interactive feature, the Giant Effing Movie featurette, The Matrix of Marketing archive of trailers, poster art and other marketing materials, and additional NEST: Transformer Data-Hub information options for each robot.
BEST DVD PRICE*
Target
Best Buy
Fry's
$15.00
$15.99
$15.77
Amazon – $14.99
*Does not include 2-Disc Edition, which costs $20.77 at Fry's, and $22.99 at Target, Best Buy and Amazon.
BEST BLU-RAY PRICE
Target
Best Buy
Fry's
$25.99
$24.99
$22.77
Amazon – $19.99
EXCLUSIVE DEAL:What? Doorbuster Deals: $3 off Blu-ray (includes Limited Edition, listed below) and $2 off DVD for the first two hours of business on Tuesday, October 20.Where? Best Buy.EXCLUSIVE DEAL:What? Limited Edition Blu-ray Gift Set ($44.99). Includes Optimus Prime replica and $50 gift card to sideshowcollectibles.com.Where? Best Buy.EXCLUSIVE DEAL:What? Exclusive Transforming Case (DVD – $26.99, Blu-ray – $29.99). Bumblebee packaging that transforms into a 14" tall robot.Where? Target.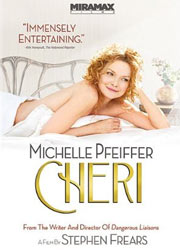 CHERI
I'm not terribly into either period pieces or romances, so it's not surprising that Cheri's trailer didn't interest me at all. For those with a stronger appreciation for the genre, however, the allure of all the impressive talent behind the film will probably guarantee a few rentals: it stars Michelle Pfeiffer and Kathy Bates, it's directed by Stephen Frears (The Queen, High Fidelity), and it's written by Christopher Hampton (Atonement, Dangerous Liaisons). It sounds like it should be a surefire winner, though the middling critical response suggests otherwise.
Blu-ray? No.Notable Extras: A making of featurette and deleted scenes.
BEST DVD PRICE
Target
Best Buy
Fry's
$19.99
$19.99
$19.99
Amazon – $19.99
Other noteworthy DVD (and Blu-ray) releases this week...
Blood: The Last Vampire [DVD / Blu-ray] – Wrong Turn 3: Left for Dead [DVD / Blu-ray] – Planes, Trains and Automobiles (Those Aren't Pillows Edition) – Homicide: Life on the Street (The Complete Series)
Other noteworthy Blu-ray-specific releases this week...Willy Wonka and the Chocolate Factory – Easy Rider – Waterworld – Ichi the Killer

NOTE: Some deals may be in-store only.

$4.99 – Dawn of the Dead (1978), Dawn of the Dead (2004), The Butterfly Effect, Vacancy, and more...$6.99 – Ghostbusters & Ghostbusters II (Double Feature Set), Shaun of the Dead, The Shining, Beowulf, Disturbia, Cloverfield, Signs, Teeth$12.99 – Blu-ray sale: Dawn of the Dead (2004), Halloween (1978), Children of the Corn, Hellraiser, Halloween (2007), Snakes on a Plane, Dead Calm, and more...