Will Michael Jackson's This Is It Open To The Tune Of $250 Million?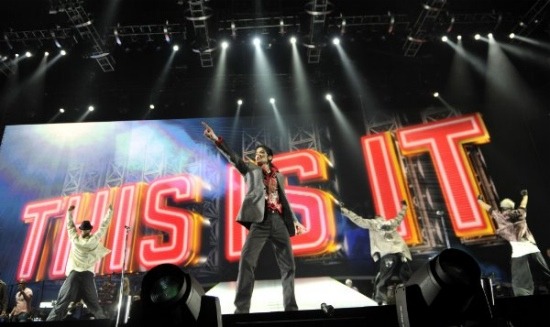 I thought the idea of a Michael Jackson concert film based on rehearsal footage from his planned run of London shows was ghoulish and exploitative when first announced. The trailer for This Is It didn't change my mind, but a great many people evidently see only the Michael Jackson of old. We already know the film has had remarkable pre-sales, with Fandango reporting it as #1 in ticket sales now, two weeks before opening. Now a report from AEG, the concert promoter and the film's financier, claims that Sony is already in the black thanks to the pre-sale numbers. Furthermore, the same report pegs the film's eventual gross as genuinely massive, but maybe that's just wishful thinking.
Nikki Finke has the AEG report, which predicts that This Is It will gross $250 million within 5 days. That's a seriously insane claim; if the movie does that well it will, as an insider quoted by Finke put it, be in Spider-Man and Harry Potter territory. (And remember, it's folks with a vested interest in the movie making the claim.) The idea of such success would be utterly outlandish if this was any figure other than Michael Jackson. But global audiences remain crazy for all things MJ, so the film is certainly going to bank well. Whether it banks 'all-time' numbers is another question.
The most interesting thing in the AEG report, however, is that the entire film only exists because Jackson wanted the rehearsal footage for his private archive. Evidently he was on the verge of blowing the pre-production budget of $25m, and there was thought by financiers of cutting the HD camera crew, "because there was no plan to use the footage." Of course, the eventual outcome there was that as soon as Jackson died AEG execs made sure they had secured the rights to the hundred hours of footage shot up until that point, in order to turn it into products like This Is It.