Charlize Theron Drops Out Of The Tourist, Angelina Jolie Steps In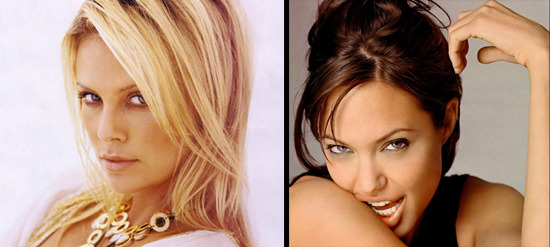 While some films can't get off the ground no matter what big, impressive names get attached, others just can't die. The Tourist seems to be one of the latter. Once a possible starring vehicle for Tom Cruise, the picture carried on when he bailed; Sam Worthington stepped in to fill his shoes. Now co-star Charlize Theron has skipped out as well, along with director Bharat Nalluri. Set to take Theron's place is Angelina Jolie.
This would be the second time Jolie has recently come on to a film that Cruise had left. The last one was Salt, which she's just completed. That was formerly called Edwin A. Salt, and was also a Cruise-starring project. When he left the part was re-gendered to fit Jolie. We've featured photos of her in Salt as they've dropped.
THR describes the Hitchcockian plot of this film as centering "on an American tourist who, on behalf of Interpol, goes undercover to entrap a former lover who's a suspected global criminal." Jolie is the former lover, Worthington is the tourist. And since, as I noted before, he's not really your average-looking tourist we can maybe expect some revelations from his character.
As I previously wrote, The Tourist is a remake of the French film Anthony Zimmer, the trailer for which I've again embedded below. Sounds like the production is still working off the Christopher McQuarrie draft that was done while Cruise was on board. Wonder how significantly that will be reworked with Jolie on board? Meanwhile, the film does need a new director, and the trade notes that production is tentatively set to start in early 2010. That leaves relatively little time to get a helmer on board and, if necessary, put together a new draft. But good work has been done in far less time than the two or three months left until the penciled-in start time, so it's not likely to be a problem.